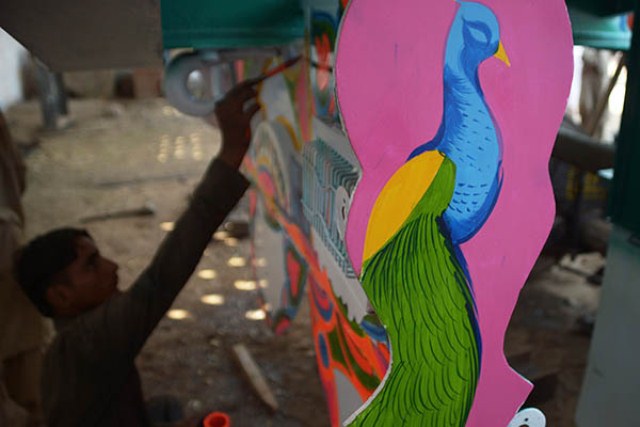 ---
LAHORE:



The Trust for History, Art and Architecture Pakistan (Thaap) Conference 2014 started on Friday. This is the fifth edition of the conference.




This year the conference is trying to trace and document the art, architecture and culture of marginalised communities.

The four-day event at Thaap's Gulberg office includes a paper-reading session and an exhibition of artisan's works.

Papers on artists and artisans of marginalised segments, street children and Christian colonies and others were part of the first day's agenda.

Focusing on the Child Protection and Welfare Bureau, a paper on street children and the role of the bureau in the regard was accompanied with a short documentary.

The documentary screened images of the bureau and the children it houses.

A paper, titled Street Children: From Edge of Marginalisation to Mainstream Re-integration, was presented by Zahra Ashraf, the Punjab chief architect, and Neelum Naz, the chairperson of the University of Engineering and Technology's Faculty of Architecture and Planning.

Ashraf blamed poverty, political and social unrest and emotional, physical and sexual abuse for children coming out to the streets.

She said that there were 100 to 150 million street children worldwide. In Pakistan, she estimated the figure to be around 1.5 million.

Ashraf said the design and architecture of the building had been done keeping in view needs of the children. She said the bureau had been rescuing and rehabilitating such children and providing them shelter and education. It also reunited some of the children with their families, she said.

"Governments should take ownership of such projects irrespective of their political interests," she said.

She stressed the need for the community to step up in order to strengthen such initiatives. "How many of us even know about a child helpline or even make an effort to strengthen such initiatives? We have to stop being in denial."

Another paper, titled The Traumatic Past, was presented by Abdullah Qureshi, artist and curator at the 39K Art Gallery.

Qureshi's paper delved into his interpretation of rebuilding experiences and memories through art. His presentation included images of artwork that focus primarily on doors, drawers and chairs.

Ali Arsalan Pasha's presentation was on economic and spatial discrimination in societies. His paper highlighted Christian colonies as urban residue in Islamabad.

In Islamabad, he said, Christian colonies occupied residual spaces in the iron grid of the capital. He said the colonies were deprived of education, health, shelter and other basic necessities. He said the rehabilitation of neglected classes could be ensured with economic investment in such colonies.

The last session of the conference was postponed till Saturday (toady) morning owing to a rain delay.

Published in The Express Tribune, November 8th, 2014.