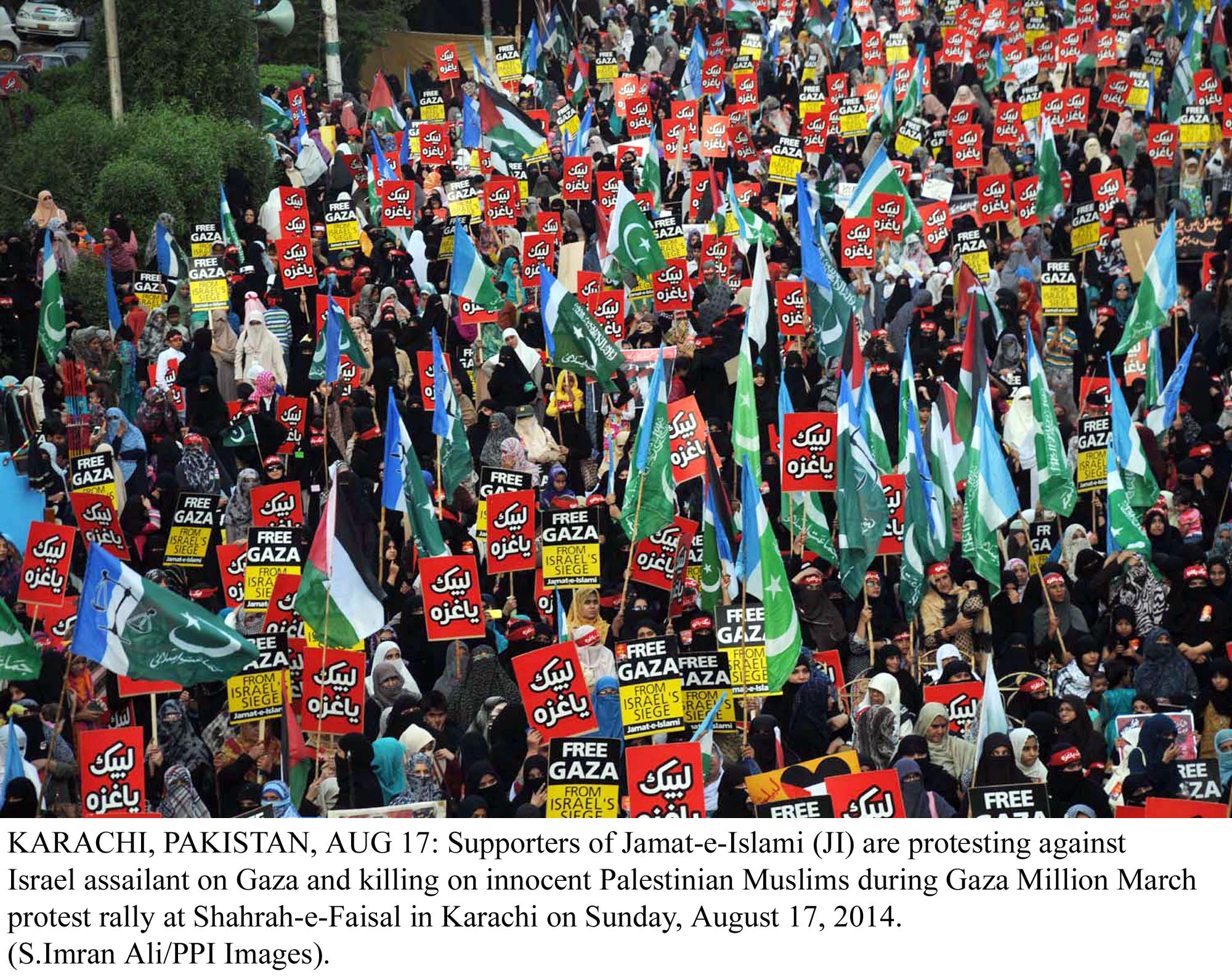 ---
LAHORE:



Pakistan Tehreek-i-Insaf and the Pakistan Awami Tehreek must include "peace in Palestine" in their charter of demands and press the government to take practical steps to stop the "genocide of Palestinians Muslims in Israel," Jamaat-ud Dawah amir Hafiz Muhammad Saeed said on Sunday.




He was addressing the rally Palestine Unity Caravan organised by the JuD. Protesters marched from Nasser Bagh to Masjid Shuhda, on The Mall, to express solidarity with Muslims in the Gaza Strip.

The JuD held demonstrations in Gujranwala, Faisalabad, Peshawar, Quetta, Rawalpindi, Hyderabad and Multan as well. Palestinian Ambassador to Pakistan Waleed Abu Ali, Jamaat-i-Islami Secretary General Liaquat Baloch, Lahore High Court Bar Association president Shafqat Mehmood Chohan, Allama Ahmad Ali Kasuri and leaders of several other religious organisations addressed the Palestine Unity Caravan. Hundreds of students, lawyers, traders and representatives of civil society participated in the demonstration and chanted slogans lambasting Israel and America.

Hafiz Saeed said that he had written Prime Minister Nawaz Sharif a letter requesting him to convene a conference of Muslim leaders to deliberate on the matter. However, the prime minister had restricted his involvement to holding protests to express solidarity with Palestinian Muslims. He said almost all Muslim countries in the world were embroiled in political crisis and disintegration. "This is because of their indifference to the brutal killing of innocent Muslims in Palestine and Kashmir," he said.

The JuD chief said that Israel was an illegal and terrorist state and all Muslim countries should unite against it and ensure its obliteration from the world's map. "Pakistan was made in the name of Islam, its atomic bomb, too, must be used to protect Muslims," he said.

"Muslim countries should form a body along the lines of the European Union and Muslim financial institutions should protect their interests." He said the JuD would continue its struggle against Israeli aggression till peace in Palestine was achieved.

In his telephonic address to the protesters, Palestinian Ambassador to Pakistan Waleed Abu Ali appreciated Saeed's efforts in highlighting the Palestinian cause not only in Pakistan, but all over the world. He said that Israel was killing innocent Muslims in Palestine, but unfortunately the Muslim world was silent on the matter. Ali criticised the "United Nations' and European Union's criminal silence on the genocide of Palestinians."

He said the United Nations was doing nothing to stop the genocide in Gaza.

Liaquat Baloch said foreign ministers of the Muslim countries should play a constructive and dynamic role to reinvigorate the Organisation of Islamic Conference so that the challenges faced by the Ummah could be discussed.

Published in The Express Tribune, August 18th,2014.