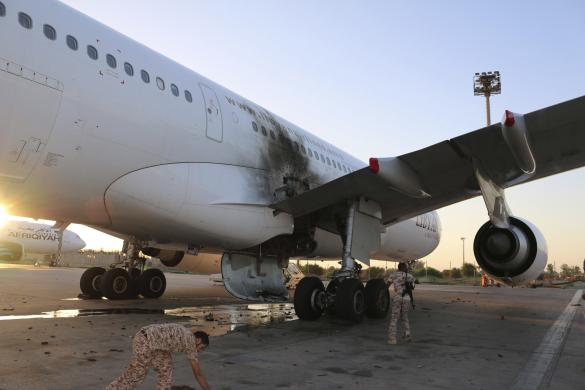 ---
KARACHI:



The Libyan taxi driver who was taking Dr *R from his house in Sabha to a Pakistani shelter in Tripoli, whispered to his wife, "Let's kill him and take his money." The Pakistani passenger, who understood the driver's Arabic, turned pale and silently kept on praying. After eight long, gruelling hours, when the cab reached the Libyan capital, the passenger, felt he had renewed his lease of life.




Now miles away from the strife-torn country, Dr R was still traumatised and dazed as he shared his story with The Express Tribune. He is one of the 500 Pakistanis who were brought back from Libya on Thursday by the national flag carrier, the only one amongst them hailing from Karachi.

He agreed to meet at an office in Saddar, accompanied by his mother. He was clad in the same clothes he was wearing when he left everything behind in Libya. "Everyone has come home empty-handed," he said sadly. He requested for privacy: "Please don't print my name as my 14-year gratuity is still stuck there."

"It's a miracle that I am alive and back home. Imagine if the taxi driver had killed me, no one would have ever found out that I was dead or known where my body was. But thank God, his wife stopped him."

The last few days spent in his house in Sabha were torturous. Banks were closed and so were petrol pumps. Firing took place in every street. Bodies were buried in garbage dumps. Fuel, food and other goods sold at double the prices.

Serving as a doctor in the Out-Patient Department ward of a hospital in Libya for the last 14 years, he said he was never treated discriminately before the civil war broke out.But now, foreigners are being looted and even killed at checkpoints or on the streets.

It was last week that Dr R arrived in the Pakistani school in Tripoli, set up to serve as a temporary shelter."There are 1,200 men in the camp who need to be brought back."

For three days, Dr R lived in the cramped school. Here he saw injured men – one with a gunshot wound in his leg, another who was shot in the arm – and heard stories of four Pakistanis being killed at a checkpoint.

"The Pakistani Embassy had decided that people would be sent home on a first-come-first-serve basis. I arrived earlier and therefore was sent on the plane." And he is eternally grateful.

This is not the first time that he left everything and came home to Karachi. After Col Muammar Qaddafi's death, he came with his wife and three children.

They remained here but he went back after the situation briefly improved. However, now he is not ready to return.

"Even if someone givesme millions of rupees, I will not go back. I am lucky to be alive."

*Name has been changed to protect identity

Published in The Express Tribune, August 17th, 2014.
COMMENTS (4)
Comments are moderated and generally will be posted if they are on-topic and not abusive.
For more information, please see our Comments FAQ