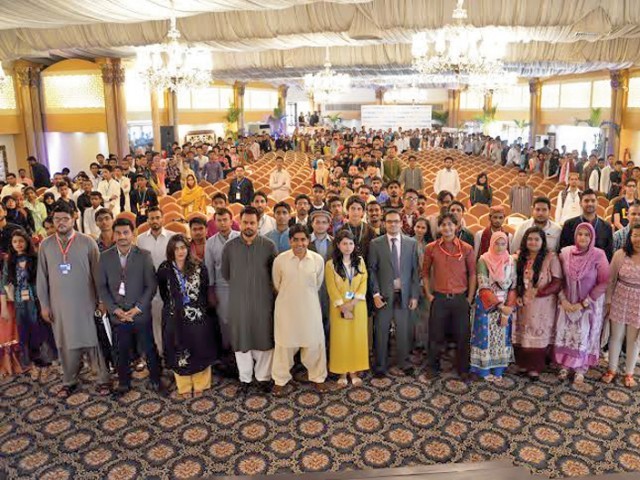 ---
KARACHI: Karachi is run by hidden hands, both in the good sense and bad. The bad finds space in the news every day. The good seldom have the opportunity to come to the fore.

One such opportunity arose on Thursday when young people had the chance to interact with the icons of the city at the Youth Peace Summit, which is part of the 'I Am Karachi' campaign being held at the Pearl Continental hotel. The topic under discussion was 'Stories of Change - Icons of Karachi.'

From Senator Saeed Ghani to athlete Naseem Hameed, social activist Waqar Ahmed and education advocate Humaira Bachal to composer Arshad Mahmood and young theatre artist of Lyari, Zohaib, each living legend of the city shared their life stories of struggle and undying commitment.




Ghani voiced his displeasure at the rallies of political and religious parties. "It pains me to see people carrying party flags instead of the national flag on Independence Day," he said.

"I am an indigenous citizen of Karachi and neither me, nor my family, have any land outside the city. We owe it to our future generations to give them a peaceful city." Ghani narrated his life story of how a boy from a poor family of Karachi received education and went on to become a senator. He wished that 10 years on, he would have a chance to meet someone from among the participants who had been inspired by his words and then worked hard to clinch a position in the parliament or some other prestigious post.

Theatre artist Zohaib spoke about his group of young artists who were working in the area to spread messages of peace with their performances. He narrated the story of group members, Ambar and Urooj, who had witnessed a bomb blast in Lyari's Jhat Phat lane. "The injured were crying for help but no one dared help them or take them to hospital." The group decided to base a performance on the incident which received a lot of appreciation from the audience. "We need a platform to express our talents and hope that our efforts will someday bring peace to the city," he said.

Athlete Naseem Hameed recalled the day her doctor had advised her against running due to injuries. Her passion had, however, forced her to participate in the Asian Games. She went on to win the gold medal in the 100-metre race. "For my training sessions, I always used to run with the boys. Even though they were all national-level athletes, I gave them a run for their money."

Hameed told the awe-struck audience that she was born and raised in Korangi. "It is a scary place for most, but you can change your circumstances if you just try."

Social activist Waqar Ahmed, who sports a thick beard, has struggled to dispel the stereotype that men with beards are terrorists. "I started working against this stereotype and our group Youth Empowerment Society (YES) successfully conducted events and seminars without any funding." Ahmed related to the participants how he received his education while working at a poultry farm for a salary of Rs1,500 per month. It was his passion that provided him with strength and energy when the doctor told him that he wouldn't survive more than three months. "I stand here before you and tell you this: It is not the doctor but you who decides if you live," said Ahmed. The hall thundered with clapping and cheers.

Humaira Bachal, the founder of Dream Foundation Trust, is an ordinary girl from Mawach Goth, one of the city's most underdeveloped areas. Her life story is, however, far from ordinary.

Bachal managed to get education in a society where she had to hide her admission to grade nine. Her mother sold wood for Rs2 per kg for her schooling. Soon after completing her education, she started a school in the area where around 1,200 students are enrolled today.

This was the story of a 12-year-old girl who used pages of her schoolbooks to teach dates to her fellow students and other women of the area. "Resources do not mean anything; all you need is passion," she said.

All the panellists were presented with the 'Icon of Karachi' awards at the end of the event.

Published in The Express Tribune, August 16th,2014.
COMMENTS
Comments are moderated and generally will be posted if they are on-topic and not abusive.
For more information, please see our Comments FAQ