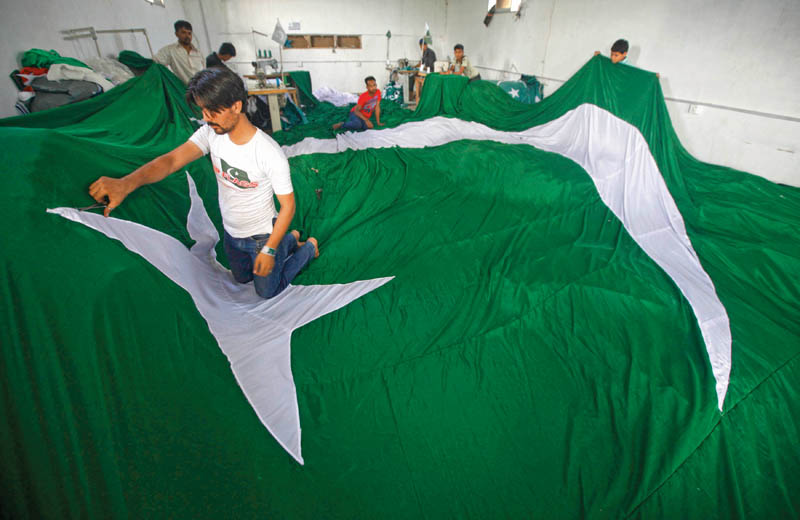 ---
KARACHI: The week leading up to Independence Day is a busy time for people like Mukhtiar. For them, it is a peak season as the nation gears up to celebrate its birthday on August 14.

This year was no different from the others, 10-year-old Mukhtiar and his colleagues at a factory in Karachi's industrial area have had their hands full with green and white cloth. On an average, the young boy has been working on nearly 1,000 or more Pakistani flags a day.

Making a sale

Eight kilometres away from the factory, 15-year-old Shazia and her younger brother have set up a stall to sell the national flag in different materials and sizes.

"We buy all of this from Lighthouse and then sell it here," said their mother Shehnaz. "We earn about Rs200 to Rs300 a day, that's all. There's not much business this year." Shehnaz works as part-time domestic help in nearby bungalows. She visits her children at the stall every couple of hours.

Flags up

Every year, Pakistan is a splash of green and white. An entire industry springs into action weeks before the 14 August, and goes back into dormancy after the day is over. But for the workers at Pakistan's only flag-based company, VIP Flags, flags are made all year round and provide livelihood to around 100 workers and their families.

The factory is situated in Korangi Industrial Area, Karachi, and the products they churn out have been record-breaking, literally. "We set the world record for the World's Largest Flag on the occasion of Pakistan's 57th Independence Day in 2004," said VIP Flags Director Asim Nisar Parchamwala. "The flag measured 340feet by 510feet which is about 173,400 square feet - breaking the previous American Super flag record, which was 255ft x 505ft."

The record may have been broken but the pride with which he talks about it is permanent. From ceremonial and table flags to taking export orders of flags in the thousands that they take from all over the world, this is where most flags are made in the country, including the flags for all political parties.

Smaller factories and industries make more economical versions of the banner sporting the symbolic star and crescent, most flags used for official purposes are made here.

"Prime Minister Nawaz Sharif has commissioned us to make a flag for this year's Independence Day," he said while talking to The Express Tribune. "This will be hoisted on the world's tallest flag pole in Lahore."

The people who work for Parchamwala are quite young, the oldest being in their 30s and although the volume of work is challenging, they like what they do. The factory is clean and the workers are looked after. Parchamwala claimed that the workers get a 10 per cent raise in their salaries every year.

According to the factory owner, he hires young workers because if they don't work, they could get involved in street crime or gangs.

Published in The Express Tribune, August 15th,2014.
COMMENTS
Comments are moderated and generally will be posted if they are on-topic and not abusive.
For more information, please see our Comments FAQ