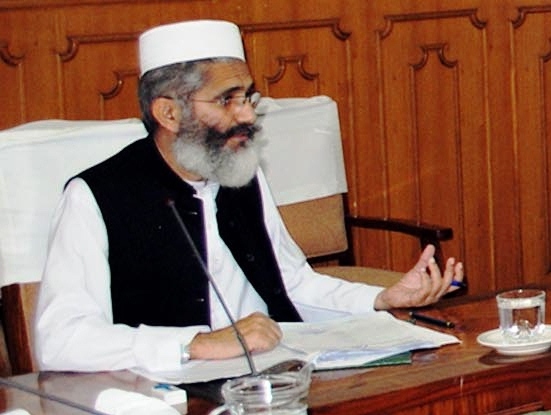 ---
LAHORE:



If political leaders do not demonstrate tolerance for one another, they could all lose the game they are playing and may be confined to their homes, Jamaat-i-Islami ameer Sirajul Haq said on Wednesday.




Haq was talking to the media at Mansoora. "On August 14, instead of hurling threats, the Islamabad administration should prepare to treat the protesters as its guests," he said. If Pakistan Awami Tehreek and Pakistan Tehreek-i-Insaf do not agree to talks with the government and resolve their issues, a "double march" could follow the long march.

Haq said while Prime Minister Nawaz Sharif had announced a judicial commission to probe rigging allegations, he had not given a time frame to complete the job.

"If the rulers think that the masses and political parties should not put forth any demands to them, they should simply relinquish their offices... people have the right to put forth their demands before rulers."

He said if the government intended to obstruct the long march through use of force it should rethink its decision and concede the protesters' right to protest. "A public demonstration cannot be stopped by placing containers or creating obstacles."

Haq said, "We should observe August 14 as a dignified and respectable nation and not give an impression to the world that could harm our honour."

"I wish that Nawaz Sharif, Imran Khan and heads of other political parties could have joined hands and held an Independence Day event together to demonstrate complete national unity and harmony," he said.

He said unfortunately the nation had been placed in a state of fear and anxiety. The stock market had crashed and there was no business or trade.

"We are a selfless people... whoever takes our advice will benefit greatly and whoever takes the initiative for rapprochement and peace will earn respect," Haq said.

Federal Minister for Information Pervez Rashid later telephoned Haq on Wednesday to tell him that Prime Minister Nawaz Sharif had accepted his [Siraj's] advice to remove the barriers in the way of participants of Azadi March.

Published in The Express Tribune, August 14th, 2014.