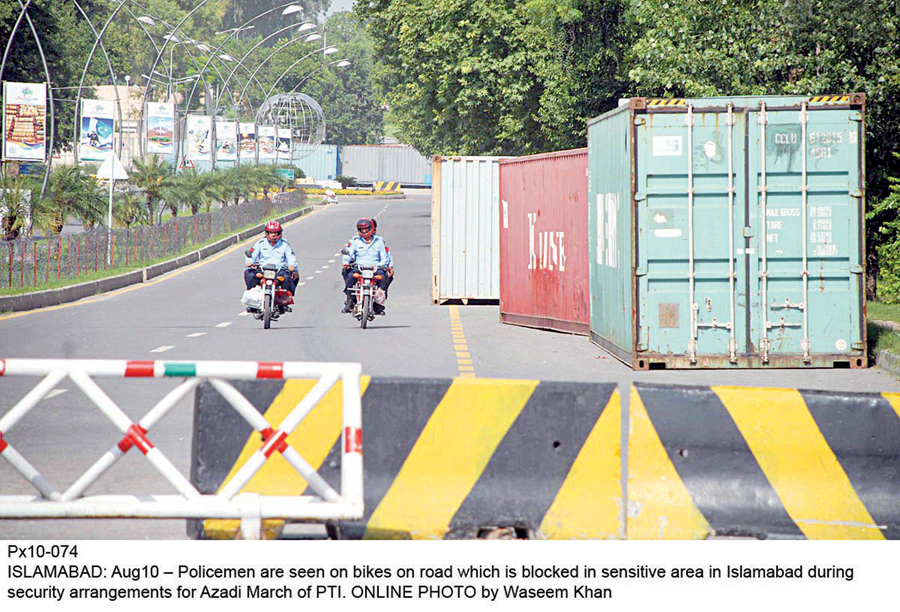 ---
RAWALPINDI:



The ongoing political tussle between the government and some opposition parties has affected traders in the city. They said that the situation had negatively impacted their businesses.




Residents of the city are living in a climate of fear and have confined themselves to their homes to avoid any untoward situation. Conditions on the ground have worsened since the announcement by Pakistan Awami Tehrik (PAT) leader Tahirul Qadri that their proposed march will go side-by-side with Pakistan Tehreek-i-Insaf's (PTI) 'Azadi March'.

Saddar Cantt Traders Association President Zafar Qadri told The Express Tribune that people had restricted their movement because of fear of the long march and protests. He said that business activity had come to a standstill.

Zafar Qadri said that the leaders of various political parties were talking about bringing change in the country, but they were ignorant of the problems they are creating for the public.

He said shopkeepers and pushcart vendors who rely on daily sales and wages were the worst-affected. Qadri said no one was thinking about the people, rather "every politician is just trying to take advantage of the situation".

Qadri said that they were already bothered by the construction work on the metro bus project and now traders would suffer further losses due to the political tension.

He requested the authorities to take steps to end the deadlock so that people could resume business activities. Qadri said political leaders should endeavour to solve the issue through talks instead of protesting on the streets.

Moti Bazaar Traders Association President Tahir Taj Bhatti told The Express Tribune that they were suffering losses due to the ongoing political turmoil.

He said the government had blocked many roads in the twin cities by placing containers, which was unjust.

He said the people were facing problem in movement due to these hurdles, adding that no one could visit the markets due to these blockades. He said that the traders community were even more worried about the coming few days.

He said that politics of long marches would create chaos and turmoil, which did not suit the economic interests of the country.

Bhatti said that all the political leaders should play their role in steering the country out of this crisis. He said that the government should not disturb the movement of the people by placing containers or hurdles. Bhatti held Imran Khan and Tahirul Qadri responsible for the situation in the country.

Rawalpindi City Police Officer (CPO)'s spokesperson Raja Fiaz told The Express Tribune that the police had planned to deploy heavy contingent of the force in the city to protect the lives and property of the people. He said that their priority was to ensure safety of the lives of the people. Fiaz said that police would place containers on key points in Rawalpindi soon. Police officials from other areas have also been called in to assist, he added.

Published in The Express Tribune, August 13th, 2014.