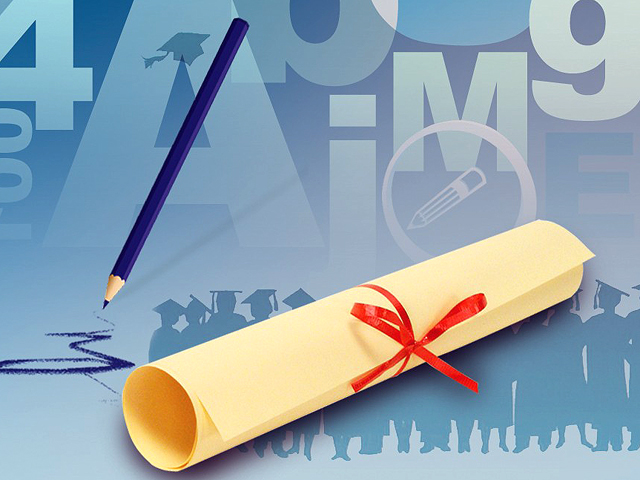 ---
KARACHI: While O' level students need to get a certain number of 'As' to gain admission into the best A' levels schools, it is the A' level students that have the most at stake as the conditional offers from prestigious universities are dependent on their results.

Thousands of students lined up nervously inside their schools on Tuesday to receive the dreaded white slips of paper with their Cambridge International Examinations (CIE) O' and A' levels results.

For Mahnoor Maqsood, an A' levels student at Bay View High School, the sense of joy was doubled by her achievements. On the morning before she heads to China to represent Pakistan at the Nanjing 2014 Summer Youth Olympic Games, the news of  four A*confirmed her admission to an Ivy League college in the United States, along with an $80,000 scholarship.

Increased popularity, competition

With the number of students opting for CIE qualifications increasing over the years, the admission process has become quite competitive as schools, universities and higher education institutes cherry-pick the brightest students.

Former St Patrick's High School A' levels dean Dolan Rodriguez believes this growing competition is positive as schools now work harder on their students so as to help them get better grades. "What we see now was nowhere close to what was going on when I graduated with the CIE qualification through the St Paul's English High School in 1984," recalled Rodriguez while talking to The Express Tribune. "There has been a dramatic increase in the number of students and institutes in only two decades; an estimated 20,000 students sat for the exams this year in Karachi, as compared to 180 in 1984."

He believed, however, that the efforts to keep that competition going are not one-sided. "As competition grew, the CIE also became a little more challenging in certain subjects, inviting schools, as well as their students, to put more effort in and be more analytical," he added.

The St Patrick's High School appears to be supplying the bulk of the country's future mathematicians and physicists, as a majority of the school's O' and A' levels students got through with A* and A grades in both subjects. "The exams of Mathematics and Physics were relatively tougher this year, but thanks to our teachers we were able to do well," said Ahmed Abdullah, who is confident that his straight As will help him get admission into Lahore University of Management Sciences.

The students at the Karachi Grammar School and Beaconhouse School System's Defence campus were also giddy with excitement as an estimated 80 per cent of them secured A*s and As.

In Pakistan, the total CIE entries rose by around seven per cent - from 204,000 entries to 213,000 - CIE country director Uzma Yousuf Zaka told The Express Tribune.

Zaka added that mathematics, physics, chemistry, economics and business studies are the most popular A' levels subjects. In total, there were 71,591 entries for A' levels in the country this year's June series, as compared to 69,432 entries last year.

The most popular O' levels subjects were English language, mathematics, Urdu, physics and chemistry. There were more than 142,000 entries for the 2014 June series, compared to over 131,000 last year. "Congratulations to all students and their teachers for the hard work that went into their exam performance," added Zaka. "At this time of the year, we all focus on results, but schools know that good outcomes depend on a curriculum which inspires children to learn, motivates and challenges them, and provides a good balance between knowledge and skills."

The CIE director believes that the Cambridge curriculum offers that, along with 'a fair, internationally benchmarked assessment of what each student has achieved'.

Published in The Express Tribune, August 13th, 2014.


COMMENTS (1)
Comments are moderated and generally will be posted if they are on-topic and not abusive.
For more information, please see our Comments FAQ