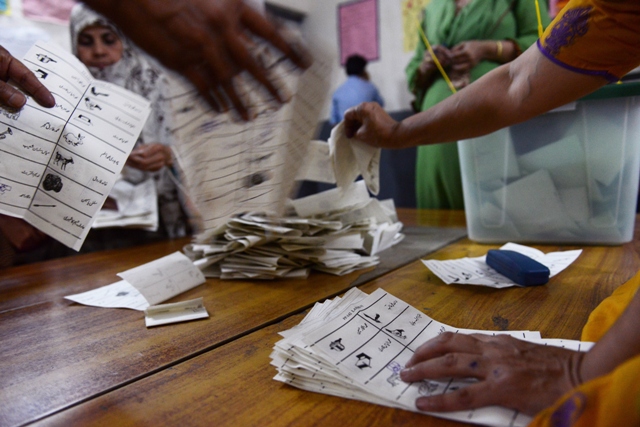 ---
KARACHI/ ISLAMABAD: The provincial election commissioners of Punjab and Sindh rebuffed Pakistan Tehreek-e-Insaf (PTI) chief Imran Khan's claims that they were among the architects of a poll rigging plan that ensured Pakistan Muslim League-Nawaz's (PML-N) victory in the May 2013 polls.

Addressing a joint press conference along with Election Commission of Pakistan (ECP) Additional Secretary Sher Afgan at the provincial election office in Karachi, they said they served as neutral officials, who were neither approached by anyone, nor did they grant favours to anyone.

"We have merely arranged this emergency press conference in response to allegations levelled against our officials," Sher Afgan.

He was referring to Imran Khan's statement in which he alleged that Punjab election commissioner, Anwar Mehboob, had got printed extra ballot papers for 98 assembly seats in five divisions after his meeting with chief secretary and additional chief secretary of the province.

Imran had also claimed that SM Tariq Qadri was transferred from Punjab to Sindh following his refusal to remove the PTI banners and wall posters from Lahore and other districts of the province.

Clarifying his stance, SM Tariq Qadri said he was never directed by Punjab election commission's member Riaz Kayani to meet with the PML-N leader Pervaiz Malik.

Anwar Mehboob also rebutted the allegation that he had printed extra ballot papers.  "We normally meet with the politician and bureaucrats, but I did not hold a meeting with officials two days ahead of the election to print ballot papers," he said.

NADRA rebuttal

A statement issued on Monday by National Database and Registration Authority (NADRA) said that NADRA had taken notice of the PTI chairman's press briefing in which he once again reproached NADRA for manipulating election material in the basement of COMSATS building. "We reject these allegations," the statement said.

Published in The Express Tribune, August 12th,2014.