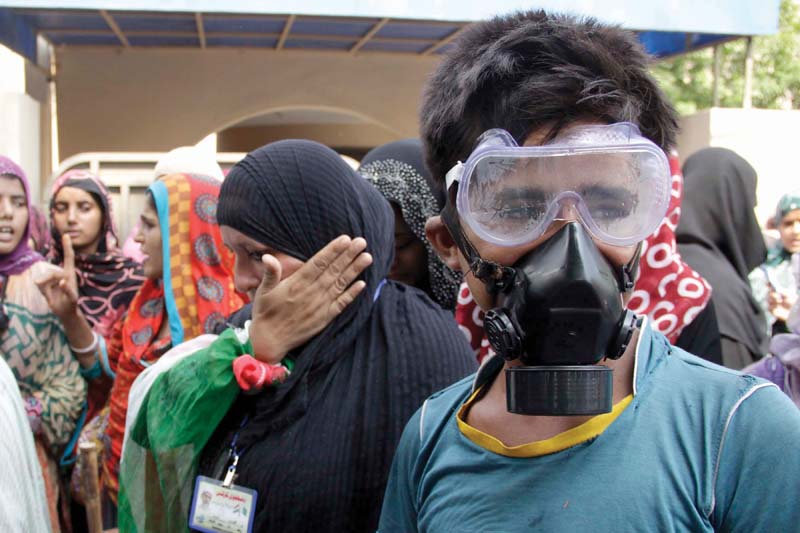 ---
LAHORE:



Midhat Qureshi, aged 23, sat outside the residence of Pakistan Awami Tehreek chief Dr Tahirul Qadri in Model Town on martyrs' day, visibly fatigued and with bloodshot eyes. "I've not slept for more than four hours over the last four days," she said. "But I'm not tired." The law school graduate from Kasur said she arrived in Lahore at Qadri's call in the first week of August after he announced a martyrs' day to be observed on the 10th. Qureshi was one of an estimated 100 baton-wielding women guarding Qadri's residence.




At the Tehreek Minhajul Quran (TMQ) Secretariat, 14 teams in total, including Qureshi's group, are responsible for the security of Qadri's house, the main secretariat building and a shrine associated with Qadria Silsila. The teams also oversee the security of party leaders.

Imtiaz Awan, a security officer, said he has been affiliated with the party since 1992. While religious rituals like daily prayers and fasting inculcate a sense of discipline and organisation, he says the annual aitekaf gatherings at the TMQ Secretariat have been key to the 'extreme patience' that PAT workers have shown as tensions over the current political crisis have escalated.

"PAT workers have Allama sahib's strict directives that demonstrations will be peaceful," he said, referring to Qadri's orders for martyrs' day. "The government is concerned over protests at public places due to security concerns, which is understandable. But we are holding a demonstration in our home, the secretariat. Why should that be a concern?"

As martyrs' day was observed, the TMQ Secretariat was home to PAT activists from different parts of the country. Sophia Waheed, a private school teacher, arrived from Karachi to serve as a volunteer. "Female volunteers have been divided into different teams, with specific tasks such as rescue, security or food distribution," she explained. "We were all asked our preferences and assigned duties when we arrived at the secretariat."

Waheed's colleague, Almas Zahra, also from Karachi, is an employee at a software engineering firm. They said they were volunteering as they feel "the government has not delivered to the people". "I believe revolution under Dr Sahib's leadership is the only way to establish an Islamic system of governance," Waheed said. "Once landlordism and privilege of all kinds is abolished, the condition of women will automatically improve." She added that any such improvements will have to be defined within the parameters of Islamic precepts. Zahra concurred, adding, "Dr Qadri is one of the few people in the country today with an untainted past."

Another supporter, Malik Imran Sidhu, leads the Minhajul Quran Lahore chapter's youth wing. Sidhu, a PAT member since 2002 and the owner of a rice export business, was supervising local groups of volunteers, divided in accordance with their areas of residence in Lahore.

A student activist for the Muslim League-Nawaz at Government Science College, Lahore, Sidhu says he has also worked for the PML-Q and PPP. Like Sidhu, Muhammad Ismael, in charge of security inside the jalsa venue, said he joined the PPP due to Zulfiqar Ali Bhutto's opposition to feudalism. "I left the PPP after Bhutto's death and was attracted to the PAT when I heard Dr Qadri's lectures," he said.

Ismael is from Khanewal, the owner of a small-sized family farm. "We have been pushed by the government to take to the streets. What else am I left to do if I have to spend Rs2,400 on a bag of fertilizer good for a maund of cotton which sells for no more than Rs2,300?" he asked.

Ismael and Sidhu explain that in order to ensure foolproof security, volunteers use code names for supervisors and have no information about people beyond their immediate group. The jalsa ground was cordoned off by two human chains – men and women in separate groups – all wielding batons. One of the members, Umar Farooq, said, "The plan has been made to kill our leader Dr Tahirul Qadri but let me tell the authorities that they will have to cross our dead bodies before reaching him."

Outside the secretariat building, supporters gathered in huddles, whiling away the time as they chatted. One woman, Ayesha Mai, aged 65, had been at TMQ since the 7th. "There is a shortage of food and drinking water because the tyrant rulers have blocked the roads with containers and are not allowing us to go and eat food," she said. Another supporter, Hafza Ahmed, said that despite these problems, they will remain at TMQ. "We will not go back to our homes until we get rid of the corrupt leaders, because we know that to achieve something, you have to make sacrifices," she said.

Published in The Express Tribune, August 12th,2014.
COMMENTS (3)
Comments are moderated and generally will be posted if they are on-topic and not abusive.
For more information, please see our Comments FAQ