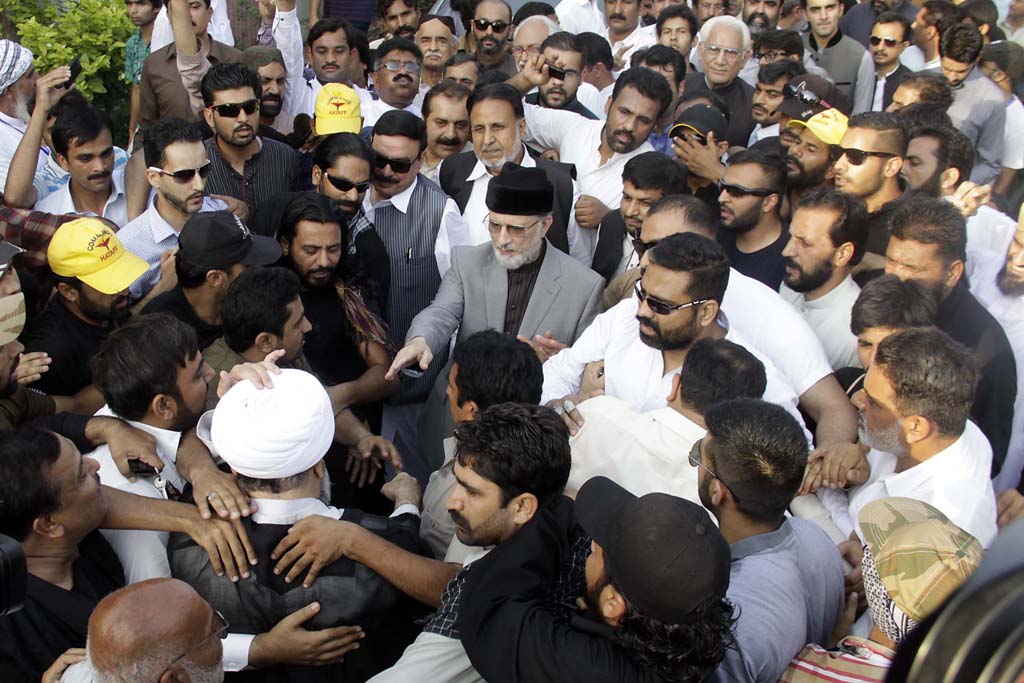 ---
LAHORE: The government is likely to allow Pakistan Awami Tehreek (PAT) chief Dr Tahirul Qadri to hold his revolution march on August 14 — but not without putting restrictions in place. And that too, only after it fails to contain PAT's anti-government campaign.

At the same time, political parties continued to negotiate with Pakistan Tehreek-e-Insaf (PTI)'s chief Imran Khan in a bid to convince him to shorten the duration of his sit-in in Islamabad.

Prime Minister Nawaz Sharif and Punjab Chief Minister Shahbaz Sharif on Sunday met in Raiwind, where they discussed the PTI's August 14 Azadi march and Qadri's revolution march in detail.

According to sources, Nawaz and Shahbaz called the meeting to devise strategy after Qadri called for a revolution march on August 14. In the coming days, the Punjab chief minister and Interior Minister Chaudhry Nisar Ali Khan will convene a meeting of the party leaders to discuss the issue.

According to sources, the authorities in Punjab will continue their restrictions on PAT workers and will allow a limited number of activists to join the revolution march on August 14.

They, however, ruled out the release of around 1,500 PAT workers who were arrested from across the province. The police will also keep a close watch on Qadri's workers and will try to confine their presence in their local districts till August 14.

The sources said the Punjab government will try to keep to a minimum number of Qadri's supporters, gathering at his Model Town residence. And if it succeeds, then it will allow Qadri to go on GT Road at the same time when Imran Khan will come out from his residence at Zaman Park, Lahore.

They said the government would try to give an opportunity to the workers of both parties to converge on GT Road in order to get political benefits by putting them in an odd position. The PML-N believes that neither Qadri nor Imran wants to lose the opportunity of leadership on August 14.

The sources said Nawaz and Shahbaz have decided not to arrest Qadri at any cost. They said the PML-N leadership believes that Qadri's revolution march's call is an attempt to widen his popularity.

Imran Khan's long march

According to sources, the Sharif brothers also discussed the ongoing discussion between political parties and the PTI.

The sources said the PML-N leadership believes that Imran will make a fresh announcement in Islamabad, just as he had made in his Bahawalpur public gathering before winding up his protest.

They said the PML-N leadership believes that negotiations between the PTI and other political parties will be successful and they will convince Imran to cut the duration of the marchers' stay in Islamabad.

Talking to The Express Tribune, former Punjab law minister Rana Sanaullah Khan said the PML-N would call a meeting in the coming days to discuss a strategy regarding the PAT and the PTI marches.

"Majority of the PML-N's senior leadership is of the opinion that both Qadri's revolution march and Imran's Azadi march should be allowed to go ahead in Islamabad," he said.

Sananullah said Imran had conveyed to the negotiators that he wanted to stage a sit-in in Islamabad. "However, political parties are in contact with him and some solution will emerge," he added.

He said, according to the federal and Punjab government's estimations, the PTI and the PAT might stage a sit-in lasting between 10 to 15 days.

"The federal government will make such arrangements that their sit-in remains a sit-in and after that they call it off peacefully," he said.

Published in The Express Tribune, August 11th,2014.

 
COMMENTS (11)
Comments are moderated and generally will be posted if they are on-topic and not abusive.
For more information, please see our Comments FAQ