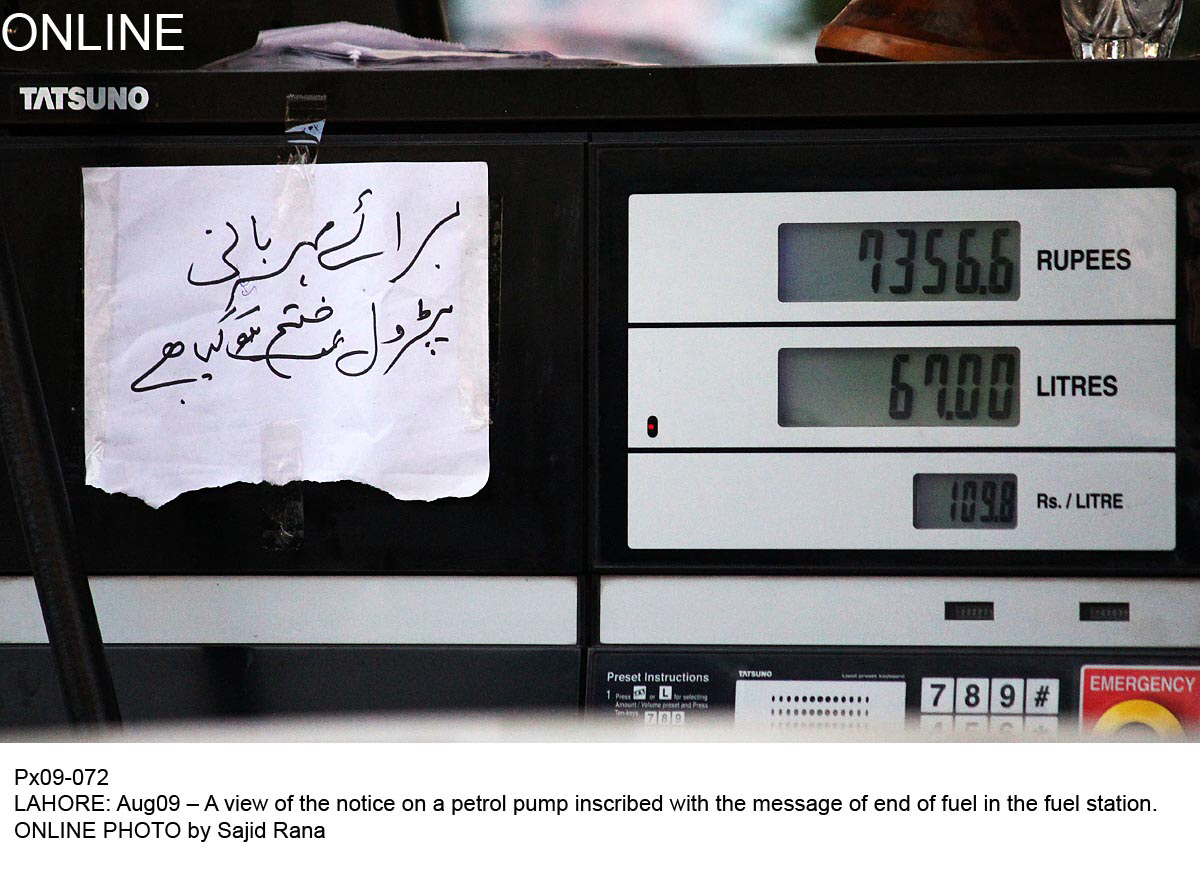 ---
MULTAN:



Dozens of scuffles broke out over suspension of fuel supply in several parts of Multan on Saturday.




Most petrol stations were shut. Long queues were seen outside those that remained open.

A protest broke out outside a petrol station near MD Chowk after many people failed to get petrol after waiting in the queue for hours.

Pakistan Awami Tehreek (PAT) workers set up registration camps outside petrol stations with long queues to enlist people to their cause.

Muhammad Abdul Qayyum said he had walked for three hours to get petrol for his motorbike.

"This is among the worst fuel crises I have ever seen," the 23-year-old said. "

He said he had registered with PAT because he was tired of complaining to a government that did not listen to common man.

Shakeel Ahmed, from Sahiwal, said his mother was admitted to a hospital in Multan but he could not go see her because entrances to cities had been blocked.

"I am not taking sides. So why must I suffer?" he said.

Ali Hussain, a PAT activist manning a registration booth near a petrol pump at Chungi 7, said his party's leadership had organised these registration camps.  "We were waiting for them to realise the reason for their suffering," he said. "Revolution is inevitable. Today, nearly 50 people signed up at this camp alone. There are many others."

He said nearly 3,600 people had joined the PAT across South Punjab at petrol pump registration camps

International Social Institute of Rights President Faheem Akhar said nearly 110 protests against fuel shortage had been recorded in 16 districts of south Punjab in 48 hours.

Multan DCO Zahid Saleem Gondal told The Express Tribune that petrol pumps had been shut down by their owners to increase petrol prices.

He said the government had issued no orders for suspension of fuel supply in the Punjab.

He said he had raided several petrol pumps and had warned their owners to keep open or face closure.

Published in The Express Tribune, August 10th, 2014.