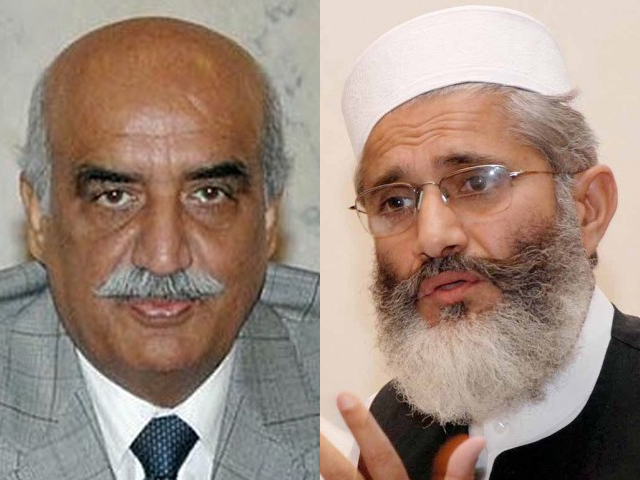 ---
ISLAMABAD:



Pakistan Peoples Party's leader Khursheed Shah and Jamaat-e-Islami (JI) chief Sirajul Haq have drawn up a set of proposals to end months of friction between the ruling Pakistan Muslim League-Nawaz (PML-N) and Pakistan Tehreek-e-Insaf (PTI), insiders told The Express Tribune.




The first step proposed is a thorough audit of votes through a presidential ordinance in at least 10 selected constituencies, which should be referred to election tribunals. Then, in light of the findings of the tribunal, a parliamentary panel on electoral reforms headed by Finance Minister Ishaq Dar should identify loopholes in the system and introduce electoral reforms.

Both the PPP and JI also want the government to withdraw its decision to invoke Article 245 of the Constitution, impose Section 144 in Islamabad and end the crackdown on political workers.

Other points could not be ascertained as yet, some officials said there were four demands in total.

Sirajul Haq confirmed that despite Imran's press conference and hard stance, there are chances of compromise. When asked about the four-point formula, Haq said, "I will neither deny nor confirm it but I am upbeat about hearing something positive from both sides."

Responding to a question, Haq said that he will participate in a national security conference convened by the prime minister and will ask the government to lift Article 245 and Section 144. "JI will also meet Pakistan Muslim League-Quaid on Saturday (today) to reach a consensus."

Separately, Khursheed Shah was also sanguine. "Yes, the political crisis can be resolved even though Imran Khan apparently cannot postpone the long march due to political reasons," he said. The opposition leader asked the government to mend its ways and demonstrate patience. He also advised the PTI and Pakistan Awami Tehreek (PAT) chiefs that protests should not escalate into a war.

'Bleak chances for PTI, PAT alliance'

Despite efforts of top leaders, "Imran Khan is allergic to Tahirul Qadri" and said that he will not allow him to hijack his Azadi March', according to insiders. Separately, PTI Vice Chairman Shah Mehmood Qureshi also told a selected gathering of journalists that he is not in favor of such alliance. "Qadri wants to wrap up the entire system, but we want to reform it. Our protest will be peaceful and within the constitutional framework. But in case Qadri's workers join us, then there is no guarantee for peace, which is why we are avoiding this alliance," he said.

Dar seeks MQM support

As political temperatures continue to rise, Finance Minister Ishaq Dar called for Muttahida Qaumi Movement (MQM)'s support against the upcoming long marches and protests, and invited the party for the national security conference today (Saturday).

In a telephonic conversation between the finance minister and MQM chief Altaf Hussain Friday morning, the two discussed the current political situation in the country. Dar said the prime minister wanted to resolve every issue politically and the conference was the first step. Altaf also reaffirmed that dialogue is the need of the hour.

Published in The Express Tribune, August 9th,2014.
COMMENTS (5)
Comments are moderated and generally will be posted if they are on-topic and not abusive.
For more information, please see our Comments FAQ