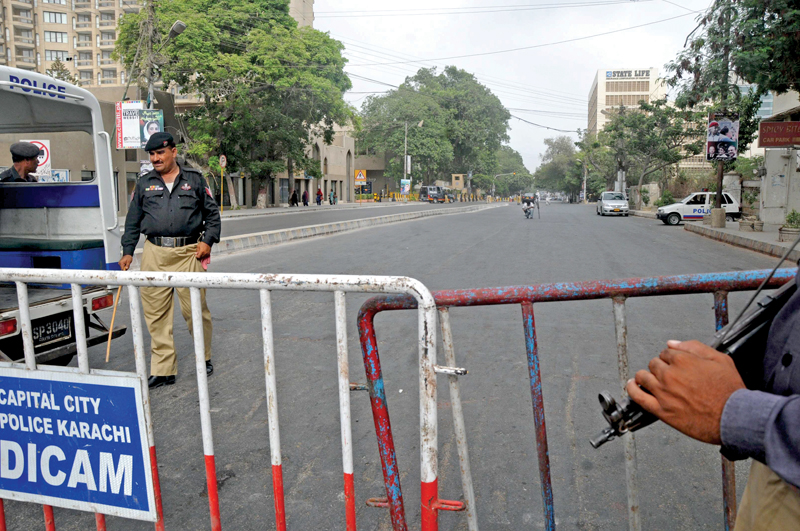 ---
KARACHI: Removing barriers from streets is the responsibility of the civil administration, a Rangers law officer informed the Sindh High Court (SHC) on Friday.

The paramilitary force did, however, extend its help in case the law and order situation worsens when the officials remove these barriers. Shahbaz Ali, the law officer for Sindh Rangers, said this in the comments he filed on a petition seeking removal of wall chalking and illegal barriers from the city streets.




The Rangers have been deployed in the city to maintain the law and order, said Ali, adding that the removal of barriers is the job of the civil administration, the local government and different anti-encroachment units of the government departments. "However, in case any law and order situation arises while they are removing the barriers, we can provide support to the civil administration," the law officer said.

A division bench, headed by Justice Sajjad Ali Shah, took the comments on record. Meanwhile, a provincial law officer Mustafa Mahesar sought time to submit the order passed by the Supreme Court for the removal of the graffiti and barriers from the streets and the government's report, which was submitted to the SC. The bench granted him two week time and adjourned the hearing till September 10.

Rana Faizul Hasan, a civil rights campaigner, had gone to the court against the police, Rangers, provincial and local authorities for their inaction against the graffiti and unauthorised barriers on the streets in the city.

In his plea, he said that several areas and roads of the city have been blocked by placing barriers on the streets, which was a source of inconvenience to the citizens and affected their right to free movement on public roads.

Armed people took positions at all entry and exit points of different neighbourhoods and they question those who try to enter, he claimed. The petitioner further submitted that 70 per cent of the link roads in Jamshed Town, Gulshan-e-Iqbal, North Nazimabad Town, New Karachi, Liaquatabad Town, Korangi Town, Landhi Town, Clifton and other areas of the city had been closed with barriers.

He alleged that the law enforcement agencies had failed to perform their duties as there were clear directions from the Supreme Court to remove barriers and end no-go areas in the city. The Supreme Court, he recalled, also held that no-go areas could not be allowed in the country and nobody could be restrained from free access to public roads and areas, including private housing societies.

Besides, he submitted that despite a ban on graffiti in the city and the governor's directives for the removal of graffiti from government and semi-government buildings, no steps had been taken by the authorities against violators.

The court was pleaded to direct the law enforcers to remove barriers from public roads and the civic administration to clear the public places and public of graffiti.

Published in The Express Tribune, August 9th,2014.