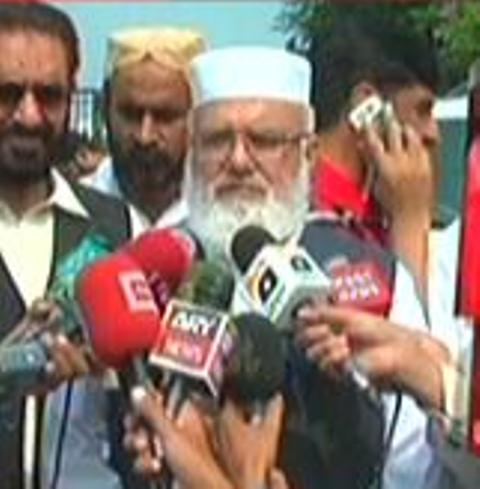 ---
ISLAMABAD: Jamaat-e-Islami (JI) leader Liaqat Baloch said on Friday that his party is trying to mediate between the government and the Pakistan Tehreek-e-Insaf (PTI) to ensure that grievances between the two are resolved in a constitutional and democratic manner.

After meeting PTI Chairman Imran Khan, Baloch met Interior Minister Chaudhry Nisar and Federal Minister for Railways Saad Rafique to pass on the party's recommendations on PTI's 'Azadi' march scheduled for August 14 in the federal capital.

"The demands of the PTI are related to the recounting of polls during the general elections and the formation of a new election commission," he said.

Addressing the media, the JI chief said that Prime Minister Nawaz Sharif will consult his team and present his recommendations on Imran's demands, adding that he would then inform the PTI chief about the government's suggestions.

Further, Baloch said that he would also meet Leader of the Opposition Khursheed Shah and Leader of Pashtoonkhwa Milli Awami Party Mehmood Khan Achakzai to further discuss the 'Azadi' march.

"Talks are leading to positive developments," said Baloch.

Urging the government and PTI to resolve matters, Baloch said, "third parties take advantage, if there is disunity among political leaders".

He also said that protesting is a constitutional right, but parties should ensure that their protests remain peaceful and within the constitution, adding that the government shouldn't take unconstitutional steps either.

Last night, Nisar and Rafique contacted Baloch to discuss Imran's demands and the leaders decided to meet today.