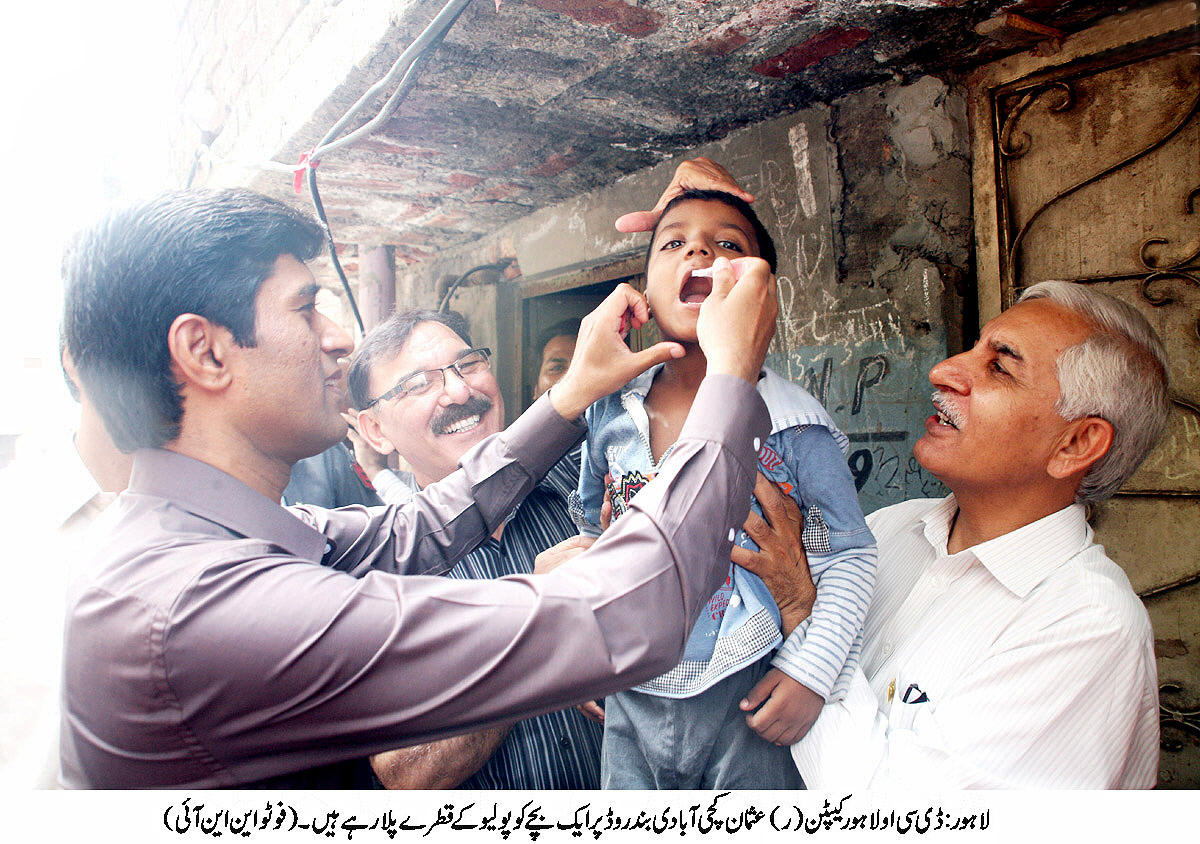 ---
ISLAMABAD:



Punjab has reported its first-ever polio case in the year 2014 which has set alarm bells ringing for the government as the crippling disease has now infiltrated low-risk zones of the country as well.




The polio virology laboratory at National Institute of Health (NIH), Islamabad, on Thursday confirmed four fresh wild type-1 polio cases in the country each from Punjab, Sindh, Khyber-Pakhtunkwa and the Federally Administered Tribal Areas, taking the nationwide tally to 108 children.

The year's first case of polio in Punjab was diagnosed in a 35-month-old baby girl named Noorul Huda, daughter of Waqar Haider, who is a resident of Union Council and Tehsil Kalar Kahar, district Chakwal.

According to her parents, she had received over seven doses of polio vaccine. Last year a total of seven polio cases were reported from Punjab.

Meanwhile, a 17-month-old child named Gul Panra, daughter of Mohammad Ali, resident of village and area Khushali, tehsil North Waziristan has also been diagnosed with the crippling disease.




So far this year, a total of 77 cases from Fata have been reported out of which 58 are from North Waziristan Agency, seven from South Waziristan, 10 from Khyber Agency and two from Frontier Region (FR) Bannu.

Umema, a 10-month-old girl, who is a resident of Peshawar, was also infected with poliovirus. She had also received seven doses of polio. K-P so far has reported 19 cases out of which eight have been reported from Peshawar, nine from Bannu, and one each from Mardan and Laki Marwat.

Mohammad Siddiq's five-and-a-half years old son Mohammad Umair, from Karachi, had only one dose of polio vaccine due to parental refusal.

Sindh has reported 10 cases out of which all have been reported from Karachi, including one each from Baldia, Orangi, Site, Landhi, Sanghar, North Karachi and four from Gadap.

Talking to The Express Tribune, Dr Rana Muhammad Safdar, the Expanded Programme on Immunisation (EPI) national manager, said that having cases from relatively low-risk zones like Punjab is worrisome and is also a wake-up call for the government.

This year in just eight months, polio cases have been reported from all the four provinces, which is alarming. "Now the government should include the relatively low-risk areas in its priority list along with high-risk zones as there is no idea where a child gets infected with the disease," he said.

"All children with an immunity gap can acquire poliovirus even if they are living in a low-risk zone. Meanwhile, the movement of children of IDPs to other parts of the country who missed polio doses can pose a big threat," he said.

He was of the view that the child affected with polio in Chakwal does not belong to a Pakhtun family or was among internally displaced persons (IDPs) but was a local.

Despite the fact the child had received seven doses of polio vaccine, she was diagnosed with the disease and the reason could be that the child is malnourished and thus, has a weak immune system, he said.

Dr Safdar expressed concern over the poor quality of anti-polio drives in Balochistan, adding that the evaluation report showed quality gaps in it.

Published in The Express Tribune, August 8th, 2014.