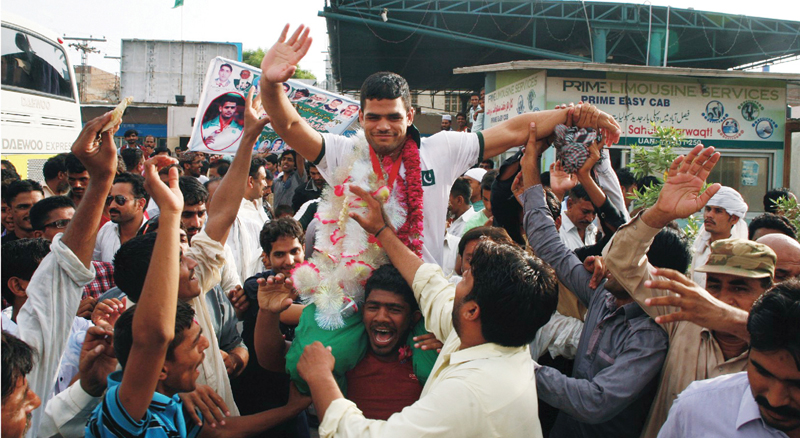 ---
FAISALABAD:



Wrestler Qamar Abbas on Wednesday returned home to Faisalabad after winning a silver medal in the Commonwealth Games in Glasgow.




Abbas was received by his family and a large number of supporters outside his house. Several sports officials, former MPA Syed Zeeshan Ali Shah and Wrestling Association president Chaudhary Khalid Hasan were also present.

When Abbas' entourage was spotted near District Council Chowk, a cheer went up in the street filled with dozens of supporters hoping to catch a glimpse of the athlete. Many people danced to the beat of drums and chanted slogans for the wrestler.

"I came to let Abbas know how proud we are of his achievements," said 14-year-old Fahad Rehman, who hoped to get an autograph of the wrestler. He said some of his friends did not care to come because Abbas did not win gold.

"I don't care what medal he has brought back," Rehman said. "I am here because Abbas worked hard to bring his nation joy and I want to show him that we stand by him."

Neighbours, supporters and friends carried Abbas home on their shoulders.

Olympian Haji Anwar, his coach, accompanied the wrestler.

He told newsmen that Abbas had trained in a short span of time and had performed very well at the games. He said the 25-year-old had shown a lot of promise.

"Hopefully, the silver is just the start. We will continue to aim for gold," he said.

Talking to newsmen, Abbas thanked the public for their support.

"I could not have done it without the prayers of my parents and my countrymen," he said.

"I am humbled by the love and support shown to me throughout the tournament," he added.

Abbas expressed dissatisfaction with facilities for Pakistani athletes.

"I trained for the Commonwealth Games without any assistance from the government," he said. "If I can win silver with my meagre resources, imagine how many medals Pakistan will have if it invested in its athletes."

He apologised for not winning a gold medal in the tournament.

"It would have been a dream come true if I had won," he said. "When I got silver instead, I realised that making it to second place too was a great feat." He said winning gold would be an achievement for another day.

Published in The Express Tribune, August 7th,2014.
COMMENTS (2)
Comments are moderated and generally will be posted if they are on-topic and not abusive.
For more information, please see our Comments FAQ