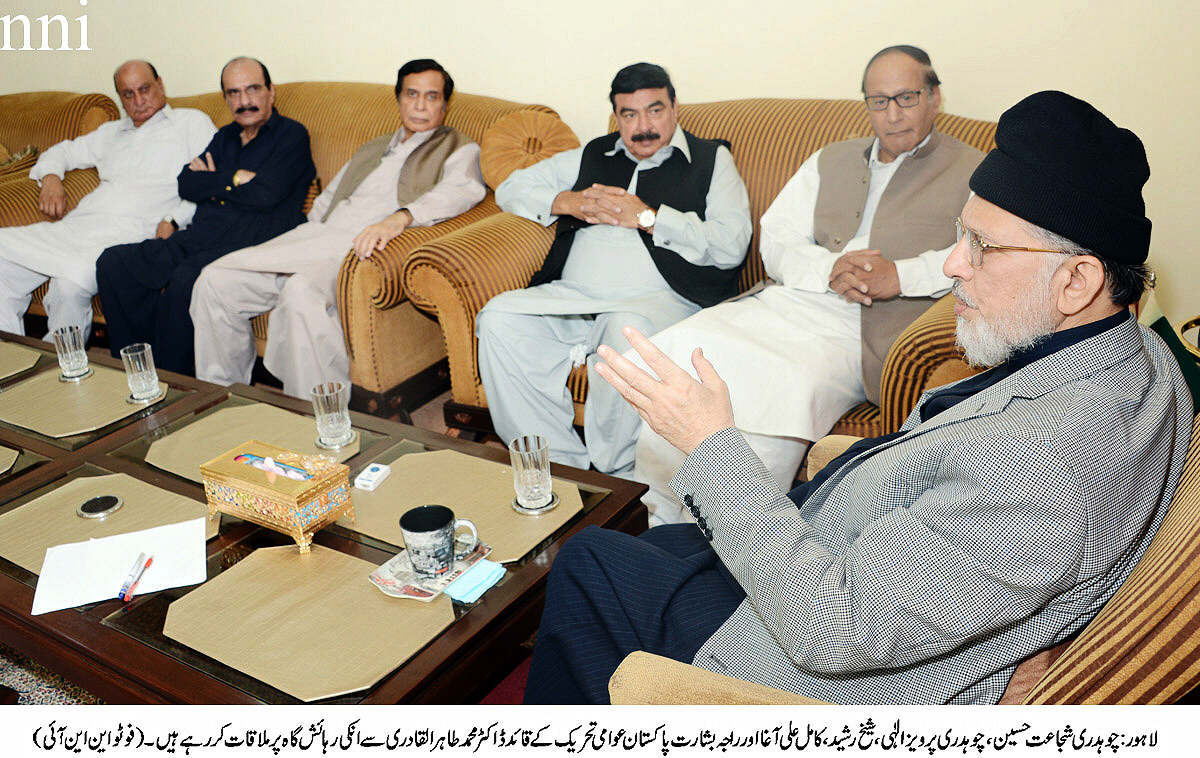 ---
ISLAMABAD/ LAHORE: Political circles are abuzz with Imran Khan's 'Azadi March' and Dr Tahirul Qadri's 'revolution march'. The Pakistan Tehreek-e-Insaf's march is scheduled for August 14 – but Pakistan Awami Tehreek is noncommittal on the date of its rally. Both parties have been approaching likeminded groups to muster as much support as possible.

On Saturday, PML-Q leaders Chaudhry Shujaat Hussain, Chaudhry Pervaiz Elahi and Raja Basharat, Awami Muslim League chief Sheikh Rashid Ahmed and Majlis Wahdatul Muslimeen head Allama Raja Nasir Abbas met Dr Qadri at his residence.

According to sources, they asked the PAT chief to announce the date for his revolution march.

However, Dr Qadri said his party would first observe a 'Youm-e-Shuhada' (Martyrs Day) to honour a dozen-plus of its workers who were killed in a police crackdown in Model Town on June 17. On Sunday (today), Dr Qadri will announce the date for 'Youm-e-Shuhada'. And afterwards Dr Qadri, Shujaat and Rashid will finalise the date for the revolution march.

Some sources, however, said the PAT chief might also announce whether or not his party would join hands with the PTI in the Azadi March. They added that the PAT might also moblise its supporters and ask them to reach Islamabad before August 14 – the date of PTI's rally. "The PAT is likely to announce that it would start its march before the PTI and reach Islamabad before August 14," a source said.




"We are still negotiating with the PTI for a possible joint march against the government," a senior PAT leader told The Express Tribune. If the PAT decides to stage its revolution march before the PTI, he said, they would stay in the federal capital till August 14 or beyond.

He said that the party has convened a meeting of its general council on Sunday which would be attended by 15,000 officer-bearers from across the country. Dr Qadri would announce his decision after the meeting, he added. "Currently, the party is studying several options."

In Saturday's meeting the Chaudhrys of Gujrat and Shaikh Rashid agreed to support PAT's Youm-e-Shuhda plans – but at the same time urged Dr Qadri to announce his revolution march on August 14 in support of PTI's Azadi March. The Chaudhrys refused to share with the media the outcome of their meeting. An announcement would be made on Monday, they told journalists.

"The time for negotiations with the government is over. Now, the nation will hear glad tidings," Chaudhry Shujaat said. "If the government decides to detain us, we're not afraid of arrests."

According to a press statement issued by the PAT, the Chaudhrys and Sheikh Rashid called on Dr Qadri and "contemplated date for the revolution march and its modus operandi".

Dr Qadri, along with heads of 40 political and religious parties, will announce the revolution march plan and others on Sunday.


Published in The Express Tribune, August 3rd, 2014.
COMMENTS (4)
Comments are moderated and generally will be posted if they are on-topic and not abusive.
For more information, please see our Comments FAQ