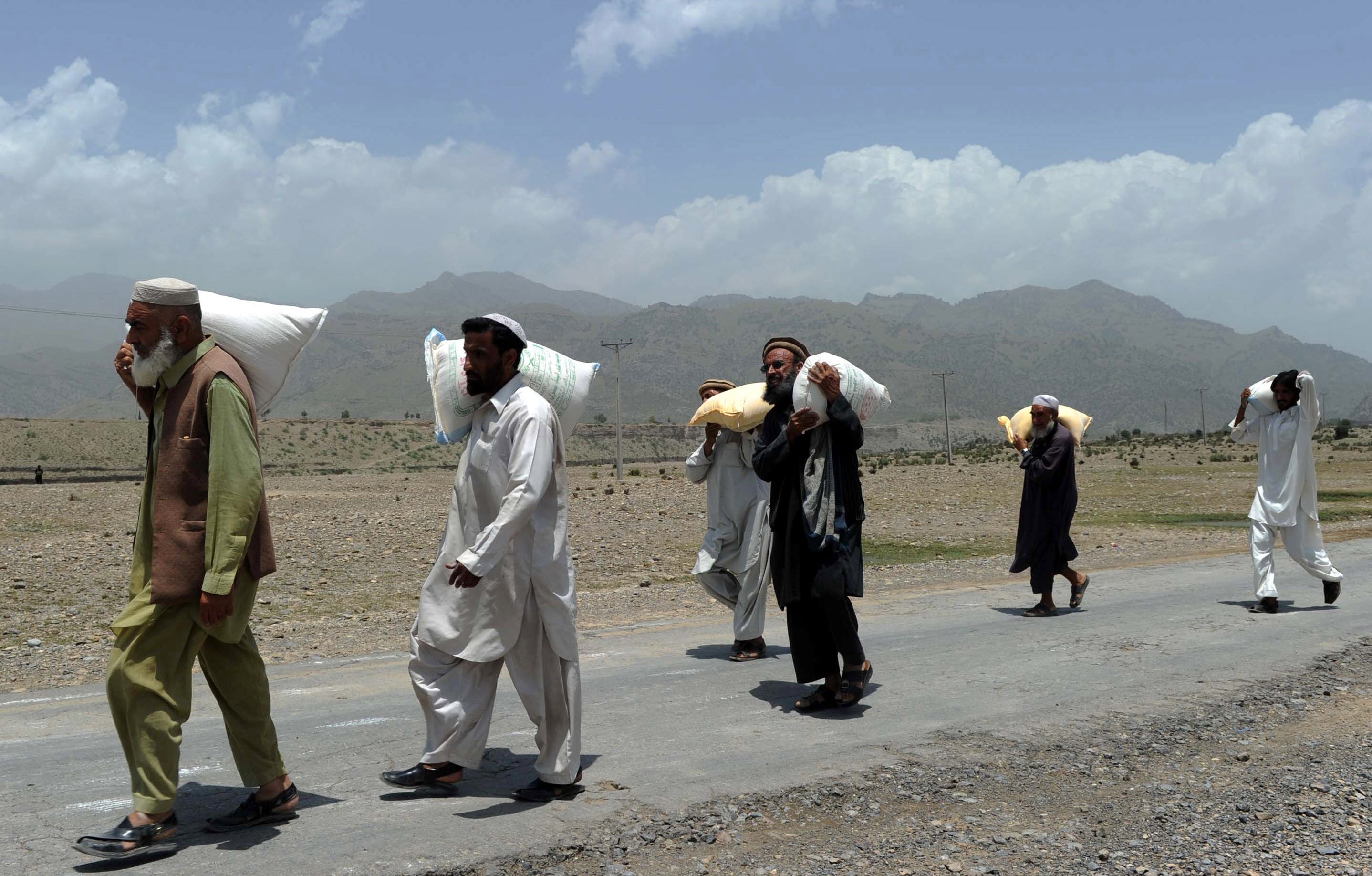 ---
MIRANSHAH/ PESHAWAR: At least three Frontier Corps (FC) officials and 12 others including two women were injured when a militant detonated an Improvised Explosive Device (IED) at Boya check post in North Waziristan Agency on Monday afternoon.

According to a security official, a militant rammed a truck loaded with explosives with Boya check post in Datta Khel tehsil of the agency North Waziristan agency as a result of which three security officials were killed and many others were injured.

He added that a house nearby was also completely destroyed along with the check-post structure due to the impact of the huge explosion.

Zahir Shah Wazir, a local tribesman from the area, said that he was around a kilometer away from the check post when he heard a loud explosion.

Wazir said when he looked back he saw a cloud of smoke and dust amalgamated with fire leapt to the sky. "The mushroom of the blast seems horrible, it was heard kilometers away" adding that he along with other people rushed to the site to rescue and found out that the entire check-post was razed to the ground.

"I don't know how many people were killed but many would have been died with such a huge blast," Wazir said.

He further claimed that five women in a nearby house were also severely injured due to the explosion and were airlifted by security forces.

Another official of the security forces said that after the blast security forces backed by gunship helicopters and rescue choppers reached the check-post and lifted the injured to Bannu CMH along with multiple civilians.

The attack was carried out despite high security measures on every check-post in North Waziristan Agency along with tribesmen patrolling parties in the area.

Hafiz Gul Bahadur extend evacuation date to June 20

Key Taliban faction commander Hafiz Gul Bahadur has extended the deadline given to the people of North Waziristan to migrate from the area to June 20.

Haji Sher Muhammad, successor of Faqir of Ipi, held a jirga with Gul Bahadur and convinced him to extend the deadline of the people migrating to Afghanistan and the border area of Pak-Afghan.

Earlier on May 30, Gul Bahdur had urged locals in the region to vacate the area before June 10.

While talking to the journalist Haji said that Gul Bahadur has agreed to extend the deadline of evacuation for tribesmen from June 10 to June 20.

Thousands flee Pakistan tribal district fearing operation

Tens of thousands of people from tribal district have fled their homes fearing a long-awaited military operation is imminent, officials and residents said Monday.

A government official in Peshawar told AFP that some 58,000 people, mostly women and children, had fled North Waziristan district since air strikes targeting militants in late May killed at least 75 people.

The exodus has increased rapidly in recent days, with more than 25,000 fleeing their homes in the last 48 hours alone, he added.

An official in the district's main town of Miranshah confirmed the migration was underway to various parts of northwestern Khyber Pakhtunkwha province.

"I am taking my family to a safer location," said one resident who did not wish to be named.

The rugged district that lies on the border with Afghanistan is the main stronghold of Taliban and al-Qaeda-linked militants in the lawless tribal belt after the Pakistani military launched offensives in the six other districts.

An offensive in North Waziristan has been rumoured for years but analysts remain cautious about whether the military has the capacity to attempt such a move without assistance from the Afghan side of the border where militants are likely to flee in the event of an attack.

The latest rumours of an operation began after government talks with the umbrella Tehreek-e-Taliban broke down in April, and were further stoked by the air strikes and the widespread distribution of a leaflet from Bahadur last week warning residents they should leave their homes by June 10.

Officials and elders told AFP that residents from the area had formed a 65-member jirga, or council, comprising members of the Utmanzai tribe who had held last-ditch talks with the military and government in the region's main town of Peshawar on Friday to avert the offensive.

"The jirga had meetings last week with the governor Khyber Pakhtunkhwa and corps commander Peshawar demanding a halt in the air strikes and offering to solve the issue with talks. The government wanted the residents to hand over foreign militants in exchange," a senior security official in Peshawar said.
COMMENTS (2)
Comments are moderated and generally will be posted if they are on-topic and not abusive.
For more information, please see our Comments FAQ