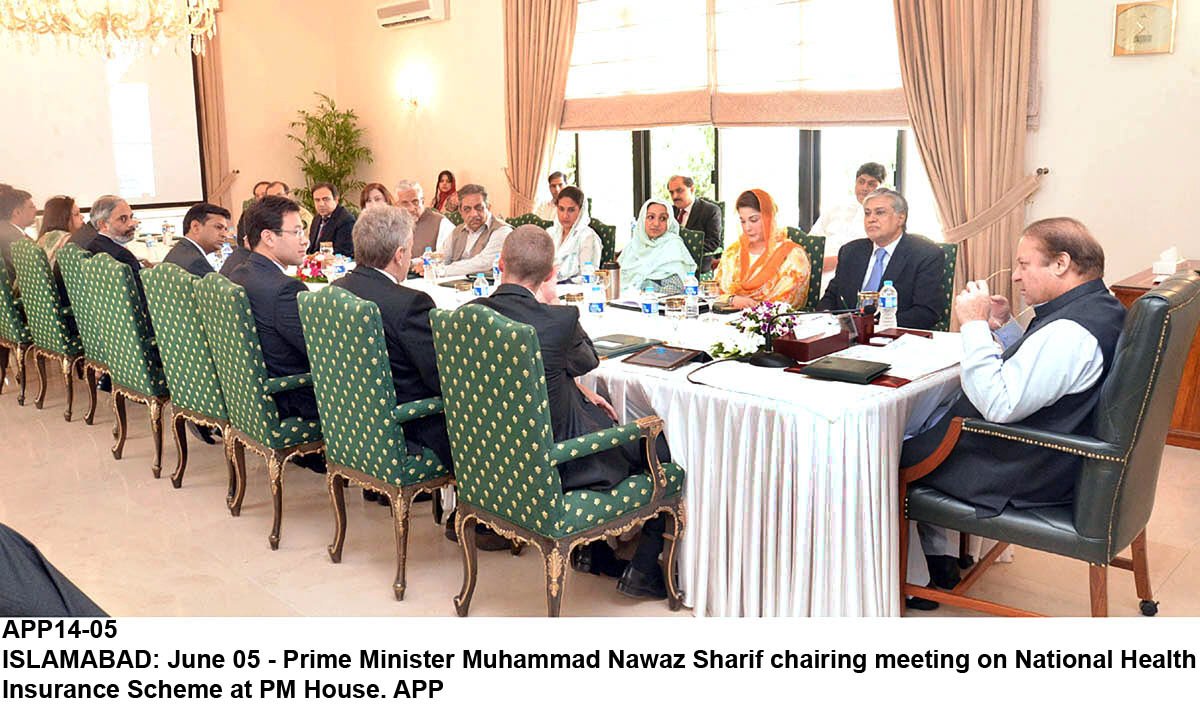 ---
ISLAMABAD: Prime Minister Nawaz Sharif approved on Wednesday the National Health Insurance Scheme for the underprivileged, stated to cover, in phases, around 100 million people.

The move comes just days after the government announced the budget for the year 2014-2015. A provision of Rs1 billion was included in the budget for launching the scheme on a pilot basis, which will then be replicated in a large number of districts.

The scheme will be materialised with the involvement of provincial governments.

The prime minister gave the approval during a meeting, which was attended by Minister for Finance Ishaq Dar, Chairperson Prime Minister's Youth Program Maryam Nawaz, Minister of State for Health Saira Afzal Tarar, and senior officers of the health and finance ministries.

Maryam Nawaz, the architect of the scheme, gave a detailed briefing to the premier, which included a comparative study of major health blanket models of the European Union, the United States and India.

"A health insurance program is the only way forward to provide healthcare protection to the economically-deprived people of society. The scheme is the first of its kind to introduce a grievance redressal system, as well as a social security safety net for the poor people of Pakistan. The program will not only give vulnerable sections of society access to cash-free health facilities but will also help develop and revolutionise the health infrastructure across Pakistan," the prime minister said.

He added that the scheme would also enhance public-private partnership in Pakistan and would open up further avenues for investment.

During the meeting, it was discussed that the scheme would be completely apolitical and would provide a blanket for cash-free treatment to the underprivileged for major diseases like cardiovascular diseases, Diabetes Mellitus, Burna and RTA (Life and limb saving treatment, implants, prosthesis), end stage renal diseases and dialysis, chronic infections (Hepatitis), organ failure (Hepatic, Renal, Cardiopulmonary) and cancer treatment (Chemo, Radio, Surgery).

The meeting also decided to establish the first-ever state-of-the-art public sector human organ transplant centre in Islamabad.

The prime minister directed the ministries of finance and health to coordinate and finalise the technical aspects and implementation strategies as early as possible.
COMMENTS (2)
Comments are moderated and generally will be posted if they are on-topic and not abusive.
For more information, please see our Comments FAQ