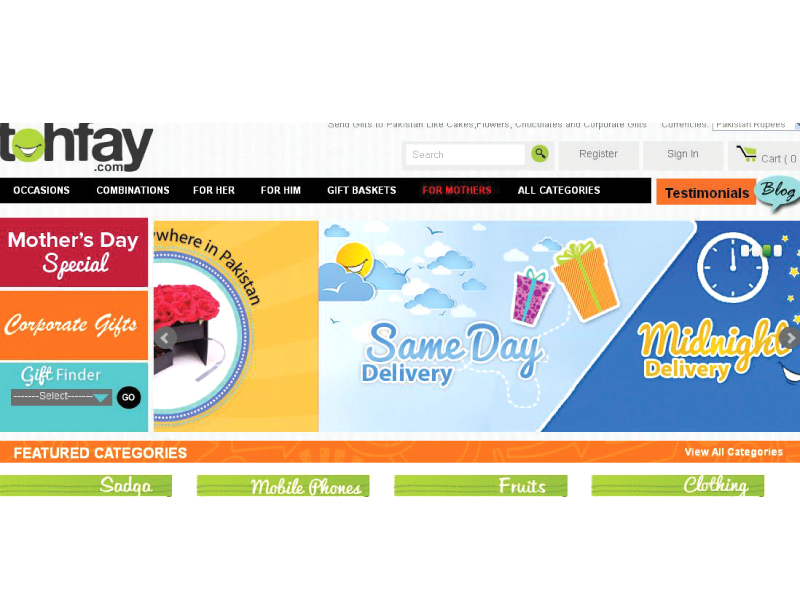 ---
KARACHI:



When someone discusses the e-commerce business, traditional ideas are seemingly enough to make the cut. Mobile phones, books, clothes and chocolates sold online by retail stores or internet portals are the explored ideas.




However, at least one e-commerce business has thought out of the box and focused on services that meet unique demands of its customers.

The portal has arranged for funeral prayers and recorded the event for a son miles away, handled the entire process on behalf of an expat couple that wanted to adopt baby from Pakistan.

All of this, and much more, are part of services Tohfay Pakistan Private Limited, the parent company of Tohfay.com and its sister businesses Shop daily, Mamoo in Pakistan and Deals daily, has to offer.  The business has presence in Pakistan and the US through its registered operating company —Advanced Management Group International.

"A young fellow used our service and sent gifts to his parents in Pakistan to help them patch up their differences," the company's chief executive officer Mehdi Hasnain said as he recalled stories of his customers that became part of their business's profile and history.

They also recently facilitated the entire process – from paperwork to the immigration visa for an infant – for a couple who had adopted a baby girl from Pakistan, according to Hasnain.

The company started in 2003 in New Jersey, USA mainly as a premium gift portal, as the name Tohfay [gifts] suggests, serving the Pakistani expatriate community. After initial success among overseas citizens, it expanded in Pakistan in 2013.

Tohfay's flagship Pakistani subsidiary Mamoo in Pakistan, according to Hasnain, was launched mainly to service the needs of the same customers, the expat Pakistanis or a segment of these customers, who have clearly defined needs other than to send gifts to their family and friends in Pakistan. The name Mamoo is itself a reflection of Pakistani experiences where people rely on their uncles (Mamoos) for getting things done when they are away, he says.

Hasnain said the requirements of the expats that brought Mamoo to Pakistan included the issuance of critical documents or taking care of their property and important tasks in the country including various needs of the family.

Relatively a new player in Pakistan, the company seems to be doing well already.

"The traffic data is trending upwards since we launched in Pakistan. More than 150,000 [monthly] visits are recorded among our various estates," Hasnain said.

The average orders or cases on a usual day, he says, range in upwards of 60, according to the most recent data. The average number of orders fluctuates to upwards of 220 to 240 every other month during the weeks of a season, such as Valentine's Day or Mother's Day, he adds.

Another indicator of the company's growth is their compound annual growth rate (CAGR), which clocked in at 60% since 2010. Bullish on the Pakistani market, Tohfay foresees growth and competition going forward.

The number of internet users entering the practical world are increasing and so are users that use e-commerce as a way to exchange and buy or sell online, says Hasnain. "This will change the landscape within a couple of years and there will be serious competition in the industry."

Published in The Express Tribune, May 23rd, 2014.

Like Business on Facebook, follow @TribuneBiz on Twitter to stay informed and join in the conversation.
COMMENTS
Comments are moderated and generally will be posted if they are on-topic and not abusive.
For more information, please see our Comments FAQ