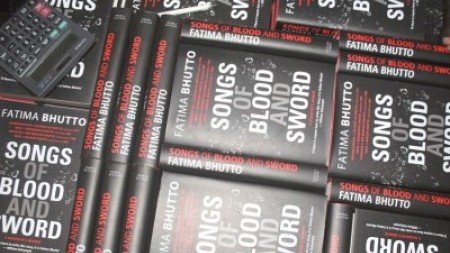 ---
KARACHI: Fatima Bhutto's "Songs of Blood and Sword" has been selling up to 15 copies a day, making it a better seller than former Indian foreign minister Jaswant Singh's book on Jinnah but it has yet to overtake Pervez Musharraf's memoir 'In the Line of Fire'.

Readers started flocking to bookstores the day after 'Songs' was launched, March 30. "We sold ten copies and more customers have phoned in and reserved copies," said one shop's manager. "We were selling the signed copy at the same price as the unsigned ones and hence, the customers are very excited about it."

The book, published by the Penguin group, is about a daughter's love for her father and her search to uncover and to understand the truth of his life and death along with a history of the Bhutto family. A manager at a bookstore near Bilawal Chowk said the response was tremendous on the first day.

"We sold all 30 copies of the book in less than 24 hours and ordered about a hundred more from the head office," he told The Express Tribune. The demand for this book is overtaking that of "A Case of Exploding Mangoes" by Mohammed Hanif, he added. The book is priced at Rs1,395. "It's a collector's item and is worth the price as it deals with a true subject," said Ammara, an interested reader.
COMMENTS (10)
Comments are moderated and generally will be posted if they are on-topic and not abusive.
For more information, please see our Comments FAQ