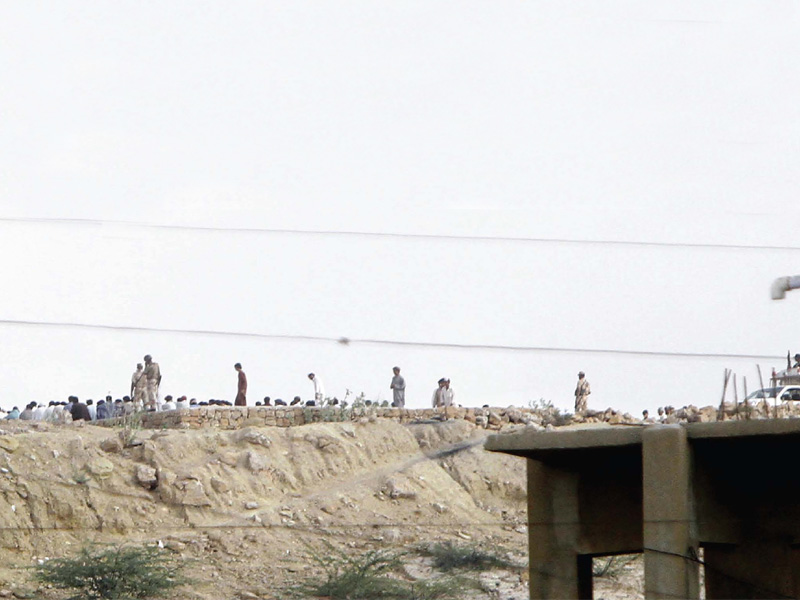 ---
KARACHI:



Over 20 suspects were apprehended during the ongoing targeted raids and operations in different parts of the city on Saturday while three people were shot dead in separate acts of targeted killings.




At least 10 suspected militants were reportedly caught in an overnight targeted operation in one of the militants' stronghold area - Kunwari Colony in Manghopir. The police and Rangers jointly conducted the operation. The entire locality was cordoned off for the operation which lasted for at least two hours. Police officials said that the operation was conducted on a tip-off about the presence of the militants, adding that the suspects were shifted to an undisclosed location for further questioning while their identities were not disclosed.

Separately, at least 11 suspects were apprehended during ongoing targeted raids in various parts of the city. A targeted search operation against militants and Lyari gang war criminals was conducted in Rexor Colony and Mauripur, said the Rangers spokesperson. He said that 11 criminals, including militants and Lyari gang war criminals, were arrested in possession of 36 weapons.

Killings

A worker of the Awami National Party was shot dead in Baldia Town on Saturday evening. Police officials said that at least two armed men riding a motorcycle shot and killed 40-year-old, Zar Badan, son of Lal Khan. A cable operator who was later identified as 27-year-old Irfan was shot dead in Gul Mohammad Goth. Police officials said the deceased had arrived in the area for installing cable at someone's house when at least three men riding a motorcycle shot him dead and escaped. One of the culprits, Shahzad, was arrested while two more accused involved in the killing have yet to be arrested.

Arif Younus, 35, was gunned down in an act of target killing near Sakhi Hassan Chowrangi within the limits of Shara-e-Noor Jahan police station. Police officials said that at least two men riding a motorcycle shot and killed the victim shortly after he left home for work.

The deceased used to work at a private insurance company and had no affiliation with any party, said the police.

Lyari tension

Police officials said that members of both gangsters groups - Uzair Baloch and Baba Ladla -- clashed with each other. Besides resorting to indiscriminate firing, they also fired rockets and threw hand grenades. As a result, two passers-by, Farzana, 30, wife of Abdul Latif, and Mohammad Rehan, 40, son of Din Mohammad Kutchi, were injured.

The law enforcers raided the hideout of the notorious gangster, Asif Niazi in Dhobi Ghat. However, Niazi and his companions managed to escape but the police and Rangers apprehended at least one dozen suspects from the area.

Published in The Express Tribune, February 23rd, 2014.