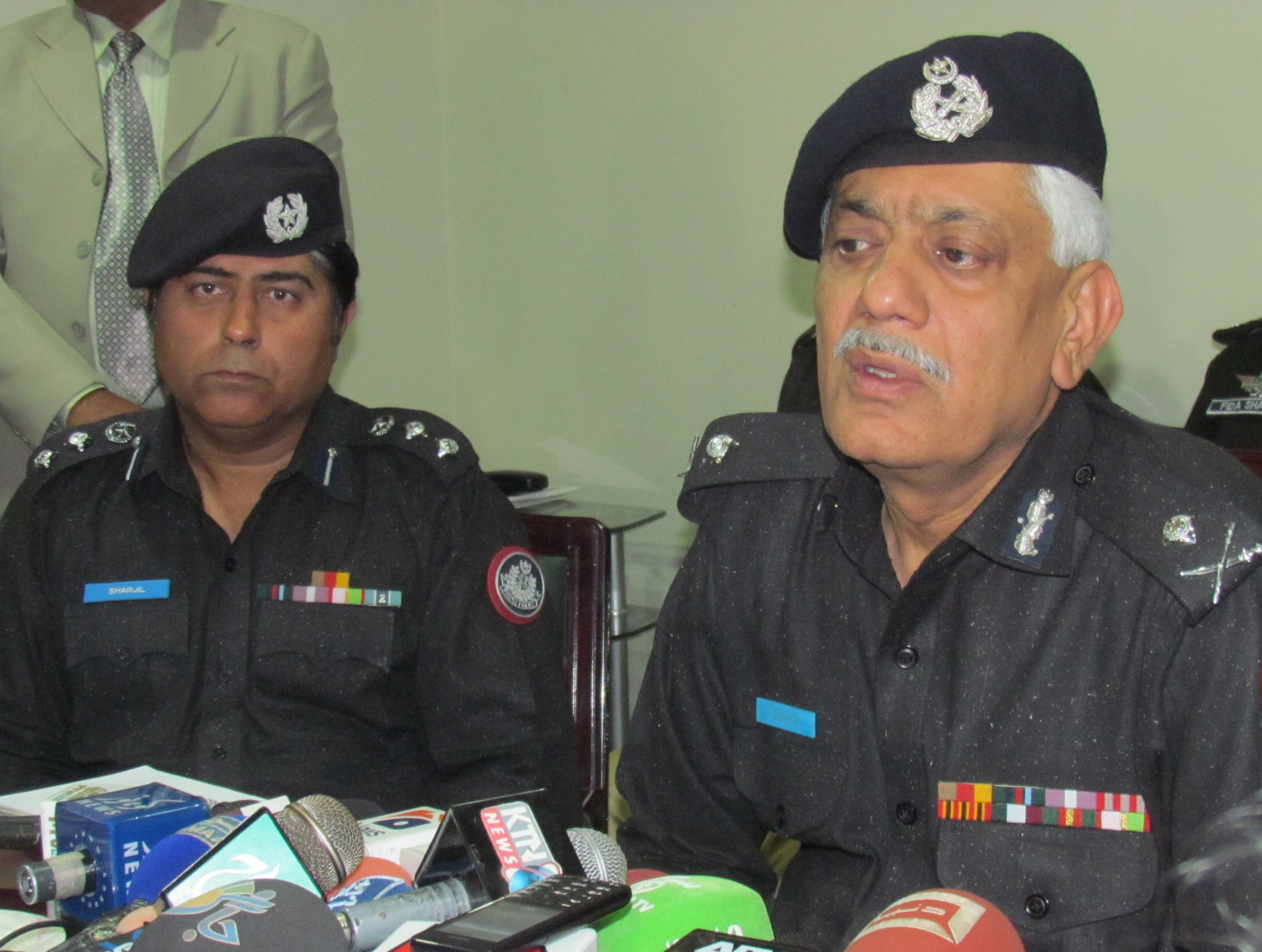 ---
SUKKUR/ KARACHI:



Nearly a year after Shahid Nadeem Baloch took over the reins as Sindh police chief, he retires with little else to his credit than being a man of a few words, and subsequently, of few actions.




After serving in the police department for over 25 years, Baloch will say goodbye to the force today. The grade-21 officer of the Police Service of Pakistan was appointed as Sindh chief on March 22, 2013, when he replaced Fayyaz Leghari.

Before that, Baloch had worked as SSP for district Central, Malir and West between 1989 and 1997. He also served as finance AIG. After leaving the police department, he was posted to the Federal Investigation Agency on deputation, where he spent at least 10 years. Before taking the Sindh IGP position, Baloch was serving as the director of Pakistan Telecommunication Authority.

Baloch is considered a competent and polite officer but in his eleven-months long tenure as the Sindh IGP, he was hardly seen on the media. He avoided visiting crime spots and was only seen on two occasions - the site of the blast that killed SP Chaudhry Aslam and the attack on Razzakabad police van - during his tenure.

"He prefers administrative meetings and attending funeral prayers of slain cops," said an officer close to Baloch. During his tenure as IGP, he gave complete autonomy to the Karachi police chief to interact with the media, he added. The officer felt Baloch failed to bring any significant reforms in the police department. In the past year, he held around eight press conferences - four in Karachi and two each in Sukkur and Larkana.

For his juniors, he was hardly the man they could aspire to become. "He is a good man but the Sindh police need a chief who can fight for them," said one officer.

But there are those closer to his hometown, Shikarpur, who felt lucky to have worked with him. "As a policeman, he is very professional and was always anxious to do something for the families of martyred policemen," said Sukkur DIG Sharjeel Kareem Kharal, who worked with Baloch for the last five months.

According to Kharal, Baloch was not only focused on the Karachi operation but he paid attention to the rest of the province as well. "He used to visit different parts of Sindh to find out the problems in the department and would keep himself updated on the crime rate everywhere." Kharal gave credit to Baloch for procuring a large number of vehicles and equipment, such as armoured personnel carriers, for the police.

"He [Baloch] is a man who lives by the book, and he never goes against the rules," said Sukkur SSP Fida Hussain Shah, who worked as Baloch's staff officer. He is very strict about crimes, such as kidnappings and would ask for updates on a daily basis. "It was his habit to stay in touch with certain officers after assigning them a task. It was because of his interest that crime rates are on the decline."

Fayyaz Leghari, Iqbal Mehmood hot favourites for IG post

The federal government has yet to announced Sindh IGP Shahid Nadeem Baloch's successor but there are five top contenders for the slot of Sindh's next police chief.

Former Karachi police chief Iqbal Mehmood, former Sindh police chief Fayyaz Leghari, Azad Kashmir IG Rana Altaf Majeed, DIG Farooq Ameen Qureshi and former Quetta police chief Mir Zubair are the top choices.

According to the 18th Amendment, the federal government cannot appoint any officer for the post of IGP without consulting the provincial government. "Leghari is a strong choice for the post of Sindh IGP but the federal government has some reservations as he is believed to be a PPP man," said an official, privy to the matter. Leghari's brother and a nephew contested the general elections on the ticket of the Pakistan Peoples Party, he explained.

"The second strong option is Iqbal Mehmood, who was promoted to grade-21 about one year ago." Although, Mehmood is junior to Leghari, he will likely be a new IGP if the federal government refuses to hire Leghari, he added.

Majeed, who was recently promoted to grade-21, had been posted as the Headquarters DIG in Karachi. Qureshi's chances are slim and he will likely be the FIA director-general. Zubair's chances are even slimmer as he is much junior to Mehmood.

The hot favourite, Mehmood, who is currently serving as Crime Investigation Department AIG, has already made plans for the coveted post. "If appointed as the new IGP, I will first implement reforms in the force," he told The Express Tribune. He will take more action for the families of the slain cops, hold meetings with lower-ranking officers and will visit more police stations. "All these things are necessary before I start doing something good for the city."

Mehmood is aware that only his performance will ensure he receives the post. "I do not have 'horses' who can push someone for my appointment."

Meanwhile, Leghari has already held this post once and was surrendered to the federal government in the aftermath of the Abbas Town blast in March last year. He is currently serving as officer on special duty and is due to retire in May 2015. "Until and unless the government takes a decision about my appointment as the new IGP, I cannot say anything," he told The Express Tribune. "I will definitely share my views over how I will deal with the department and Karachi's unrest if I am appointed as the new IGP."

Sanaullah Abbasi appointed as the new DIGP




Sanaullah Abbasi has assumed the charge of the office of the DIGP of Police Headquarter Range. According to a police spokesperson, Sanaullah Abbasi took over the charge of DIG Hyderabad on Tuesday in place of Akram Baroka, who has been transferred to Karachi.




The spokesperson  said that SSP Hyderabad  Irfan Ali Bahadur has also been transferred. Pir Farid Jan Sarhandi has been appointed as the new SSP Hyderabad.

Published in The Express Tribune, February 20th, 2014.
COMMENTS (9)
Comments are moderated and generally will be posted if they are on-topic and not abusive.
For more information, please see our Comments FAQ