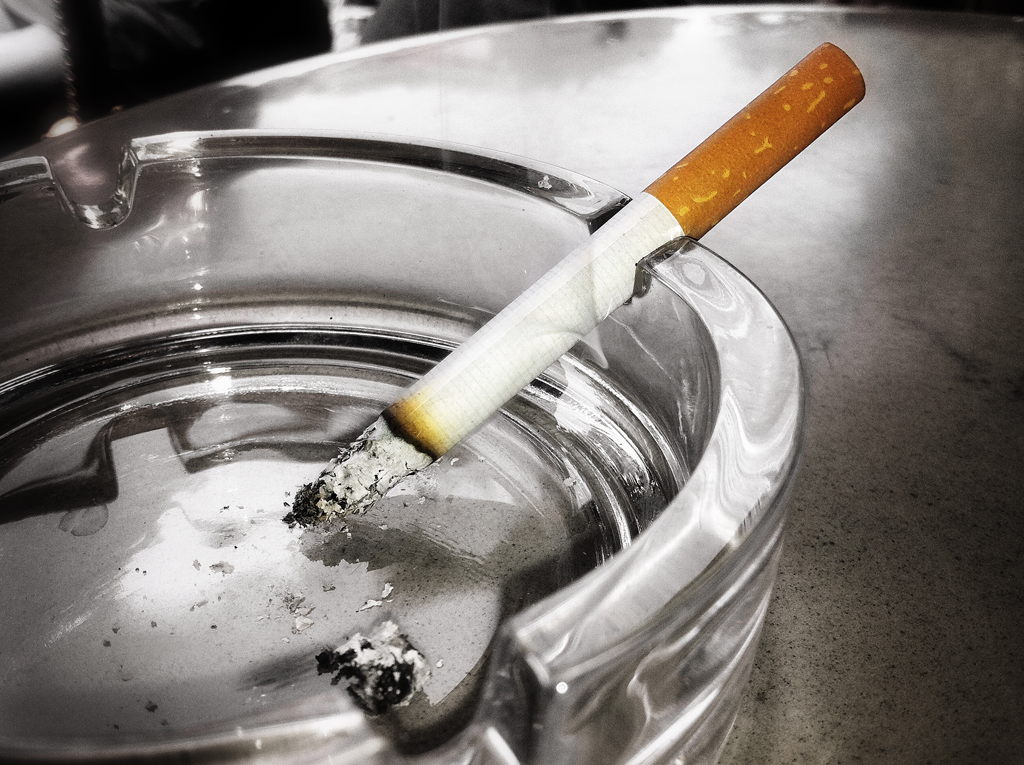 ---
KARACHI:



Despite all the efforts put in by the Federal Board of Revenue (FBR), illicit cigarettes still account for one-fourth of the country's total cigarette consumption, costing the exchequer more than a quarter of a billion dollars in tax losses, according to an international study.




In 2012, illicit tobacco trade was 25.4% of the total cigarettes consumed in Pakistan, according to Asia-11: Illicit Tobacco Indicator 2012, an international study compiled by the International Tax and Investment Centre and Oxford Economics.

[infogram url="https://infogr.am/percentage-of-total-legal-and-illicit-tobacco-consumption-in-pakistan" height="700"]

Pakistani government, according to the study, lost $275 million in fiscal year 2012-13 in potential taxes as a result of illicit tobacco trade. The amount is 17% of the country's current account deficit, which stood at $1.58 billion in the first six months of FY14.




Published in September 2013, Asia-11 covered the markets of Pakistan, Thailand, Hong Kong, Vietnam, Malaysia, Singapore, Indonesia, Brunei, the Philippines, Taiwan and Australia.

It is the latest study on Pakistan's illicit tobacco trade – supply, distribution and sale of contraband (smuggled) or counterfeit cigarettes and tobacco products on which applicable duties and taxes are not paid in the country of consumption.

According to both the legitimate industry and the exchequer, the government has already put up a robust regulatory framework to address this problem. The findings of Asia-11, however, indicate only a slight improvement.

In the country's total tobacco consumption, the share of illicit cigarettes declined by a meagre 1.3 percentage points to 25.4% in 2012 compared to 26.7% in 2011, according to Euromonitor International, a global research firm for consumer markets.

The country's total consumption, both legal and illegal, was estimated at 86 billion sticks in 2012, according to Asia-11 report. Of that, 21.8 billion cigarettes were illicit, show estimates derived from the Illicit Trade Flows Model – a model developed for the study to estimate illicit consumption in markets and trade flows between Asia-11 markets.




Of the total illicit tobacco trade in 2012, the report said, 86% were domestic illicit cigarettes – those manufactured in Pakistan and sold without paying any duties and taxes – second highest after Vietnam where 95% of the total illicit cigarettes were locally manufactured.

What substantiates this is that the FBR seized 36 million illicit cigarettes in 11 months ended May 2013, of which 30 million were untaxed, locally manufactured.

Pakistan's standing

When compared with other markets of Asia-11, Pakistan was one of the five markets where the share of illicit consumption was over 25% in 2012. Similarly, Pakistan and Vietnam were on top of the list with highest volumes of illicit consumption – each having consumed over 20 billion cigarettes.

In terms of domestic illicit cigarettes, Pakistan and the Philippines were the top two countries with highest volumes. Illicit cigarettes produced by local manufacturers and sold without payment of taxes in each of these two countries were estimated to be 25 billion in 2012.




Likewise, the market share of illicit consumption in Pakistan was 25% in 2012, which is 16 percentage points higher than the share of illicit cigarettes across Asia-11 that stood at 9% of the region's total cigarette consumption. reporting by Farooq Baloch

Published in The Express Tribune, January 27th, 2014.

Like Business on Facebook, follow @TribuneBiz on Twitter to stay informed and join in the conversation.