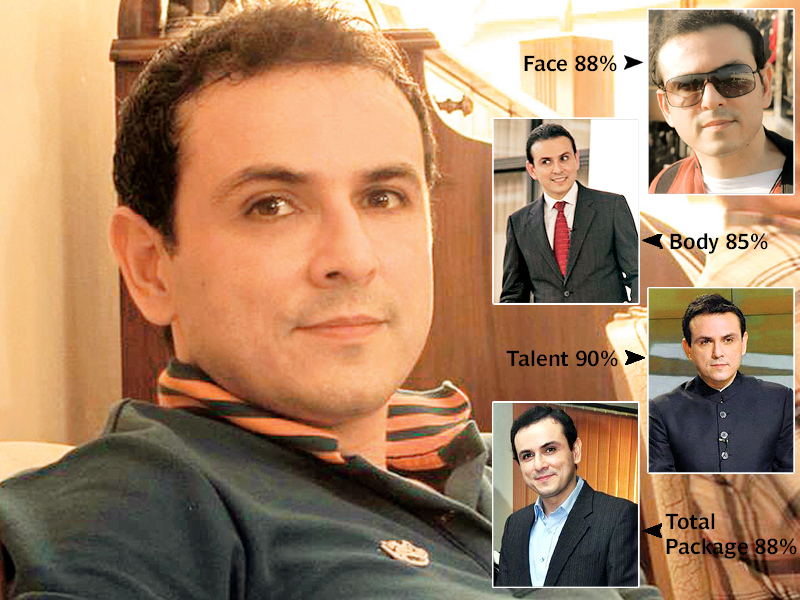 ---


Status: Single

Born: Lahore, Pakistan

Birthday: 16th October




Who is he?

We must admit that when we began writing about Omar Khalid Butt, we were at a complete loss for words. How does one praise a man whose portfolio extends to the moon and back, making him one of the most talented and experienced professionals in the Pakistani media? You may recognise him as the dashing news anchor from PTV, making the day's headlines sound like a melodious song. But then again, you may also recognize Omar from Anima State, the second feature film by Islamabad-based film-maker Hammad Khan. And just when you think it couldn't get any better, Omar establishes his own photography house, offering services for weddings, media events, portraits and portfolios across Islamabad. He has his very own sports show and a passion for classical music (Omar is proficient on the piano, harmonium and sitar). Add to this an intellegent mind and you have your perfect man. Really, we simply can't wrap our heads around Omar's multiple talents.

Why we love him

With a porcelain complexion, innocent eyes and a heart-warming smile, there is just something serene about Omar that we can't resist. Strong, sweet and hardworking, Omar draws inspiration from nature and little moments of goodwill shared with others. He cherishes beauty of character over everything else and is automatically drawn to people with open minds and relaxed personalities. True to his French heritage (Omar's mother is from Paris) he is brutally honest and hates hypocrisy. Describing himself as an 'eternal romantic,' Omar is seeking a creative, down-to-earth and friendly woman.

An MBBS by education, Omar knew his true calling lay towards the arts. Both him and his younger brother — popular comedian Osman Khalid Butt — have been raised amidst it and were always encouraged to follow their creativity. Despite having been trained in anchor ship by the BBC, CNN and Voice of America, he stumbled into infotainment purely by chance: Omar was immediately asked to do his first news broadcast the day he auditioned! He would also like to direct films or work as a professional cinematographer. He believes that "If you are creative, you can achieve anything" and tries to incorporate this mantra in everything he does in life.

What you didn't know about him

Omar loves the beach and swimming which he learnt from his grandfather in the Atlantic Ocean!

Although a sports enthusiast, Omar surprisingly doesn't enjoy cricket and favours all other sports over it.

His favourite holiday destinations may be Greece, Italy and Paris but Omar remains fiercely patriotic and doesn't want to live anywhere but Pakistan.

Published in The Express Tribune, Ms T, January 26th, 2014.