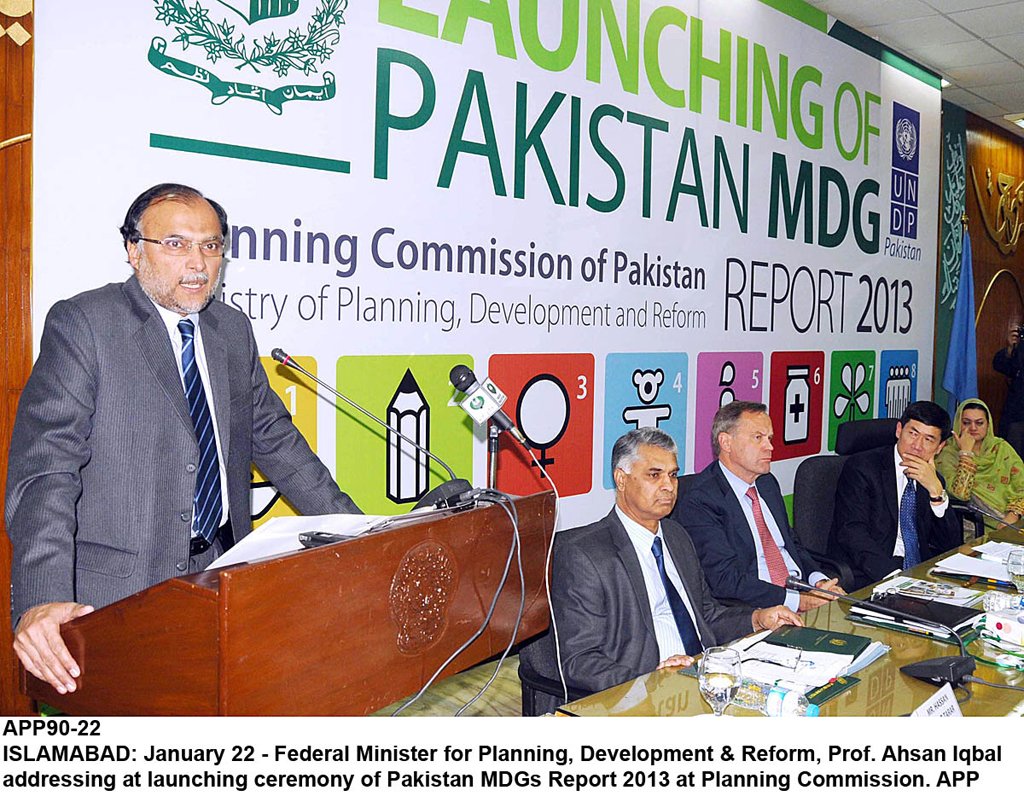 ---
ISLAMABAD:



The country is unlikely to meet six out of eight Millennium Development Goals (MDGs) by 2015, according to a report launched by the United Nations Development Programme (UNDP) on Wednesday.




Pakistan Millennium Development Goal Report 2013 highlights the country's sluggish performance in reaching targets associated with poverty, primary education, child health, women's empowerment, maternal health and combating diseases.

Federal Minister of Planning Ahsan Iqbal said, "People have to be at centre of all development strategies and goals for sustainable and inclusive growth. Pakistan 2025 puts human development at the top of development agenda."

UN Assistant Secretary General and the new UNDP Director for Asia and the Pacific Haoliang Xu noted the commendable performance of Nepal and Sri Lanka on achieving the MDGs vis-a-vis Pakistan and emphasised the need for South-South learning. "The report identifies rising income and gender inequalities as one of the main development challenges."




Four lessons from countries in South Asia on accelerating progress on MDGs were highlighted,  social policies are as important as economic policies, investing in women and girls has multiple, strong benefits for all MDGs, public sector expenditure on the social sector is important including education and governance issues can be a major constraint.

Measuring progress: An overview of the MDGs 




Poverty and Hunger 




Pakistan's employable population has grown to 30.9% in 2010-2011,making the prospect of full employment by 2015 unlikely. The target for malnutrition is less than 20%, which is also unlikely to be met.

Primary Education

Pakistan targets 100% primary school enrolment, but rates of net primary enrolment and completion have been fluctuating. Pakistan targets 88% literacy rate, while at present there are 70% literate males compared to 47% females.

Child Mortality

Pakistan has set the objective to reducing under-five child mortality by two-thirds. Pakistan is short of the MDG targets of 52 deaths per 1,000 live births for under-five mortality and 40 deaths per 1,000 live births for infant mortality.

Maternal Health

Pakistan intends to reduce maternal mortality by three-quarters, but it has only been halved and ensure universal access to reproductive health. The fertility rate at 3.8 remains higher than 2.1.

Combat HIV/AIDS, Malaria and other diseases

Growth of TB and HIV cases and the proportion of people in high-risk areas for malaria who are using effective prevention and treatment measures remains 75% against the target of 40%.

Women's Empowerment

There is significant gender disparity at all levels. Although there has been progress on increasing women's representation in legislative bodies, all four targets are off track.

Environmental Sustainability

Halving the proportion of people without access to safe drinking water and basic sanitation and bringing about significant improvement in the lives of slum dwellers may be attained.

Partnership for Development

Developed countries committed financial, technical and capacity development support for MDGs. This received mixed results.

Published in The Express Tribune, January 23rd, 2014.
COMMENTS (1)
Comments are moderated and generally will be posted if they are on-topic and not abusive.
For more information, please see our Comments FAQ