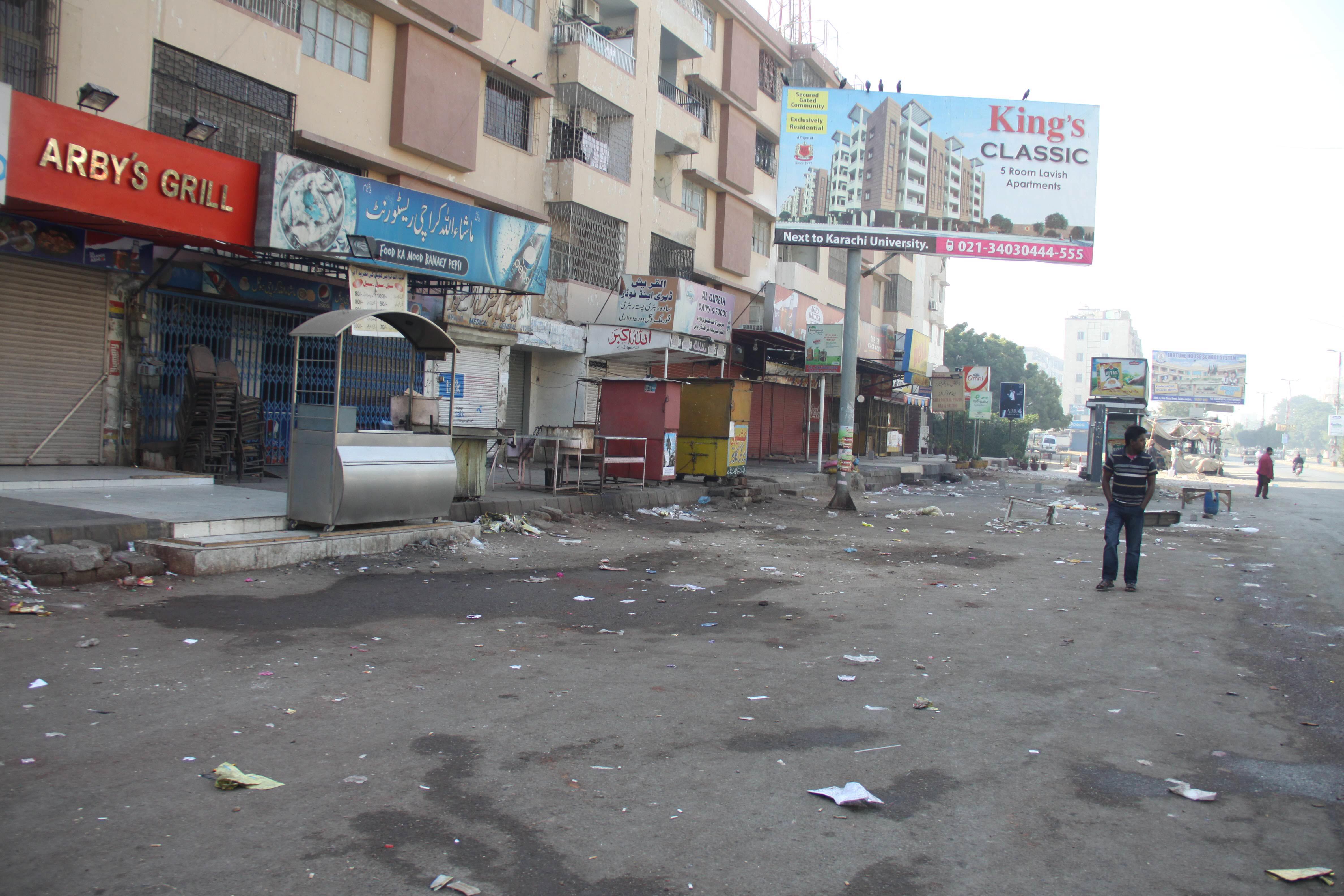 ---
KARACHI:



Five people were killed and four others were wounded in a fresh wave of targeted killings on Saturday.




The first incident took place in Gulshan-e-Iqbal in the early hours of Saturday when armed motorcyclists opened indiscriminate firing at Agha Haider Juice Centre and One-Ten Fast Foods near Maskan Chowrangi. As a result, the juice centre's owner Abdul Wahid and his employees, Nazir Ali and Hussain Ali, were killed while two of his employees, Tasawar Abbas and Ghulam Nabi, were wounded. The owner of the fast food joint, Jawad Haider, and his employee, Raees, were also wounded in the same attack.

"Over half a dozen armed men on three or four motorcycles opened fire outside the shops," said one of the injured persons, while talking to The Express Tribune. "Then they came inside and shot at those who were inside the shops."

Witnesses said that those who were outside the shops were killed on the spot after being hit multiple times while those who were inside were wounded in the attack.

The possibility of extortion was ruled out as neither shop owner received an extortion demands before the attack. The victims did not have any known enemies either, said the police. More than a dozen empty 9mm pistol shells were found on the site and were sent to the forensic department.

According to the law enforcers, the deceased and the injured were relatives and belonged to the Shia community. They lived in Yaqoob Shah Colony in Manghopir, where the funeral prayers of Wahid and Nabi were offered. The body of the third victim was kept at the Imambargah in Ancholi Society.

The neighbourhood around Karachi University has become notorious for targeted killings as several cases have occurred in the past. Last year on December 7, two brothers and their cousin, who were claimed to be affiliated with the Ahle Sunnat Wal Jamaat (ASWJ), were shot dead when armed motorcyclists opened fire at their sweets shop. In the same area, two Karachi University students were also shot dead on November 30 last year.

"There is little doubt that these were targeted killings but it has yet to be ascertained whether this was revenge for a previous incident of violence," Gulshan SP Muqaddas Raza informed The Express Tribune.

Reaction?

The second major incident took place at around nine in the morning, when armed motorcyclists targeted and killed two brothers - 25-year-old Abid Mavia and 28-year-old Sajid Mavia - on Rashid Minhas Road within Jauharabad police station remits. The brothers were students of Jamiah Arabia Ahsanul Uloom in Gulshan-e-Iqbal and were walking to the seminary from their home in Shafiqabad when armed motorcyclists shot and killed them.

Their deaths sparked violence in the area and as supporters gathered on Rashid Minhas Road and blocked traffic on various other roads for a couple of hours. The protesters threw stones at passing vehicles and burned tyres. ASWJ claimed affiliation with the deceased and their funeral prayers were led by ASWJ leader Maulana Aurangzeb Farooqui at Shafi Mor.

"Gulshan-e-Iqbal has become a 'no-go' area as ASWJ leaders, scholars, students, as well as, common people are being targeted and killed," claimed Farooqui, in his address to participants of the funeral prayers. "The government will be responsible if the situation spirals out of control."

Who is behind this?

The Rangers spokesperson said that the current spike in sectarian killings is a conspiracy to disrupt the law and order in the city and Rangers have some leads that a political party may be behind them. "Shia and Sunni communities are living in harmony but some anti-state elements are trying to sow sectarian strife," claimed the spokesperson.

Meanwhile, two policemen – head constable Lal Haleem and constable Younus – were killed while another constable, Kamran, was injured when armed motorcyclists opened fire at a police mobile in Pirabad.

Separately,a young man was also shot dead in Pak Colony. The motive behind his death is yet to be

Published in The Express Tribune, January 5th, 2014. 
COMMENTS (1)
Comments are moderated and generally will be posted if they are on-topic and not abusive.
For more information, please see our Comments FAQ