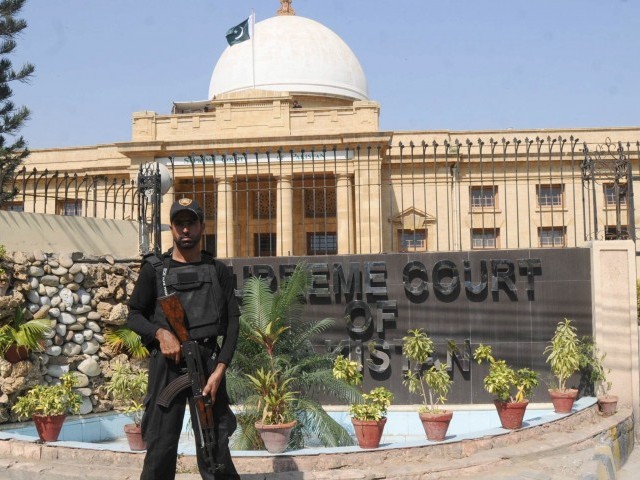 ---
KARACHI:



The Supreme Court was informed on Wednesday that the law enforcement agencies are unable to launch an operation against arms and drug dens in certain parts of the city, such as Sohrab Goth, Yousuf Goth, alAsif Square, Jannat Gul Town and Machhar Colony, due to the presence of the Taliban.




During the hearing of the Karachi violence suo motu case on Wednesday, Customs chief collector Muhammad Yahya disclosed that Sohrab Goth has become a dumping site for smuggled arms, ammunitions, drugs and other goods. Sharing a report of the Customs intelligence directorate, he revealed that private companies running passenger coaches and goods transport vehicles are also involved in the smuggling of the arms from upcountry.

"The weapons dumped in these areas are smuggled to other parts of the city in these buses and vans," he added. The collector even named a private inter-city public transport and goods transport company for being involved.

When the judges asked why no action has been taken against the company despite the evidence, Yahya conceded that the presence of Taliban prevents them from entering. The Customs department had planned to launch an operation but it was delayed because the police and Rangers were busy performing security duties during Muharram, the collector added.

This irritated the bench members, who noted that the current government was not paying heed to actual issue of the arms and drugs smuggling which would ultimately turn the situation even worse.

Meanwhile, the apex court directed the Karachi Port Trust's lawyer, Shaiq Usmani, to submit complete details on the containers of imported weapons, which were lying on the port for years due to non-clearance, and have allegedly gone missing. It also ordered him to provide details on the actual number of the containers, their contents and the legal procedure for their disposal by Thursday (today).

Published in The Express Tribune, November 28th, 2013.

Correction: An earlier version of this article stated that the Supreme Court hearing was on Tuesday instead of Wednesday. The error is regretted.