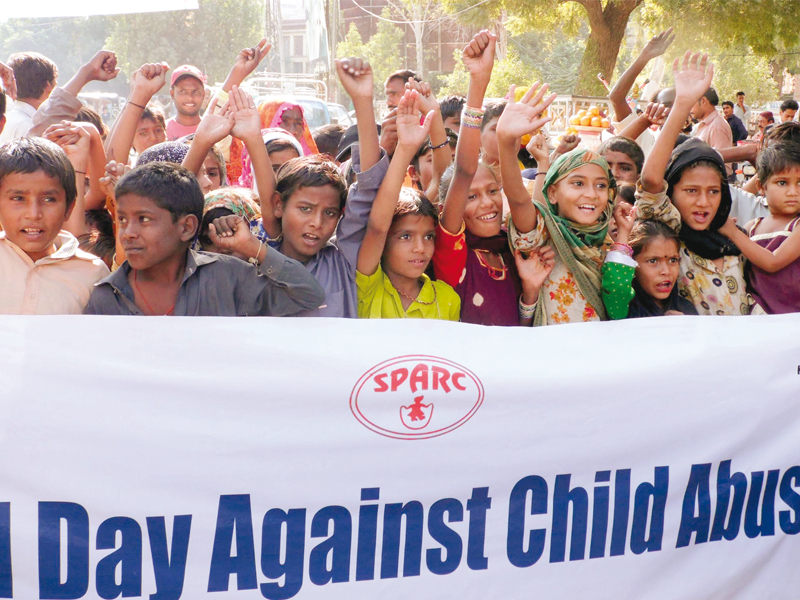 ---
KARACHI:



Thousands of children go missing every year in Karachi but does anyone know where they are, questioned speakers at a seminar organised by the Roshni Helpline to mark Universal Children's Day being celebrated today across the globe.




The event, 'End Violence against Children', was held in collaboration with the Ministry of Social Welfare and the United Nation's Children Fund (Unicef) on Tuesday.

Naveed Ahmed, an advocate of the Sindh High Court, highlighted that the delay in registering FIRs for missing children hampered the chances of rescuing them on time. "When parents go to the police station, only a complaint in the roznamcha is written down which is non-cognizable. The police do not investigate the case and by the time the child is found, he or she is no longer alive," he said.

According to the figures shared by Roshni Helpline, over one and a half years, eight children who went missing from Mubina Town were found sexually abused and murdered.




Ahmed said that 5,000 children have gone missing in Karachi but only five per cent have been found.  "Any child can be taken away. There is no progress on where these children are - whether they have become beggars or are in brothels."

Dr Aisha Mehnaz of the Konpal Child Abuse Prevention Society said that the reasons for children going missing or running away from houses should be explored. "Children often land in the wrong situation because they face an abusive environment at home and try to escape from it."

The role parents play is very important as children are physically, emotionally and even sexually abused at homes. "Children should be given a protected and secure environment at homes."

Sindh Women Development and Social Welfare Minister Rubina Qaimkhani, who showed up at the event when most of the speakers were done with their speeches, offered the Roshni Helpline to join hands. "There should be a public-private partnership where the NGO can work in our offices or in our children protection units."

The minister, however, had no concrete suggestions on how to tackle the issue of missing children and how to recover them. "Over my 10 years of being in the parliament, I feel that children rights are not spoken of or discussed," she contributed to the event.

Head of the UN's Child Protection in Sindh, Dr Jabeen Fatima Abbas said that most of the violence against children is invisible. "We should pledge on children's day to make the violence against children visible and uncover the crimes [against them]," she said, while also calling for empowering children to make complaints themselves on helplines.

A Child Complaint and Response Centre, a referral network which would link complainants with health, education sectors as well as relevant stakeholders, was launched at the event by president of the Roshni Helpline, Muhammad Ali. "The children facing issues can either walk up to our complaint cell, call on our helpline 1138, text or email us."

While families of missing children were not present at the event, a heartbreaking documentary on missing children and their families was shown to the audience before the launch of the centre. Weeping families narrated tales of their children going missing, including the mother of a missing child. "My two and a half year old Rimsha went missing from just outside our home. It has been eight or nine months. It's very difficult for me to go on with my life."

Published in The Express Tribune, November 20th, 2013.
COMMENTS
Comments are moderated and generally will be posted if they are on-topic and not abusive.
For more information, please see our Comments FAQ