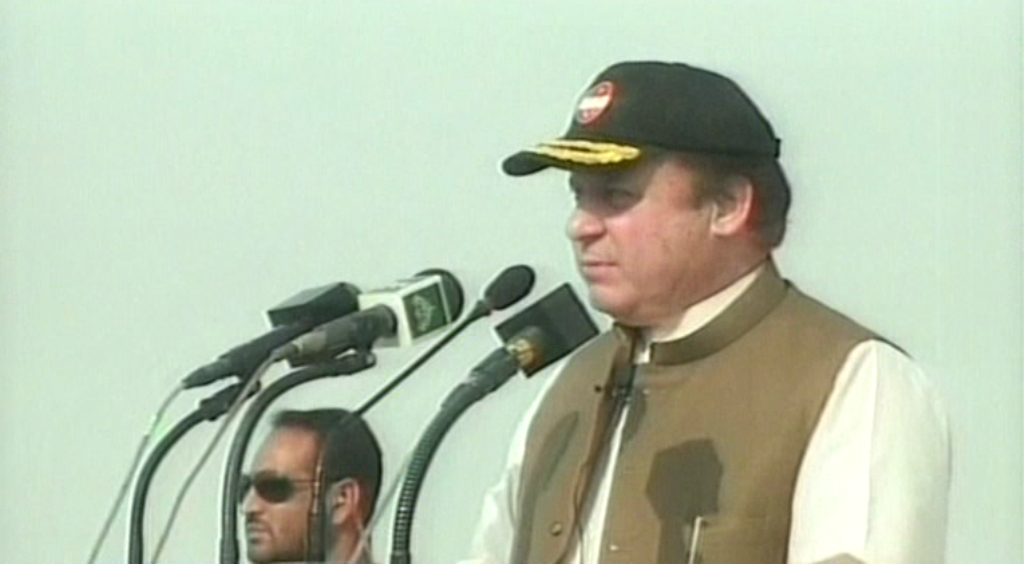 ---
ISLAMABAD: Prime Minister Nawaz Sharif said "drone attacks are counterproductive" to Pakistan's efforts for peace, Express News reported Monday.

He said this in his first public speech since a US drone strike killed Taliban leader Hakimullah Mehsud, while speaking at Azm-e-Nau 4, one of the many military training exercises that are meant to introduce new war strategies.

The series aims at improving the mobilisation speed of troops and increasing cooperation for joint Army, Navy and Air Force response to any conventional threat. Security officials have deemed it a 'new concept of war fighting' aimed at preempting India's 'Cold Start Doctrine'.

Nawaz said that on his recent trip to Washington, he "made it clear that Pakistan does not intend to accept foreign aid."

"Gone are the days when our national security policies were determined by phone calls from abroad," the prime minister added.

Nawaz warned peace could not be achieved "by unleashing senseless force". Though he did not mention the drone strike directly, he stressed his desire to "give peace a chance".

He also remarked that the Pakistani population is united "when it comes to the protection of our motherland."

Praising the Pakistan army, he said that it has come to the aid of the civil government by "imparting training to our law enforcement agencies".

He further stated that economic development is linked to the law and order situation of the country and that it is not something that will change overnight.

New technologies

The army allegedly shot down a drone during the exercise to demonstrate the development of anti-drone technology.


So during exercise s PAK ARMY has taken a Drone Down successfully.

— Dr Shahid Masood (@Shahidmasooddr) November 4, 2013
PAK ARMY successfully hits the drone.Will now government order them accordingly???

— Babar Awan (@BabarAwanPK) November 4, 2013
Azm-e-Nau 4: In pictures
PHOTOS: ISPR.GOV.PK
More pictures: http://i1.tribune.com.pk/multimedia/slideshows/626945
COMMENTS (39)
Comments are moderated and generally will be posted if they are on-topic and not abusive.
For more information, please see our Comments FAQ