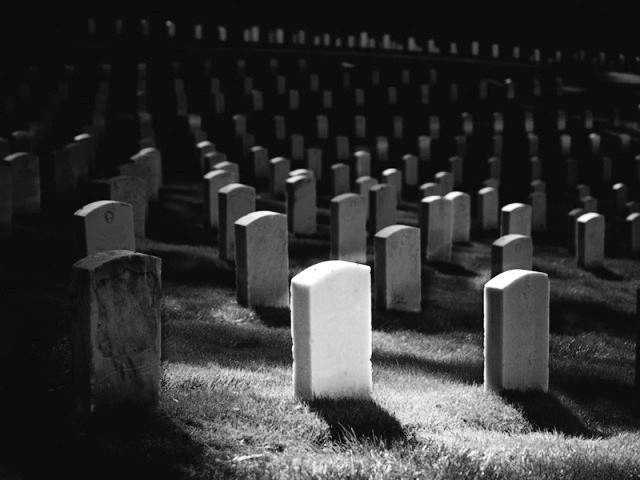 ---
KARACHI: The two people who lost their lives in a grenade attack at the Karimabad Jamaat Khana were laid to rest on Wednesday amid sobs and tears.

Forty four others had suffered injuries when some motorcyclists threw a hand grenade inside the Jamaat Khana within the limits of the Azizabad police station.  Five people were wounded in a separate attack on another Jamaat Khana in SITE on Tuesday night.

Thirty-eight-year-old Shirin, wife of Suleman, and her four-year-old son, Sharmil, succumbed to their injuries on their way to Aga Khan University Hospital. Their funeral prayers were offered at the Jamaat Khana on Wednesday evening and they were laid to rest at the Sakhi Hassan graveyard. A large number of family members, relatives, neighbours and community members came to offer their condolences.

The mourners demanded the government arrest the culprits. "What is wrong with them (terrorists)? What would they achieve by killings an innocent woman and her child?" asked the victims' relative, Noor Ali, while talking to The Express Tribune. "We have never expected any terror activity against us."




Police and paramilitary soldiers were deputed to avoid any untoward incident during the funeral prayers, as security has been put on high alert around the Jamaat Khanas across the city.

Women and children comprised the majority of 51 patients brought to the AKU.

"The injured were shifted to hospital wards after first aid treatment at the emergency department," said a spokesperson for AKU. "Most of the injured have been released from the hospital after medical treatment, while a few are still admitted."

Two separate cases were registered against the attacks at the Azizabad and SITE police stations. Police have placed sections 302 (murder), 324 (attempt to murder), 295 (defiling a worship place) of the Pakistan Penal Code, ¾ of the explosive act and 7 of the Anti-Terrorism Act. The cases were registered against unidentified persons.

An FIR No.183/13 was registered at the Azizabad police station on the complaint of Agha Khan council official, Irfan, and an FIR no. 599/13 registered at SITE 'A' section on behalf of SITE Jamaat Khana's chief security officer, Abdul Hameed.

Initially, the police suspected the involvement of the outlawed Lashkar-e-Jhangvi and the outlawed Tehreek-e-Taliban Pakistan in the brazen attacks.

"Earlier we were suspecting the involvement of LeJ and TTP, but we are not sure as it is not the modus operandi of either of the groups," a senior police officer of the district Central told The Express Tribune. "There is no reason to suspect the involvement of a nationalist party of Sindh as they do not have much presence in these areas, however, another group might have been behind the attacks."

Investigations SSP Malik Altaf while talking to The Express Tribune said the investigators have yet to ascertain the motive behind the attacks. As such attacks are unusual, the investigation is likely to be transferred to the Crime Investigation Department or Special Investigation Unit.

Published in The Express Tribune, August 15th, 2013.
COMMENTS (4)
Comments are moderated and generally will be posted if they are on-topic and not abusive.
For more information, please see our Comments FAQ