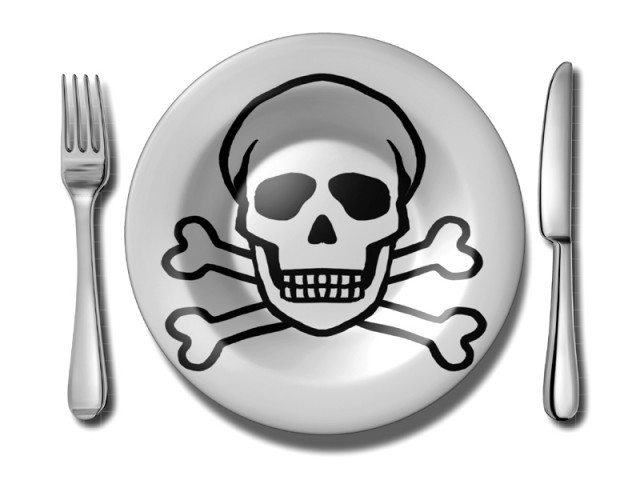 ---
KARACHI:



Since she did not eat any food that night, the police suspect a 45-year-old mother of seven children poisoned her family on Monday night.




Safia lost her five daughters, aged between five to 22 years, after the whole family had dinner at their home in Gulshan-e-Maymar. Her husband, Ghulam Murtaza, a son and her sixth daughter are struggling for their lives.

At Jinnah hospital's ward for poisonous patients, Safia covered in a blue shawl winced in pain but officers insisted she was just pretending to be sick. The police base their suspicions on the woman's statement that she did not eat anything, and therefore did not fall critically ill like her others family members did.




"Everyone had food except for her. We think she is behind the murder," said Sohrab Goth SHO Naeem Khan. Officers standing next to him in the ICU looked perplexed and whispered: "Why would she kill her own children? Why did she do it?" As the authorities try to resolve this mystery, an inspector has been posted at the hospital to keep an eye on Safia.

Though conscious, Safia has not spoken about the tragic incident. She kept insisting the doctors remove the tube from her nose. The doctors are, however, tight-lipped about whether she was poisoned or not.

Meanwhile, her husband, an employee of the Karachi Water and Sewerage Board who had also started his own property business, was in critical condition. The police stood around the bulky man, wanting to record his statement, but as his breathing subsided, he was shifted to another ICU and put on ventilator.

The surviving daughter was lying unconscious and the son was admitted to a private hospital. Tearful relatives, some of them who had come from their hometown in Larkana, said that they had no clue what led to the poisoning. "We don't know what happened," said Aijaz. The bodies of the five girls are still lying at the Edhi morgue and have yet to be released to the family for burial.

Poisoned roti

The police have sent samples of the food suspected to be poisoned for testing. They do, however, believe that the poison was mixed in the dough of the roti because that is a common item everyone had.

The family did not have anything from outside for dinner. There was khichdi [rice and lentils] and potatoes with chapatti for dinner, but all the affected persons had consumed the roti, an investigator said.

The post-mortem report of the deceased have, however, been withheld but the police believe that there was rat poison mixed in the rotis.

Published in The Express Tribune, August 7th, 2013.
COMMENTS (1)
Comments are moderated and generally will be posted if they are on-topic and not abusive.
For more information, please see our Comments FAQ