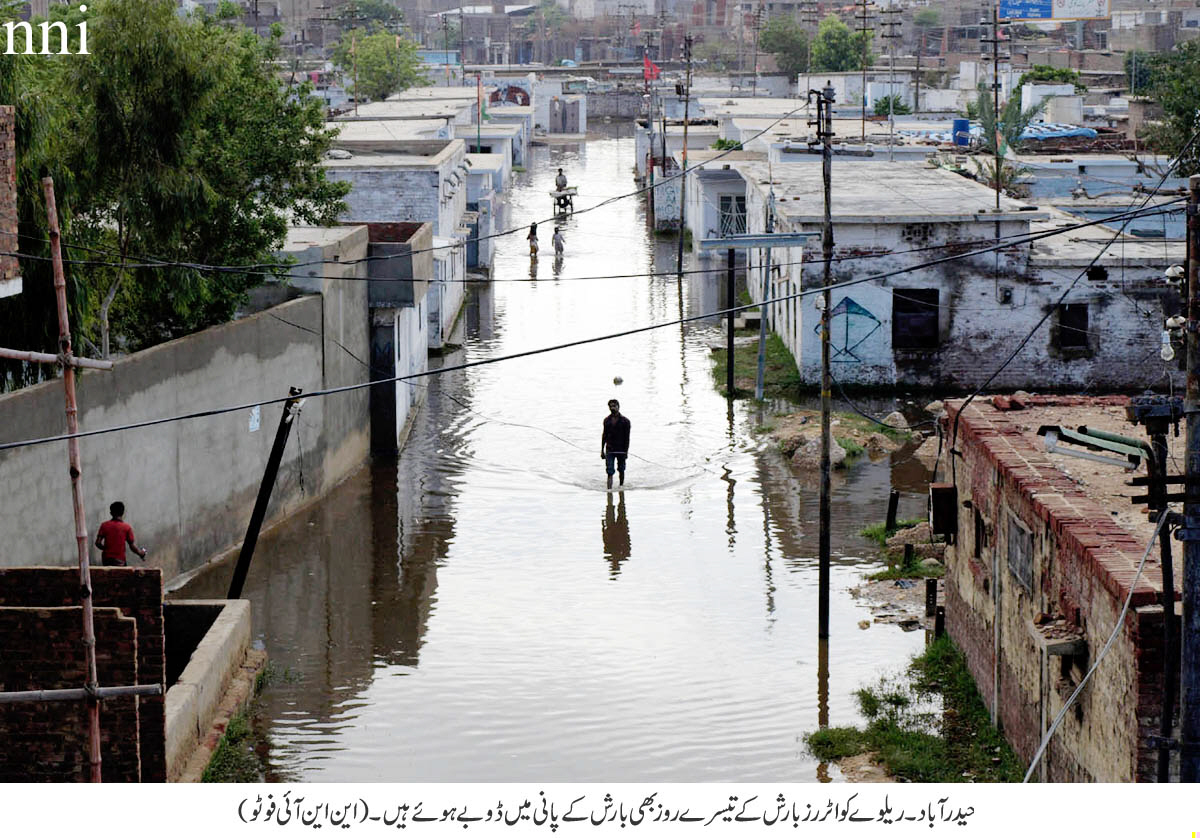 ---
SUKKUR:



The first heavy spell of monsoon rain that started at midnight on Thursday brought relief to some peasants decrying the acute shortage of irrigation water but for others it spelled disaster as the ensuing flood flattened their crops.




The people of Tharparkar embraced the rain as they were on the brink of drought. Similarly, people in parts of lower Sindh welcomed the showers as they were facing acute shortages of irrigation water.

The rainfall will surely bring prosperity to Tharis, who had migrated to other areas in search of water and livelihood, said head of agriculture and social sciences department at Sindh Agriculture University Tando Jam, Professor Mohammad Ismail Kunbhar.

He said that the growers of Badin, Mirpurkhas, Kunri, Thatta, Umerkot, Sanghar and Tando Adam were decrying the lack of water. "They must be happy now. The recent rainfall is good for chilly, paddy and sugarcane crops, but incessant rainfall could cause excessive damage."




The main reason behind losses during rain is the blockage of natural waterways and the absence of an effective drainage system, the professor stressed.

Sindh Abadgar Board President Abdul Majeed Nizamani while talking to The Express Tribune said no losses occurred to the crops from the recent spell of monsoons. Cotton crop is sown over approximately 1.6 million or 1.7 million acres of land throughout the province, adding that so far the crop is safe, but its safety cannot be guaranteed if more rain occurs. Similarly, the paddy crop has just been sown, and therefore, it is safe for the time being, he said.

Crop losses

The farmers of upper Sindh and especially the date growers of Khairpur, however, seemed worried because the torrential rains caused extensive damage to their crops. The collapse of drainage system flooded farmlands, reducing yield for farmers. The growers of paddy and cotton are also alarmed about future downpour as their crops are under potential threat.

Losses to the standing crops could be minimised by clearing natural waterways and draining stagnant rainwater, Kunbhar suggested. The monsoon rains wash out salts from the uncultivable land and make it cultivation worthy. But only when excessive water is drained out through natural waterways, the land becomes cultivable, otherwise it will worsen the situation, he added.

The rain has caused damage to date crops in Khairpur and other districts but as far as the crops of paddy and cotton are concerned, they are safe as long as no heavy showers take place in the next 15 days, he said.

Agriculture Extension director Riaz Ahmed Dayo said that around 15 per cent of date and cotton crops have been damaged due to the recent rainfall. Besides this, loss has also been inflicted on the crops of vegetable and watermelon. So far, he said, paddy crop is safe but in case of more rain, losses could occur to the crop, and resultantly, the growers will get a low yield per acre.

Dayo said heavy rainfall was not only hazardous for Kharif crops, but could also pose threat to Rabbi crops. Wheat is the main crop of Rabbi, which doesn't need water like paddy crop does, he said.

As opposed to Punjab, he said, sources of sweet underground water are too little in Sindh. The areas running along the river, however, are blessed with underground sweet water and the recent rain will raise the underground water table in these areas.

With constant use, the underground water table goes down, but after heavy rains it is recharged and rises. Talking about the release of contaminated water from Punjab to Ghotki district, he said, rainfall could wash away salts and other harmful wastage, but it has to be properly drained.

Published in The Express Tribune, August 6th, 2013.