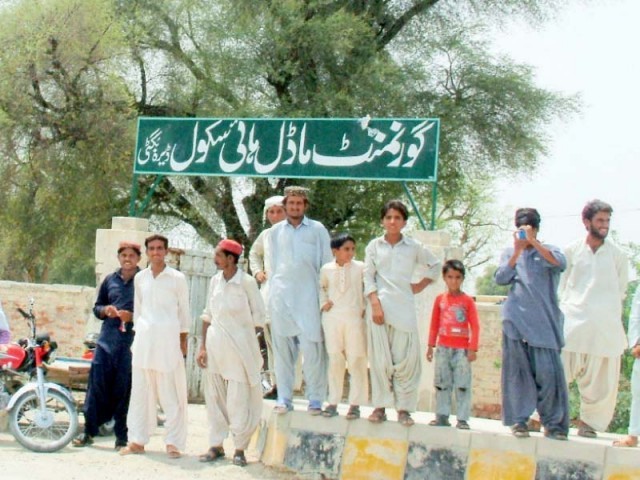 ---
In a discouraging story appearing in this newspaper on August 2, hinting at the plight of education in the country, some 20,000 children from Dera Bugti, who should be studying, are out of school. Many parents, after the 2006 military operation in the area, relocated to other cities and kept their children out of school for fear of the militant threat against education. Both, teachers and students from the area, who have now migrated to other parts of the country, are too afraid to step inside school walls again. This is a devastating state of affairs as hundreds of schoolchildren's lives remain threatened by militants. Across all provinces, militants have attacked schools, teachers and students. The state, security forces and law enforcement agencies are urged to ensure the safety of our educators and pupils across the country.

Such efforts need to be countrywide and the will to revive schools and ensure their security needs to come from both provincial and federal levels. We must realise that any child not in school is a loss to Pakistan's future and a waste of potential resource. In this loss, women are included for the militants have most strongly criticised women's education. Nevertheless, the fight must go on and we must make a concerted effort to eliminate disparities between male and female education.

For the students who were forced to leave Dera Bugti during the 2006 operation, the state should have ensured that they were able to attend schools in the districts they had relocated to, so as not to put them at further disadvantages compared with their peers across the country. Unfortunately, they have already missed out on seven years of education. The state must now, by any means necessary, ensure that children's education is protected and supported by all in the ranks of power. We must stand together with those families who are fearful of sending their children to school and demand that proper security is provided so that these children can secure better futures for themselves and one day contribute to society in meaningful ways.

Published in The Express Tribune, August 5th, 2013.

Like Opinion & Editorial on Facebook, follow @ETOpEd on Twitter to receive all updates on all our daily pieces.