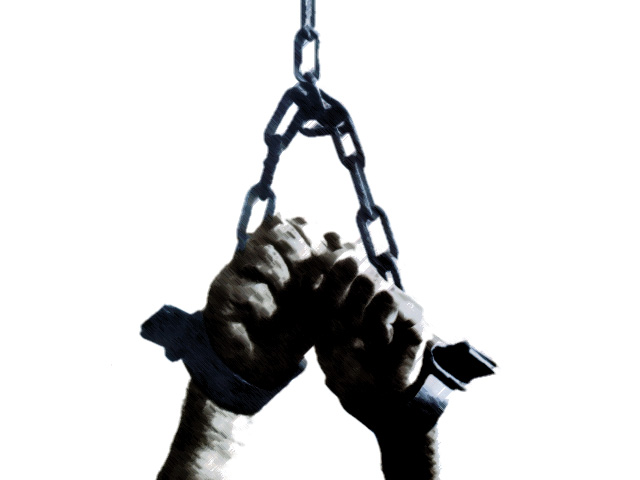 ---
MULTAN:



Two men were hung upside down, beaten up and their heads and faces shaved in a market on Sunday for selling mangoes cheaper than some rivals.




A case was registered against seven people. Three of them have been arrested.

Police said Fida Husain and Muhammad Kashif had made deals with some mango growers at the cheapest rates in the area. They said the two men bought mangoes in bulk and sold a carton of mangoes for Rs20 less than other.

On Sunday, they told police, while they were visiting a garden, they were picked up by some men and taken to the dera of Bashir Baloch, a landlord who has a mango business.




They said Baloch's men beat them up "for harming their business", then shaved their heads, eyebrows and moustaches. They said they rubbed cow dung on their faces and hanged them upside down.

They were also paraded outside the village in Fazilpur, where Baloch's men announced that "those who challenged Baloch would suffer similarly".

Police said some of Husain's and Kashif's colleagues rushed to their rescue on hearing about the beating. However, on seeing that the assailants were armed, they said they informed the police. The assailants fled before the police arrived at the scene.

Hussain and Kashif were taken to a hospital, from where they were discharged a few hours later.

They told police that Baloch had threatened them with dire consequences if they did not shift their business elsewhere.

Alpa Station House Officer Muhammad Manzoor said Baloch and two of his men identified only by their first names- Riaz and Sultan- had been arrested.  He said Baloch's farmhouse and mango shop had been sealed.

Police said Baloch and his men had denied the charges. They said that Husain and Fida were trying to defame him to affect his business. He said he had nothing to do with what price they charged for their mangoes.

Families of Husain and Kashif alleged that the police were working on a settlement with the suspects due to political pressure. They stopped their demonstration when a police team assured them that the case would be handled on merit. Talking to The Express Tribune, the SHO denied there was political pressure for a settlement. He said the suspects would be dealt with in accordance with law.

Published in The Express Tribune, August 5th, 2013.
COMMENTS
Comments are moderated and generally will be posted if they are on-topic and not abusive.
For more information, please see our Comments FAQ