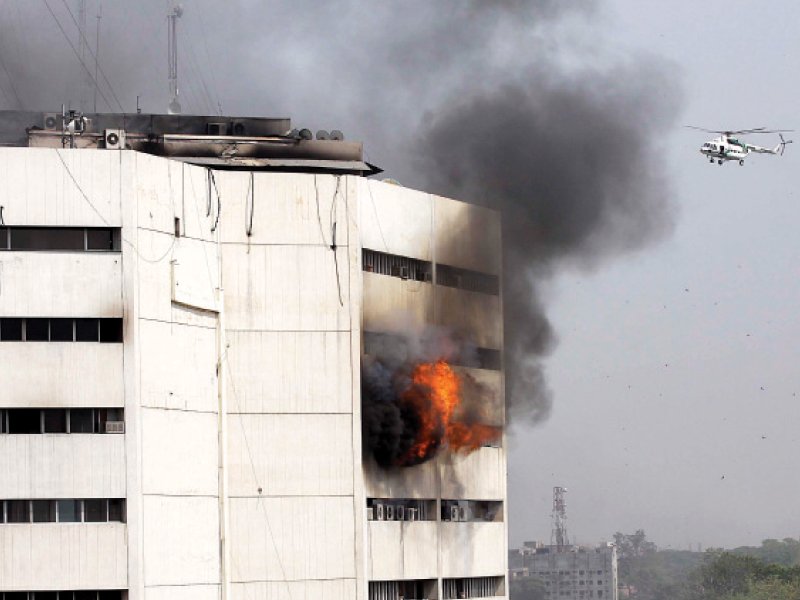 ---
LAHORE:



District Coordination Officer Nasim Sadiq has suggested that a fire at the already-charred Lahore Development Authority Plaza on Egerton Road on Saturday was an act of arson aimed at destroying documentation.




The startling statement from the DCO, who is the authority's chairman, also cast suspicion on the cause of the fire at the same building on May 9 in which at least 25 people, mostly LDA workers, perished.

On Saturday afternoon, a fire broke out at the seventh floor amidst scraps of paper and cardboard for unknown reasons, said Rescue 1122 officials. The blaze was quickly put out.

"Based on my observations, files were brought to the LDA office and then set on fire," Sadiq told The Express Tribune. Fire-fighters foiled this attempt with their timely response, he added.

He said all the files should have been moved to the LDA's Johar Town office after the first fire. He had called LDA staff to the spot to brief him about the situation. He added that a three-member committee would investigate the matter. Its findings would not be shoved under the carpet "like the previous one", he added. Asked if he believed the May 9 fire was also an act of arson, he said that this was a question for the inquiry committee.

Speaking to reporters at the scene, the DCO said that commercial building records had been stored at the seventh floor and Saturday's fire was "an attempt by criminal elements to destroy it".

Officials of Rescue 1122 said that in the last fire, all documents kept on the seventh floor had been completely destroyed. The files and papers that they had seen there on Saturday had not been there before, they said. "Maybe they were brought down from the 8th or 9th floor or some other place. We don't know," they said.

LDA officials, speaking on condition of anonymity, said that police guards had been deputed at the Plaza and no one was allowed at the site. "When labourers working at the site enter the building, the police search them to make sure that they don't take lighters or matches in," they said.

Engineers had earlier declared the top three floors of the building unsafe and they are to be demolished. Officials said that the demolition work will begin once high tension wires are removed from the site.

Published in The Express Tribune, June 30th, 2013.
COMMENTS (12)
Comments are moderated and generally will be posted if they are on-topic and not abusive.
For more information, please see our Comments FAQ