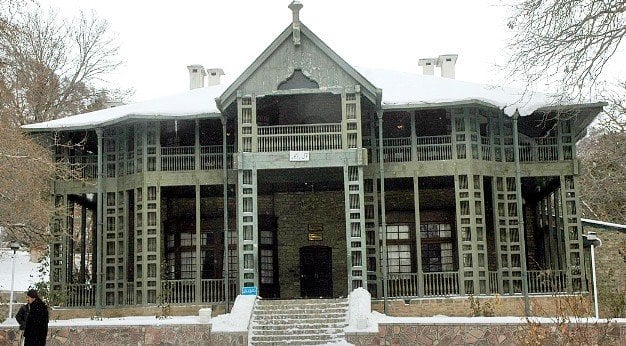 ---
ISLAMABAD: While the entire nation is in a state of shock over the destruction of the Jinnah's Residency in Ziarat, a key coalition partner in the Balochistan government calls it a 'symbol of slavery'.

The residence of Quaid-e-Azam Muhammad Ali Jinnah at the idyllic hill station of Ziarat, which was considered a national heritage, was razed to the ground in a bomb attack claimed by an outlawed Baloch separatist group, Balochistan Liberation Army (BLA) early Saturday.

"The wooden house at Ziarat was a symbol of slavery as it was built for the colonial British officer Sir Robert Groves Sandeman who ruled Balochistan until his death in 1892," Akram Shah, the general secretary of Pashtoonkhwa Milli Awami Party (PkMAP), told The Express Tribune.

"The house always reminded the Baloch and Pashtuns of the long period when they were the slaves of British Empire in Indian subcontinent," Shah added. "For us, it's no more than the house of the then agent to the governor general [of India], Sir Sandeman."

Shah's shocking statement prompted scathing criticism from a fellow politician from Pakistan Muslim League-Nawaz (PML-N).

"Akram Shah has hurt the feelings of millions of patriotic people in Balochistan and of those who had an emotional attachment with the historic building [Ziarat residency}," Anwarul Haq Kakar told The Express Tribune. "The PkMAP leader should behave like a responsible politician and not forget that his party is a coalition partner in the Balochistan government."

Kakar said that the terrorists who destroyed the 'symbol of the federation in Balochistan' deserved a befitting reply from the entire nation, particularly from the peace-loving people of the province.

PkMAP's Akram Shah was also unhappy with the visit to Ziarat by two federal ministers -- Chaudhry Nisar Ali Khan and Pervaiz Rashid. The ministers should have instead attended the funeral of the victims of Saturday's attacks in Quetta claimed by the banned sectarian extremist group Lashkar-e-Jhangvi.

Published in The Express Tribune, June 17th, 2013.