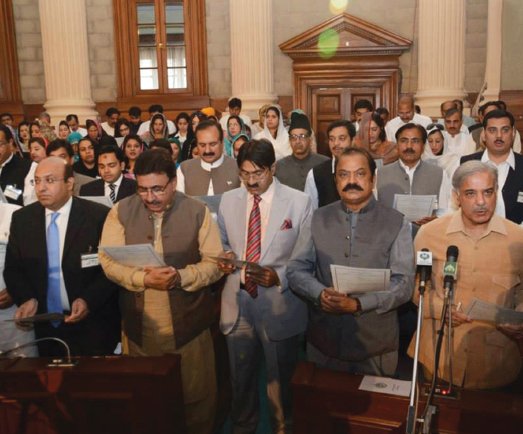 ---
LAHORE:



Shahbaz Sharif, the Pakistan Muslim League-Nawaz's (PML-N) Punjab president, and Pakistan Tehreek-i-Insaf's (PTI) Mian Mehmoodur Rashid on Tuesday submitted their nominations for leader of the house in the provincial assembly.




Sharif arrived at the assembly secretariat at noon, along with 20 other PML-N members, and filed his papers at the assembly secretary's office.

Rashid reached the secretariat shortly afterwards and submitted his. The division of the house is scheduled for June 6.

Procedure

The assembly secretary would issue a list of members likely to vote for the opposition candidate [seated towards the left of the house] and those who would back the leader of the house nominated by treasury benches [seated on the right].

The secretary would tell the members to rise from their seats. He would then order the secretariat staff to close all doors to the assembly hall and open the centre gate. He would appoint a teller to record the constituency numbers of all members in the register.




The teller would be given the division list. He would announce the names and constituencies of the MPAs who would cross the gate from the left or right side of the house and mark them on the division list.

Once all the MPAs are marked on the division list, they would gather in the lobby. The secretary would count the votes marked on the teller's list in the hall. He would call the MPAs to the house and announce the new leader of the house.

The new chief minister would then address the assembly.

The two candidates

Sharif said he would take oath on June 6 and work towards improving the province. He would focus primarily on ending load shedding. When asked why he hadn't cast his vote for the deputy speaker, he said that he had voted for the speaker but had to leave the house due to an urgent matter. He said he had heard that the Muttahida Qaumi Movement had decided to support the PML-N, and thanked the party.

Rashid, who has been fielded jointly by the PTI and the Pakistan Muslim League-Quaid, said that he would not ask the PPP to vote for him. He said he would just contest the election and later give the treasury a tough time as leader of the opposition.

Published in The Express Tribune, June 5th, 2013.
COMMENTS
Comments are moderated and generally will be posted if they are on-topic and not abusive.
For more information, please see our Comments FAQ