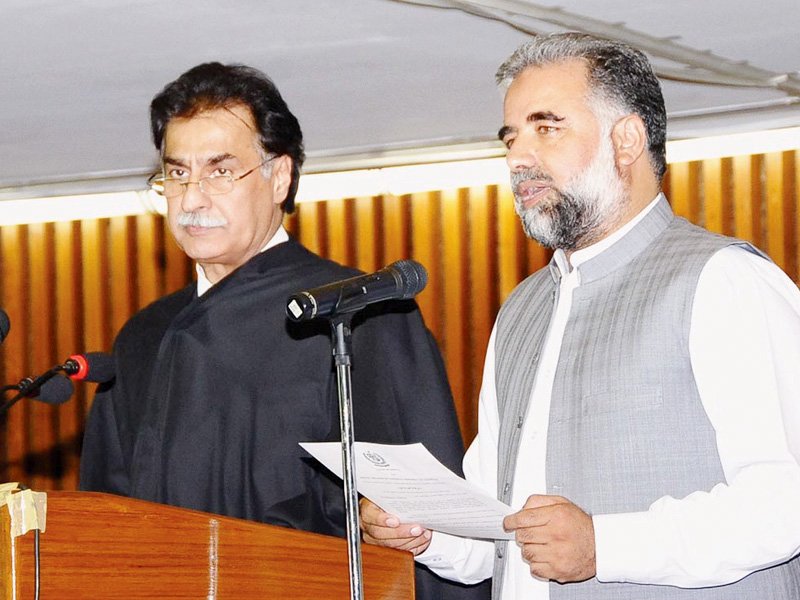 ---
ISLAMABAD:



Their nomination by the largest party in the lower house of parliament had virtually guaranteed their success. And Monday's election was as much of a formality as could be expected.




Sardar Ayaz Sadiq and Murtaza Javed Abbasi of the Pakistan Muslim League-Nawaz were elected speaker and deputy speaker of the National Assembly through secret ballot.

Ayaz Sadiq, who defeated Pakistan Tehreek-e-Insaf chief Imran Khan from NA-122 (Lahore-V) in the May 11 elections, stepped into the shoes of Fehmida Mirza of Pakistan Peoples Party Parliamentarians (PPPP). Murtaza Javed Abbasi, a veteran PML-N politician from Hazara region, succeeded Faisal Karim Kundi, also of
the PPP.

The PPPP had fielded Nawab Yousuf Talpur and Ghulam Rasool Koreja for the coveted slots. On Monday, however, the party decided to withdraw its candidates and support PML-N's nominees.

"To keep the democratic process going, we did not want to make the office of speaker controversial so we supported the PML-N candidates," said PPPP President Makhdoom Amin Fahim.

After PPPP's pullout from the race, three parties – PML-N, Pakistan Tehreek-e-Insaf (PTI) and Muttahida Qaumi Movement (MQM) – were in the field. Ayaz Sadiq and Javed Abbasi bagged more votes than the aggregate of their rivals. All other major parties – including Jamiat Ulema-e-Islam-(Fazlur Rehman), Pakistan Muslim League Functional and Pashtoonkhwa Milli Awami Party – voted for the PML-N's nominees.

All 313 lawmakers took part in the balloting and remained present in the house throughout the election process that lasted over five hours. Ayaz Sadiq polled 258 votes against 31 votes of PTI's Shaharyar Afridi and MQM's SA Iqbal Qadri's 23. One vote was declared invalid.

This indicated that all 23 lawmakers of the MQM voted for Qadri, while the PTI's candidate received four votes less than his party's numerical strength in the assembly. It was, however, understandable because PTI chief Imran Khan, who won from three constituencies, could not show up while PTI President Makhdoom Javed Hashmi, who won from two seats, could cast only one vote.

Both the number of votes and their distribution among the contesting parties remained the same. PML-N's Murtaza Javed Abbasi who was elected deputy speaker, secured 258 votes, while his rivals – Munazza Hassan of PTI and Kishwar Zehra of MQM – bagged 31 and 23 votes, respectively.

Outgoing speaker Fahmida Mirza administered the oath of office to her successor. In a brief inaugural speech, Ayaz Sadiq pledged to run the house impartially and in a neutral manner. "I'm not just the speaker of one particular party but the entire house," he added.

The new speaker was all praise for his predecessor. "I salute the wisdom of Dr [Fehmida] Mirza. She amicably ran this house and earned respect from everyone," he said.

He assured the house that he would not shy away from taking tough decisions in greater national interest. The assembly, he added, would adopt austerity measures to contribute to the country's economy.

PkMAP chief Mehmood Khan Achakzai greeted the new speaker and offered a few words of advice. "You no longer belong to the PML-N. Now, you represent this house and we will support your fair moves but we will oppose and reject any move that obstructs our freedom and our rights," he told Speaker Ayaz Sadiq.

He added that it was the responsibility of the new speaker to complete the democratic agenda of the house that was left unimplemented by the previous assembly.

PPP's Nawab Yousuf Talpur also congratulated Sadiq and expressed hope that he would continue Dr Mirza's legacy to conduct the house in a neutral manner.

Earlier, a dozen more newly-elected members of the 14th National Assembly also took oath. They included eight from PML-N's reserved seats for women besides PTI's Shah Mehmood Qureshi. All of them couldn't attend the first oath-taking ceremony. JUI-F chief Maulana Fazlur Rehman and PTI chief Imran Khan have yet to take oath.



Published in The Express Tribune, June 4th, 2013.