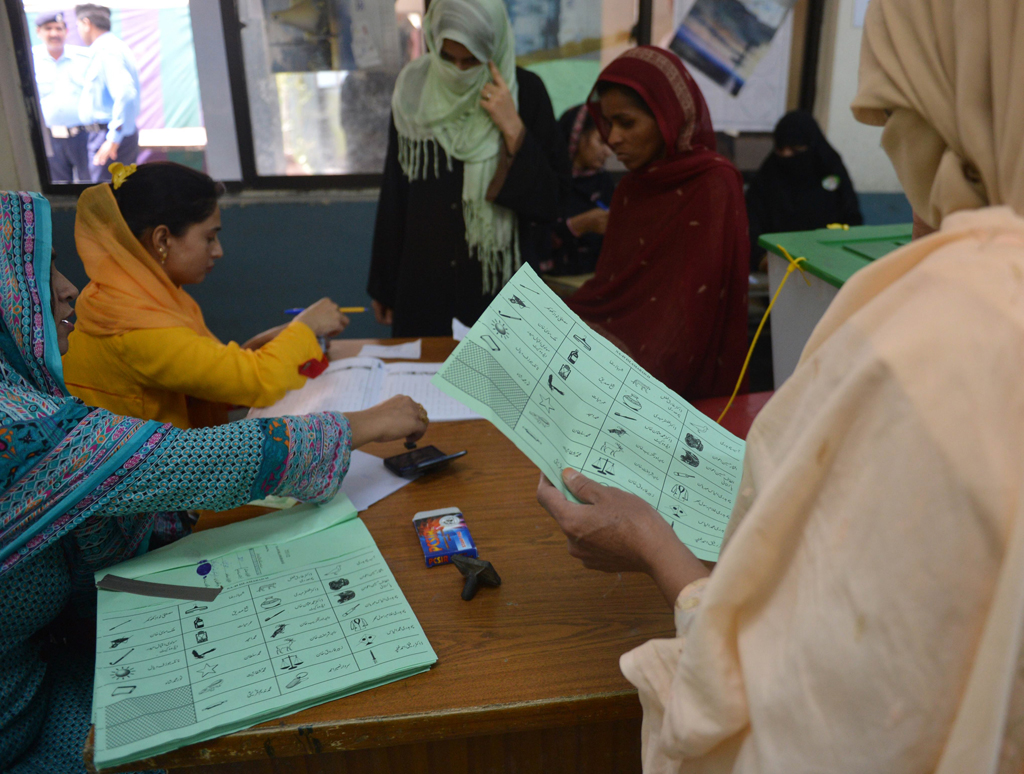 ---
LAHORE:



An impressive number of women were seen at polling stations in all 13 NA constituencies across the city on Saturday.




The constituencies where most women were seen include NA-122, NA-125, NA-126 and NA-128. The presiding officers in these areas said the women's vote had played a decisive role in determining the results.

Women voters were among the most exuberant party supporters in many constituencies. "I have never been so excited about casting my vote. This time I was excited because Imran Khan was contesting against Ayaz Sadiq in my constituency," said Mrs Huda Akram, a voter at the Government Sulemania School polling station in Samanabad, NA-122.

"I brought four others with me to vote for the PTI. I am no longer a resident of Samanabad. I came all the way from Wapda Town to vote here," said Mrs Saira Anwar at the same polling station. She wore armbands with PTI colours on them and covered her car's rear screen with a PTI flag.

"I did not want to regret not casting my vote for the party I prefer. I voted for a Roshan Pakistan and stamped the tiger," said Shazia Hasan, another voter in Samanabad.

The women voters in Defence Housing Authority, NA-125, not only wore special dresses but also got their faces painted. "Our respect, vote and support are for Imran Khan and PTI.

The youth has hope pinned on one person. He has pulled the youth out of their homes to cast their votes. I got a PTI flag painted on my face to show my love for the party," said Tanya, a young voter at a polling station near DHA Cinema.

"Voting is an obligation and women must come out to vote. I voted today. It feels as if I have fulfilled my responsibility to choose the right person to represent me in the assembly," said Mrs Afzal, a voter in Johar Town NA-128.

"Many women have come out to vote this time. This is a very healthy sign and I hope that when the data is compiled, the women's turn out in Lahore will be exceptional. This will motivate even more women to participate in the electoral process," said Nadeem Anthony, a human rights activist.

Published in The Express Tribune, May 12th, 2013.
COMMENTS (1)
Comments are moderated and generally will be posted if they are on-topic and not abusive.
For more information, please see our Comments FAQ