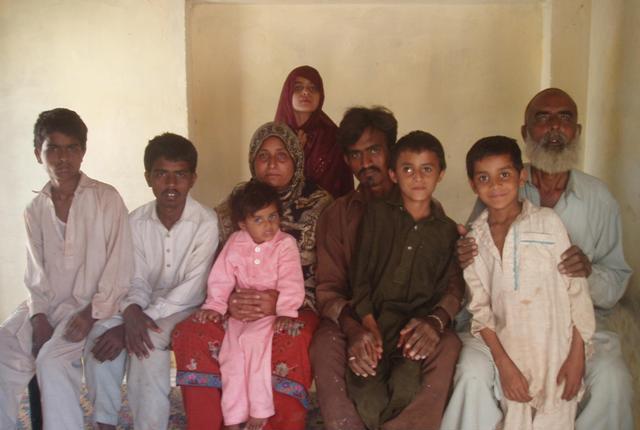 ---
RAHIM YAR KHAN: Nineteen-year-old Shakil struggles to cope up with grade VII coursework at a government school in Chak 72 Rahim Yar Khan. The school's headmaster says the boy is mentally unfit. What he does not say is that Shakil, like many others in district, is suffering because of the abuse faced as a child camel jockey in the Gulf states.

Shakil's case is not an isolated one. At least 200 of some 1,200 boys who were returned to Pakistan in deplorable conditions years ago are still suffering from the trauma.

The sport, the popularity of which rivals that of Formula One, was for years powered by the key ingredient of young boys as jockeys. Being young, they were light and would scream loudly spurring the camels. A steady supply of children from Pakistan satiated the hunger for such jockeys.

The practice continued unabated till the early 2000s when laws, and some technology, sought to put an end to this dark chapter. In 2002 Pakistan ratified the Prevention and Control of Human Trafficking Ordinance (PACHTO) banning trafficking of children to the UAE and other Arab countries. The same year, the UAE also introduced laws against the use of children under the age of 15 as camel jockeys. However, this law was not actively enforced till 2005 when the Unicef and some robots helped end the trend of using boys as camel jockeys.

A lifetime of pain

Shakil's travail is not the only one at the government elementary school. The school's headmaster Azam Ahmed reveals Khalil, Shakil's brother, too suffers the after effects of his horrible past.

Nazir, the boys' father, tells The Express Tribune that a decade ago a human trafficking agent had lured him with promises of good employment and better education. Instead, the agent smuggled the boys into the UAE to serve as child camel jockeys.

Imran Shakoor in Rahim Yar Khan is much younger than Shakil. He goes to school like Shakil. And like Shakil, Imran struggles at school due to the brutal past he experienced.

"Imran is mentally retarded and can not learn any more in school," his father Muhammad Shakoor repeats an assessment of the young boy's teacher.

"My 'Sheikh' and my trainers used to continuously beat me—this is what I can recall," Imran tells The Express Tribune.

A senior physician at Bahawal Victoria Hospital in neighbouring Bahawalpur, Dr Naeem, has a history of treating former child camel jockeys. He says that as many as 34 former jockeys had been admitted in the hospital between 2005 and 2007 for treatment. A majority of them, Dr Naeem notes, were mental patients.

Jockeys being sent despite ban

A decade after being banned, those working on the camel jockey supply chain end in Pakistan have yet to close up shop.

Rahim Yar Khan and the surrounding districts of Dera Ghazi Khan and Bahawalpur were for a long time a popular hunting ground for child traffickers who smuggled children into the Gulf country to serve as jockeys in camel races in return for money. Despite the laws banning the practice, the lustre has yet to wear off.

Imran's father Muhammad Shakoor confirmed that some parents were still sending their children to the UAE and considered it a lucrative trade.

In village Chak No 72/NP in Rahim Yar Khan, Mohammad Ramzan lives with his nine brothers and three sisters. He tells The Express Tribune that recently one of this relatives, who doubles as an agent, had taken his son to Dubai via Iran.

"I sent my son to Dubai as I do not have enough money to feed my family," he says.

There, Ramzan says, his son has been participating in camel racing and that he has become a good rider now.

There is always a buyer if there is a seller

Inspector Intelligence Bureau Bux Taheem who is deputed in Rahim Yar Khan reveals that as many as 12 human trafficking groups are active in the area and smuggle children from the remote areas of the district to Gulf states. Taheem, though, adds that there is parental consent in handing over children to the smugglers.

Parents too poor to feed their families are willing to sell. For those selling, like Shakoor and Ramzan, there is always a buyer.

Makhdoom Ahmed Mehmood is a prominent agriculturist and politician from Rahim Yar Khan. The district is his constituency where he has served at almost all positions of district, provincial and federal governments in a career spanning 26 years. Unsurprising too that he comes from a family of distinguished politicians of the area. Cousin to both Pir Sibghatullah Shah Rashidi (Pir Pagara) and the former prime minister Yousaf Raza Gilani, he currently serves as Punjab's 34th governor. Despite his position and influence in the area, he too has been unsuccessful in putting an end to this menace.

"I've been addressing the plights of camel race victims on a priority basis. But I could not stop it as most parents willingly send their children [to become jockeys] for the sake of money."

He pledges that all the victims will receive their due compensation but does not specify when or how.

Former Director General of the Federal Investigation Agency (FIA) Zaffarullah Khan, whose agency's job includes catching human traffickers, says the practice is rife in Rahim Yar Khan, Bahawalpur and remote areas of Punjab.

Despite a ban on shifting children to other states under the law, Khan says hundreds of children are still being smuggled to Gulf countries to become camel jockeys.

The lasting solution, the former FIA chief says, is in addressing the root causes of human trafficking by instituting poverty mitigation measures and safety nets to promote economic development and social inclusion with a view to ameliorate the situation.

A legislation titled Prevention and Control of Human Trafficking Ordinance (PCHTO) was enacted in 2002 and rules for which were notified in 2005. The law specifically addresses the protection of victims of human trafficking. It binds responsibility on the Ministries of Interior, Law and Justice, Labour and the Overseas Pakistanis Division.

Former MNA Sardar Arshad Leghari, though, sees two sides of the picture. On one side, he laments that the plight of child camel jockeys "has earned a bad name for Pakistan."

On the other side, he accuses Gulf States of exploiting children in camel races for their entertainment.

Compensation, not a black and white matter

With much of the child camel jockey culture being curbed in 2005, as many as 1,200 of the estimated 300 children trafficked to the Gulf States from Pakistan as child camel jockeys returned home.

In 2008, a camel jockey victims' representative at the United Nation Global Forum to Fight against Human Trafficking Sabir Farhat challenged for compensation for the former jockeys in the Supreme Court. After two years, the court ruled in favour of awarding compensation worth around US $1.4 million to the children.

On directions of the court, Farhat said, cheques worth $1,000 per each child were sent by the UAE government. But many cases are still unresolved and many families are yet to receive their due compensation.

Former Child Protection and Welfare Bureau (CPWB) Rahim Yar Khan district officer Farhan Amir said that the UAE government had sent 750 cheques for the families. Most of the children on the list to receive compensation were employed in camel races from a very young age - some as young as six-years-old - but some never got their cheques.

"Plight of camel jockey still persists with over 200 families still waiting for compensation," says Minister of Ministry of Interior Affairs Khwaja Siddiq-e-Akbar who adds that dozens of families could not be paid compensation due to problems with their documentary claims.

But Amir, who who used to represent camel jockeys, tells The Express Tribune that there were reports of a small portion of compensatory money being embezzled by the officials engaged in disbursing the cheques. The allegations were dismissed by officials.

Dr Faiza Asghar who supervised camel race victims between 2005 and 2008 as an advisor on child protection to the then Punjab chief minister says nobody knows whether the whole amount was distributed among victim families or not.

Some of the victims' families have taken their battle to court. FIA legal director Azam told The Express Tribune that over 122 cases had been registered in various courts particularly in Punjab, some which are still waiting for for hearings. "Over 71 cases are pending hearing in the courts."

Missing jockeys

The issue of compensations has further complications. Even though the FIA records show 3,000 children were trafficked to the Gulf States and only 1,200 returned home, there are as many as 300 children who are specifically listed as missing.

Chairman Burney Trust International and former minister for human rights Ansar Burney says that he has visited Gulf States to take up the issue of children who are still missing. "I will also take up the matter with Ministry of Interior now."

The Express Tribune had written to the UAE mission in Pakistan for their version on this issue but it refused to comment.