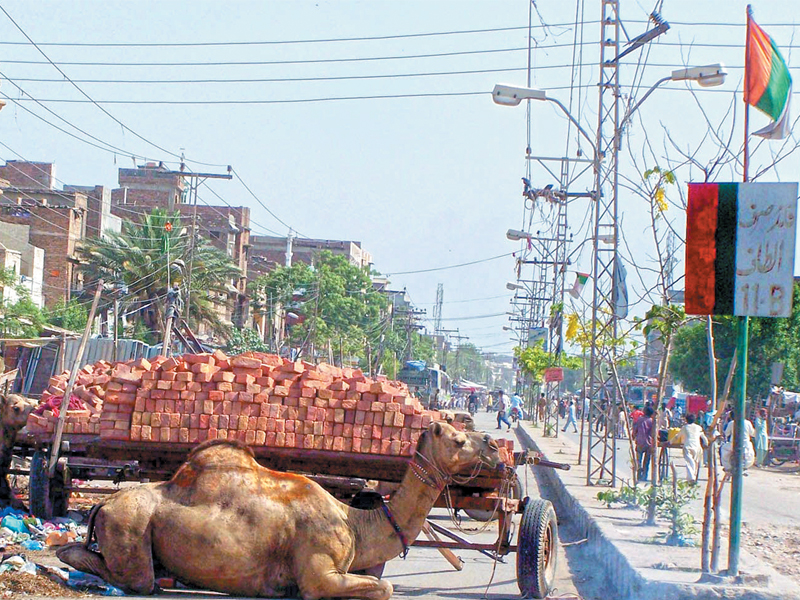 ---
HYDERABAD/ KARACHI: Karachi, once again, came to a standstill on Friday as the Muttahida Qaumi Movement called for a day of mourning - the second one this week.

Businesses, transporters and educational institutions had just gone about their normal routine after the strike on Wednesday but had to suspend their activities when a blast near the party's election office killed six people. The blast took place in North Nazimabad's Nusrat Bhutto Colony, injuring 11 people. Activities in the city, however, resumed after MQM asked traders and transporters to re-open the businesses after the Friday prayers.

The examinations scheduled for Friday were also postponed as the private school associations had announced the closure of educational activities soon after the blast. Attendance at government departments was also reportedly thin as employees were unable to travel due to the unavailability of public transport.

Crippling day-to-day activities

Transporters and traders said that they were against terrorism and sympathised with the political parties being attacked, but they also complained that they were suffering losses worth billions of rupees due to the mourning calls.




"The safest option for us is that we don't run our vehicles. We only pray that there are no more terrorist activities in the city," said Karachi Transport Ittehad Chairperson Irshad Bukhari while talking to The Express Tribune. "If the situation continues like this, then it will become very hard for us to sustain our families."

Shops and markets in most parts of the city also reopened after Friday prayers. "Majority of the markets usually open after Friday prayers anyway, so the traders and shopkeepers weren't affected that much," said All Karachi Tajir Ittehad Chairperson Atiq Mir. "But those businessmen who operate in the morning or during daytime must have suffered losses, and that two times in a week." A partial strike was also observed in some parts of Hyderabad, Benazirabad, Tando Allahyar and Mirpurkhas districts on Friday.

Laid to rest

The funeral prayers for five victims - Bilal, Ayub, Imran, Aqil and Adil Siddiqui - were offered at Masjid-e-Farooq-e-Azam in North Nazimabad and later the victims were laid to rest at the Sakhi Hassan graveyard.

A large number of people, including victims' relatives, neighbours, MQM leaders, workers and supporters, attended. Participants of the funeral also held a protest and demanded the government and law enforcers to arrest those responsible for the attacks. The funeral prayers for the sixth victim, Manzur Hussain, were offered at Nusrat Bhutto Colony and he was laid to rest at the Shah Mohammad graveyard in North Karachi.

"The government and law enforcement agencies have failed in stopping terrorists from carrying out such attacks," said MQM leader, Wasey Jalil, while talking to the media after the funeral. "No election campaigns are running in Sindh, Balochistan and Khyber Pakhtunkhwa. This is all a conspiracy to stop MQM from participating in the elections - but we will do so at any cost."

Meanwhile, an FIR was registered at the Shara-e-Noor Jahan police station on behalf of the state against unidentified persons. The Crime Investigation Department's Anti-Extremist Cell chief, SSP Chaudhry Aslam Khan, told The Express Tribune that he believed, without a doubt, that the outlawed Tehreek-e-Taliban Pakistan was activity playing its role to target the Awami National Party and MQM. He added that they will also target the PPP. "This is just the beginning, there is much more to come," he said. "We don't know when, how and where they will strike but they will probably take any opportunity they can get."

Published in The Express Tribune, April 27th, 2013.
COMMENTS
Comments are moderated and generally will be posted if they are on-topic and not abusive.
For more information, please see our Comments FAQ