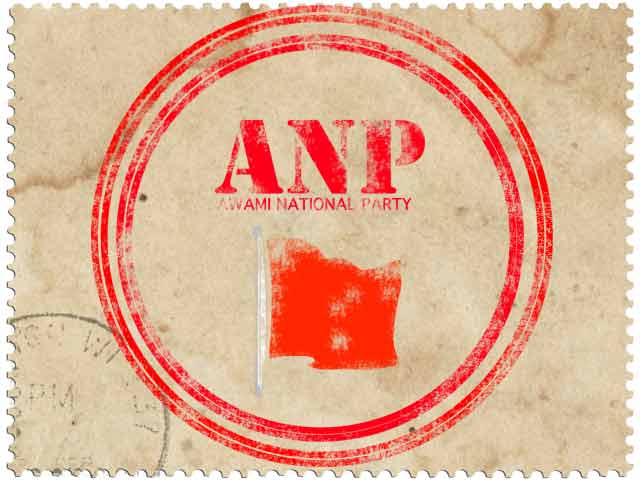 ---
PESHAWAR/ ISLAMABAD: Awami National Party (ANP) chief Asfandyar Wali on Monday called on the Election Commission and the caretaker government to provide security for its party leaders after another of their leaders was targeted on Sunday. He said that this was giving an unfair advantage to their party opponents in the elections.

In wake of a series of attacks on its leaders, Wali wrote a letter to Chief Election Commissioner (CEC), Justice (Retd) Fakhruddin G. Ibrahim. Copies of the letter were also sent to the President, Prime Minister, the Chief Justice of Pakistan and chief ministers of all the four provinces.

In the letter, Wali points towards the repeated public threats of the terrorists' networks to the party. Despite the attacks and the threats, he complained that instead of boosting, security has been withdrawn from his party's leaders and candiadates.

"Despite serious threats to ANP, on the instructions of Election Commission the minimum security provided to the party Senior Leadership and contestants has been withdrawn."

The ANP chief criticised the government for its duplicity on the matter of providing security. "On the one hand the caretaker Prime Minister is directing the interim government to provide security to political leaders and each contestant, on the other hand, the provincial care taker government in Khyber-Pakhtunkhwa is withdrawing total security from ANP leaders and contestants."

"This has further compounded the party's existing political challenges seriously affecting its outreach to the voters and conducting its election campaign."

Claiming that this situation gave the ANP's opponents an undue advantage in the elections, he said that they were being politically marginalised. "Today we are being politically marginalised by the threat from the so called non-state terrorist actors who are openly sitting inside our country. Is it just a change in the form of repression?"

"I am afraid 2013 elections will not be free and fair, if the terrorist are allowed to influence and determine the results and the Election Commission fails to take timely notice of it."

Khoso orders security for ANP leaders

Reacting to Wali's letter, caretakter prime minister Justice (retired) Mir Hazar Khan Khoso issued directions to the Ministry of Interior and Khyber-Pakhtunkhwa government to contact the ANP chief and address his security concerns.

Khoso directed relevant authorities to comprehensively allay Asfandyar Wali Khan's concerns and reiterated that the caretaker government would make all out efforts to provide adequate security to the political parties.

Threats not to deter ANP

Even as the ANP chief raised concerns over the attacks on his party members, one party leader who escaped an attempt on his life last week said that they would not be intimidated.

"We are determined to move forward instead of looking back and cannot be intimated by such act of cowardice by anti-state elements who are bent upon pushing the nation back towards stone age and darkness," remarked Arbab Ayub Jan, a senior leader of ANP and a candidate of NA-4.

Jan had on April 11 survived a bomb attack on his motorcade as he was returning from an election rally in his constituency on the Grand Trunk road. The jeep, Jan was travelling in was destroyed but he remained unhurt . He was travelling with his young son, Arbab Usman, who is contesting from PK-9.

"Though we realise that this election is very dangerous and difficult, but we cannot tie our hands back for the sake of safety of our lives and will continue our mission of bringing peace in the country and making the nation prosperous by obstructing the designs of forces of backwardness", he added.

Jan said if he loses his life while pursuing this mission, the struggle of ANP will continue and other people will come forward including his son.

Attacks hamper ANP electioneering

However, not all of the ANP leaders share Jan's optimism and some are less than confident of their chances and the multiple fronts of terrorism and challenge of electoral opposition seems to be taking its toll.

Barrister Haroon Bilour, son of slain ANP leader Bashir Bilour, is seeking to carry the mantle of his father forward by contesting PK-3 seat from Peshawar.

"The death of my father is irrecoverable loss for our family, but we will continue the mission and cause for which he (Bashir Bilour) rendered his precious life."

However, he points out that attacks on the party have affected their election campaign. "We have to avoid holding big public gathering for the sake of security of our voters and common people because the militants are very brutal and they don't care about anyone."

Bilour suggested that a specific place should be selected for candidates to address public rallies and this site should be properly protected otherwise it is difficult to hold rallies in different localities of the city.

For ANP party spokesperson Zahid Khan, the attacks could force party members to pull out of elections altogether. He said if attacks against the leaders of the party continue, the party will review its decision for taking part in the elections.

Talking to Voice of America, he said that if the government wants to hold free and fair election, it has to provide level playing field to every party and ensure security of leaders and workers of political parties.

He claimed that a conspiracy has been hatched to sideline the ANP and bring in 'fundamentalist political parties'.
COMMENTS (4)
Comments are moderated and generally will be posted if they are on-topic and not abusive.
For more information, please see our Comments FAQ