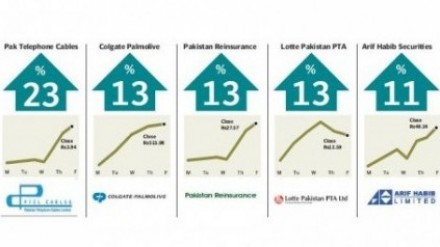 ---
KARACHI: After a stellar performance last week, the Karachi Stock Exchange continued its momentum closing at a 15-month high, consolidating at the 10,500 level.

The benchmark KSE-100 closed at 10,586 points, up 1.6 per cent compared to last week. Average daily volumes surged to a 26-week high rising 45 per cent to 252.2 million shares.

The market grew in strength thanks to continuing foreign investment, with the rupee gaining 0.5 per cent against the US dollar, despite news that the fiscal deficit might cross this fiscal year's revised 5.1 per cent target. T-Bill yields fell by 8-10 basis points hinting a drop in the policy rate by the State Bank in the near future.

The parliament finally managed to pass the 18th amendment on Thursday which "was a clear sign of harmony on the political front," according to analysts from Jahangir Siddiqui Global Capital. Pakistan Petroleum's (PPL) privatization was in the limelight during the week, with the Privatization Minister saying it will be complete by June.

"We expect strong interest from domestic and international buyers which could in turn provide momentum to the PPL's stock price," said analysts from KASB Securities. "However, we believe the government will need to address geo-political and regulatory risks before moving ahead with the transaction," they added.

Higher international crude prices and heavy foreign inflows buoyed the oil and gas sector.

The share price of Attock Refinery and National Refinery grew 6.7 per cent and 5.1 per cent respectively. "Surging crude prices have started worrying investors because of the pressure they exert on inflation, external accounts and foreign exchange reserves, despite their positive short term impact on the index," said analysts from KASB Securities.

Banking scrips benefited from a positive outlook from quarterly sector results suggesting provisions are heading south. Silkbank's share price jumped an impressive 21 per cent following its rights issue. Lotte Pakistan's stock price grew 13 per cent on the back of news that its parent company (Lotte Co) plans to expand.

The cement sector had its fair share of good news with Azgard Nine posting a three per cent jump after the announcement of its subsidiary Agritech's listing at the stock exchange. Foreigners bought a net worth of $21.8 million during the last seven days. Local investors and financial institutions remained net sellers during the week booking $11.7 million and $17.1 million respectively.

Trade volumes were consistent throughout the week touching a high of 300 million on Wednesday.

As per recent trends, second and third-tier stocks formed the bulk of shares traded, but nearly all of the foreign buying was focused on blue-chip stocks in the oil and gas sector which helped the average exchange value grow 11.7 per cent to Rs8.69b ($103.56 million).

Market capitalisation in the Karachi Stock Exchange increased 1.4 per cent to Rs2.99 trillion ($35.6 billion). "We expect the market to consolidate around current levels with limited downside (domestic institutional liquidity high given the current foreign inflows) in the short term before building up for a march towards the 11,000 point level," said analysts at KASB Securities.
COMMENTS
Comments are moderated and generally will be posted if they are on-topic and not abusive.
For more information, please see our Comments FAQ