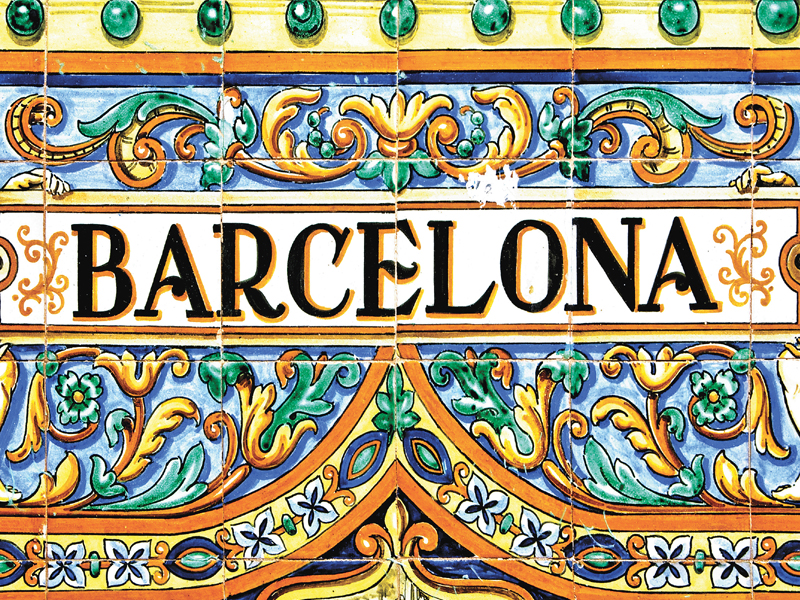 ---
I have arrived in Barcelona: el corazón del Mediterráneo. Spain, the land with Andalusia in the south, of AlHambra where La Ghalib ilAllah (there is no conqueror but Allah) remains inscribed at every turn of the head, centuries after the worldly conquerors have left. The dark lure of Gaudi beckons, truck art pales in comparison. It will be 10 days of hearing nothing but the seductive lisp of the Catalan 'c' and its rolling honeyed vowels. I am soaking it all up, taking my first walk down the tree-lined Rambla del Poblenou...

"Baji jee, Pakistan toun aaye o tussi? Koi chaa shaa?"   

The all-too familiar invitation came from a 23-year-old Salman aka Sunny. He stood outside his dhaaba-sized restaurant whose signboard was in Spanish but also carried the telltale 'halal' stamp in Arabic. In a corner a man stood in front of a gambling slot machine. A couple by the window pored over the menu while sipping their glasses of house wine. People queued up for the €5 meals of falafel, samosa and doner kebab takeaways.

And so, I accepted Sunny's offer for tea and with it an invitation to enter the world of Pakcelona as the Pakistanis of Barcelona fondly refer to it.




According to estimates, there are at least 35,000 Pakistanis in this city, one of the highest numbers in any European city, barring those in the UK. It is a proletarian existence. They own or work in butcher shops, convenience stores, the small pay phone locutorios, Internet cafes and restaurants. Some have taken up the latest business of selling beer from street stalls. Pakistani labourers sweat on Spanish construction sites. A majority of them hail from Punjab, mostly Gujranwala and Gujrat, Jhelum.

Understandably, Punjabi is the most common first language spoken among them. That is the language Sunny speaks, although Spanish is his first. "Kaisee gal karday o tusee?" he says as he dismisses my offer to pay for the many postprandial coffees at his establishment. "Pakistan toun mehman aaye o, coffee de paisey chaddo!" And in the same breath he will turn to a customer who has walked through the door: "Hola. ¿Cómo estás? ¿Qué te gustaría?" Hey there, how are you? What do you fancy having to eat?

Sunny came to Barcelona when he was barely five years old. His first crush, his first day at school, his first scraped knee, all happened on its streets. "I visit Pakistan every couple of years to meet my daadi," he explains. "But I crave coming back when I am [there]. Barcelona set hai jee." A football match flickers across the huge TV in a corner. Sunny is, naturally, cheering for Barça.




Life is good and is getting better. Sunny's father owns a chain of restaurants today. But when he arrived 18 years ago he was empty handed. The initial sleep-deprived years were an obstacle course of odd jobs, dodging immigration laws and the law enforcers. He couldn't go back home to see the family till he got the work permit. "Abbaji has worked hard at making us comfortable," admits Sunny.

Pakistanis began settling in Spain, mainly in Barcelona, in the 1970s, but a greater influx was seen after 2000. In a post 9/11 world, unskilled labour found it harder to immigrate to the US. Spain, however, had no such qualms. Relaxed immigration laws strengthened the gravitational pull.




"The laws are not so strict," says Ikram, 27, who came here on a tourist visa two years ago, and never went back. "Usually within three years or so one can get a work permit." And then he grins. "Even if they put us behind bars, it will be for a few days and then we are out." He has found a job serving food in a more upscale restaurant right across the Sagrada Família church, Antoni Gaudí's unfinished masterpiece.

On the surface, Barcelona may seem like an unusual choice for a Pakistani from Jhelum or say Gujrat. But 35-year-old Sajid has an explanation that is simple, elegant and evidence of Barcelona's multicultural tolerance: "Moderate weather. Greater acceptability among the friendly locals... Barcelona is the best! Nowhere [else] have I been so comfortable." He should know after having looked for jobs in Italy and other European countries. Today he works as a helper at Sunny's restaurant and even sleeps there at night, a discomfort he gladly suffers as he dreams of a bigger future that is just within his reach. He earns about 600 euros a month. "Convert that into rupees," he challenges with pride. It comes to about Rs90,000 which is roughly what an entry-level MBA is paid in a bank in Karachi.




Half of the money is sent back to Pakistan and now that Sajid has acquired a Cuenta Ajena or work permit there are plans to bring his wife and children over as soon as he can save up for a small home. "Ab Pakistan mein kya rakha hai jee?" What is left in Pakistan?

Thus, for many workers who would never earn as much back home, Pakistan may not seem as attractive in the long run now. But this does not always mean that moving to other countries comes without its challenges. While there may not be much anti-Muslim or anti-Pakistan bias in Barcelona, sometimes events can alter the landscape. For example, the immigrants went through a bit of a rough spot in 2008 with arrests of 12 Pakistanis on suspicion of planning terrorist attacks on the Barcelona subway station. It is perhaps testament to the immigrant's resilience that while the Pakistani community was a bit frazzled temporarily, it sprung back to claim its space eventually.

While I saw many Pakistani men working in Barcelona, Pakistani women were not a visible part of Spain's workforce. There were none in areas that make Barcelona what it is — its centres of art and history. I looked around for them as I stepped out of the spectacular Casa Llotja de Mar, a 14th century Gothic building which used to be the city's stock exchange till the 20th century. I didn't see any at the 16th century fort Castell de Montjuïc, a popular spot for families on weekends. The few I did catch were at the Maremagnum shopping mall, moving around only in close groups, doing exactly what I was doing there - searching for good deals.

Pakcelona may prosper as migrant communities can and do financially. Indeed some traditional values adjust to accommodate economics which Sunny sheepishly calls "compromise". For example, he sells liquor and bacon along with the halal food. But his 18-year-old sister is not allowed to leave the house unchaperoned. "We may have moved to Barcelona," he says, "But we have not forgotten our religious and traditional values." It appears that the community has unspoken rules that limit complete assimilation. These rules apply much more strictly to the womenfolk. But when it comes to marriage, men have to adhere to certain rules too. While Sunny may date local senoritas, he is quite sure he will marry a Pakistani girl. "Shaadi mazaaq naheen hai jee," he says. Marriage isn't a joke. "It should be a girl who can adjust with my family. A goree couldn't."

Names have been changed on request of those interviewed.

Published in The Express Tribune, Sunday Magazine, April 14th, 2013.

Like Express Tribune Magazine on Facebook to stay informed and join the conversation.
COMMENTS (4)
Comments are moderated and generally will be posted if they are on-topic and not abusive.
For more information, please see our Comments FAQ