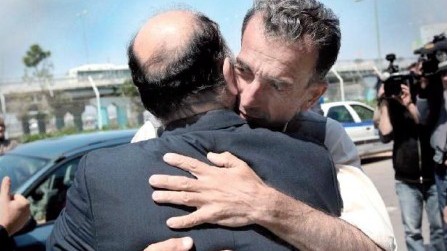 ---
ATHENS: A Greek volunteer worker kidnapped by the Afghan Taliban in Chitral district of the NWFP 7 months ago arrived in Athens on Saturday following his release from captivity earlier this week.

Athanassios Lerounis was kidnapped in September near the border with Afghanistan while working as a teacher among the ethnic Kalash community in the mountains of Chitral. "I am very happy to step on Greek soil," a visibly thinner and emotional Lerounis told reporters at Athens International Airport.

"I wish to apologise for the turmoil and give great thanks to the people of Pakistan, the Greek government and the personal interest of the Prime Minister (George Papandreou), who acted as a human being and not as a politician," he said, according to the semi-state Athens News Agency.

Pakistani officials said Lerounis's 7 month abduction ordeal ended late Wednesday after he was released in Afghanistan and brought across the border into Chitral valley.

"It was a difficult task but our intelligence agencies did this job," Rahmatullah Wazir, the top administrative official in Chitral, told AFP by telephone on Thursday.

Elders from Chitral had been negotiating with those holding Lerounis in the neighbouring Afghan province Nuristan, the official said. The group had demanded a ransom and that Pakistan release three detained Afghan Taliban leaders, but Wazir said none of their demands had been met and that Lerounis had been released unconditionally.

A Greek negotiator on Saturday also denied the Taliban had received compensation. Some Kalash are fair with light-coloured eyes, leading to academic speculation that they might be descended from an ancient Middle Eastern population or even from soldiers of Alexander the Great's army which conquered the area in the fourth century BC.
COMMENTS
Comments are moderated and generally will be posted if they are on-topic and not abusive.
For more information, please see our Comments FAQ