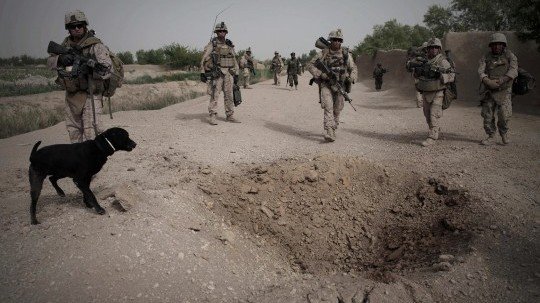 ---
KANDAHAR: A home-made bomb tore through a bus carrying a mine clearance team in southern Afghanistan on Sunday, killing four people and injuring more than a dozen others, officials said.

The improvised explosive device, the Taliban and other militants' weapon of choice against foreign forces and government targets, detonated as they drove on a dirt road near Daman district.

"The deminers were travelling in a minibus. There was a remote-controlled bomb on the road. They struck the bomb," Daman district governor Sarajuddin Khan said.

He could not give a toll for the casualties but local public health official Mohammad Ibrahim said four people were killed and 14 others were wounded.

81 US and NATO troops were killed by IEDs between January and March this year, according to Pentagon figures. The UN has said that most civilian deaths -- 2,412 last year -- were caused by Taliban bombs and suicide attacks.

Three people were killed and five wounded on Friday when their van hit an IED intended for US and Afghan forces in western Herat province, police said.
COMMENTS
Comments are moderated and generally will be posted if they are on-topic and not abusive.
For more information, please see our Comments FAQ