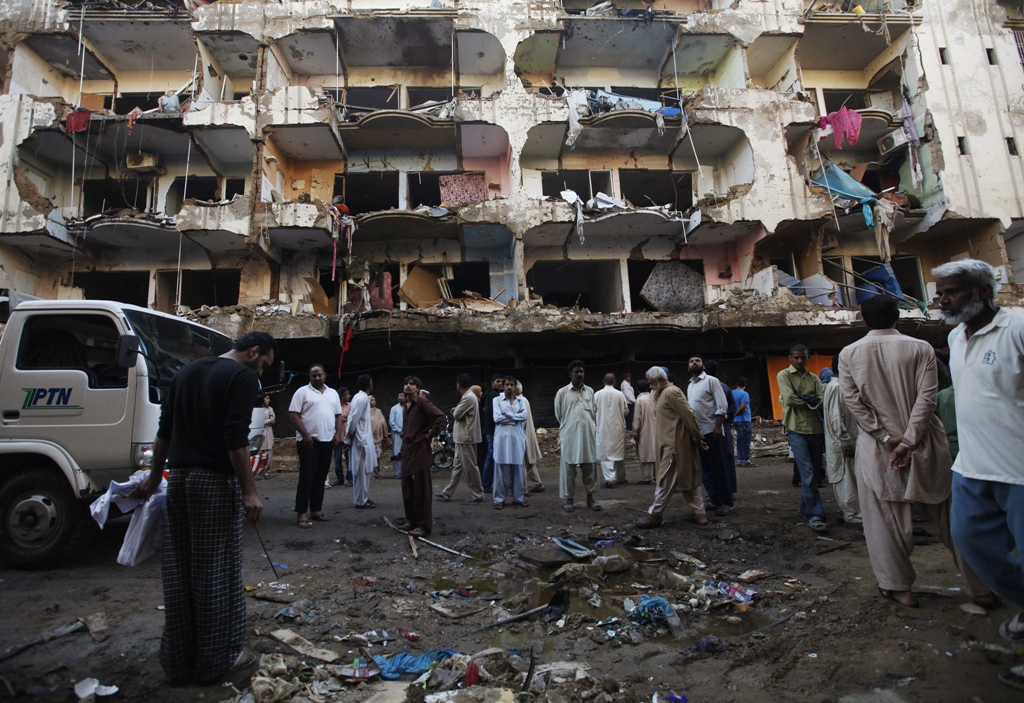 ---
KARACHI: Twin blasts in Karachi brought most areas of the country to a standstill on Monday with strikes being observed while the national flag flew at half mast, Express News reported.

A powerful blast ripped though Abbas Town in Karachi on Sunday evening, leaving 48 people dead and over 150 injured. The explosion took place in a street lined with apartment buildings and myriad small shops on both sides.

Around 200 flats were affected, while 50 of them were completely destroyed by the fire which followed the blasts. The residents were compelled to move to their relatives' houses.

The Bomb Disposal Squad (BDS) continued with their operation Monday morning to find more evidence from the blast site.

Transport, businesses, educational institutes and petrol pump remained closed in Karachi, Hyderabad, Jamshoro, Sukkur and Jacobabad. The Punjab government also called for a one-day mourning to be observed today.

On Monday, the stock market was open, but Mohammad Sohail of brokerage firm Topline Securities said there were fewer dealers and trading volumes were low.

The strike in Karachi was called by Jafaria Alliance and was supported by several political parties including Muttahida Qaumi Movement (MQM), Awami National Party (ANP), Pakistan Muslim League – Functional (PML-F), PML-Quaid, and Sunni Tehreek.

Local transport and traders' associations said that they would not be working on Monday. "There will be no public transport on the roads today," said Karachi Transporters Association chief Irshad Bokhari.

Head of the Karachi Traders' Alliance, Attique Mir also said that shopping centres and malls as well as business activity would remain suspended.

Lawyers of Sindh Bar Council and Punjab Bar Council also announced a strike and boycotted activities in several courts. The Lahore High Court will only hear important cases.

Three-day mourning was also announced by Shia parties including Jafaria Alliance, Majlis-e-Wehdat-e-Muslimeen, Shia Ulema Council and Quetta Yakjheti Council.

Sunni Ittehad Council Chairman Sahibzada Fazal Karim, while speaking to Express News, said that terrorists with an international agenda are in power and are challenging the government's writ.

Stressing on a crackdown against such elements, Karim said the terrorists want Pakistan to disintegrate. "If there is no concentrated effort against them, situation will not improve," he added.

Pakistan Peoples Party (PPP) leader Sharjeel Memon said the people of Pakistan have failed the terrorists by keeping calm. He said the terrorists want to instigate violence between the two sects.

The PPP leader further lamented the fact that the "enemies are in disguise and are a part of us."

Police are preparing a list of those killed and are trying to identify the dead with the help of their relatives.

Camps for blood and money donation have been set up in different parts of the city to facilitate those affected by the blasts.

CM takes notice

Sindh Chief Minister Qaim Ali Shah took notice of the incident and formed a six-member investigation team, which will present its report in three days.

The chief minister also announced Rs1.5 million in compensation for families of those killed in the blasts, and one million rupees for the injured. He also announced a reward of Rs5 million for anyone who assists the police in identifying or locating the suspects involved in the act.

The Sindh governor promised that the government will rebuild the homes and the shops destroyed in the blast.
COMMENTS (23)
Comments are moderated and generally will be posted if they are on-topic and not abusive.
For more information, please see our Comments FAQ