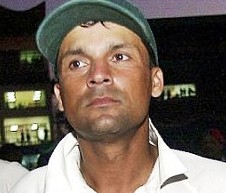 ---
KARACHI: Former Pakistan captain Moin Khan Thursday demanded the sacking of national coach Dav Whatmore following the team's 3-0 whitewash by South Africa, saying a local man should replace him.

Pakistan flopped miserably against the world number one Test team, losing the first Test by 211 runs, the second by four wickets and the last by an innings and 18 runs.

Whatmore masterminded Sri Lanka's triumph in the 1996 World Cup and led minnows Bangladesh to their first-ever Test series victory and their first appearance in the World Cup Super Eights in 2007.

But Khan said he was not up to the job.

"Whatmore is an overrated coach," Khan told AFP. "There is a concept in Pakistan that a foreigner will not get involved in players' politics but Whatmore is now fighting for survival."

Former Australian batsman Whatmore took over in March last year and led Pakistan to the semi-finals of the World Twenty20 tournament, but he has come under fire after two successive Test series defeats.

Khan, who managed only four wins in his 13 matches as Pakistan captain, said Sri Lanka's World Cup win in 1996 owed more to its players than Whatmore.

"Ask any player of that team and he will tell you that in 1996 Sri Lanka had world-class players and their success was due to their players and not because of the coach," said Moin.

Khan also criticised Test and one-day captain Misbahul Haq.

"Both coach and captain are fighting for survival. They should have a plan and a vision with which they should leave the team on a firm footing but I can't see any plan. Instead, they keep their interests before the team."

Pakistan has never been short of cricketing talent but the national team has suffered over the years from bickering and infighting. Khan, who played 69 Tests, said a foreign coach could not communicate with the players properly.

"When a foreigner is our coach, our players have a communication problem and the coach is also unable to brief the players on their mistakes and it's a big problem," said Khan, a member of the World Cup-winning team in 1992.

Khan said the Pakistan Cricket Board (PCB) had blundered in replacing Mohsin Khan with Whatmore last year.

"Pakistan players were happy in Mohsin's coaching," said Khan of the former coach, under whom Pakistan routed the then-world number one Test team England in January last year.

"If Whatmore doesn't resign himself, then the PCB should sack him," he added.

Pakistan play the first of two Twenty20 internationals against South Africa at Durban on Friday. They also play five one-day internationals on the tour.
COMMENTS (16)
Comments are moderated and generally will be posted if they are on-topic and not abusive.
For more information, please see our Comments FAQ